I set out for a heartfelt week at our home in coastal Maine for some thrifting, antiquing, and decorating. And I wanted to share it all with you here, as we slowly collect and make this family home our own. To learn more about our coastal Maine family home, join me on the blog over at the featured blog series, "In My Mother's Home".
It was a fun week hitting up all my favorite thrift shops and some that you guys recommended that I wasn't even aware of. Thank you! If you want to join me in thrifting, follow me over on Instagram, where I share and save all the thrifting highlights in my stories! And here I will share the thrifted and collected finds in our home.
As I arrived, I hung the newspaper heart garland that I found on my way to Maine and thought it would look so cute on the fireplace mantel for Valentine's Day.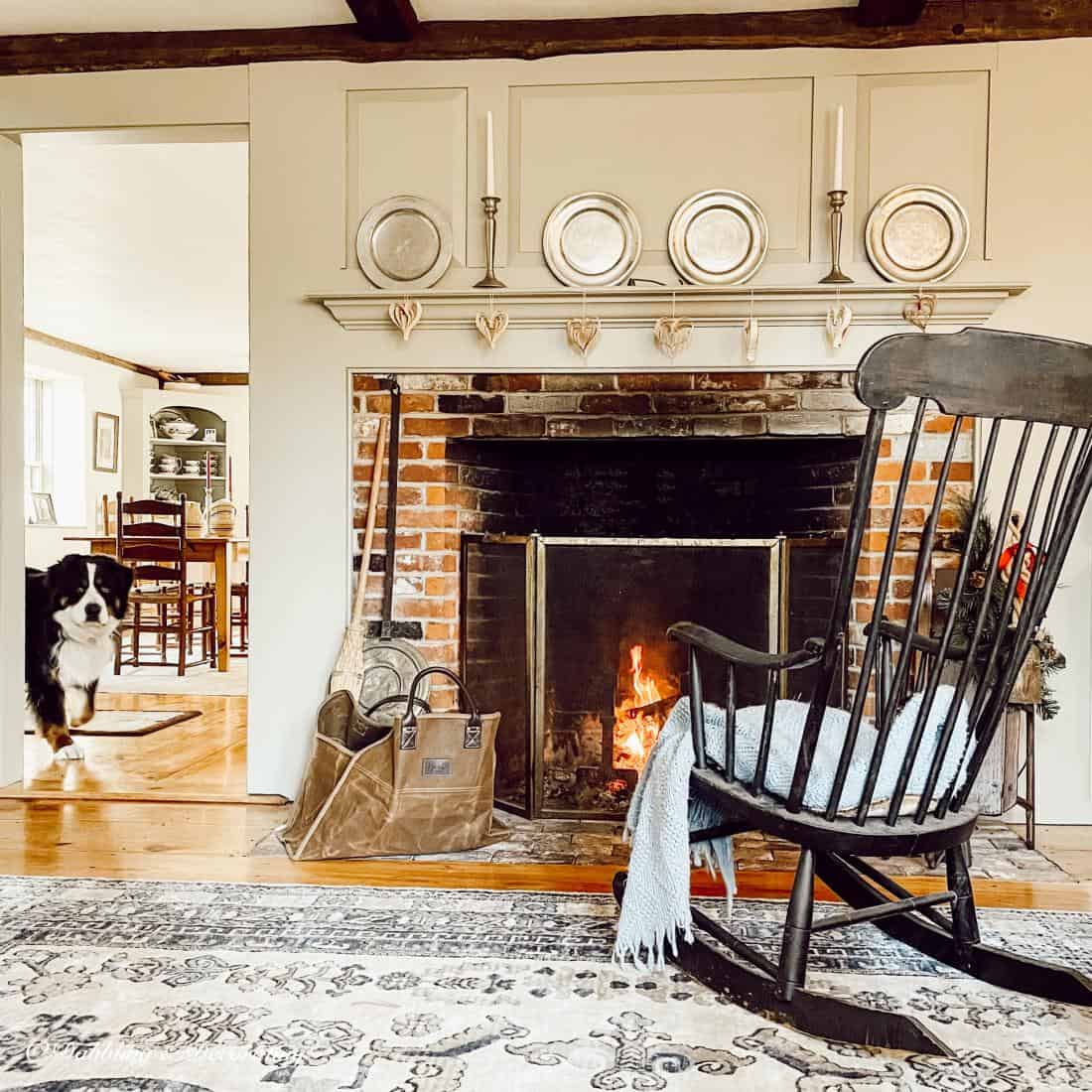 Then it was time to get cozy in front of the fireplace for the evening. I adore having a working fireplace here. We light this up every morning for coffee and every evening when the day is over.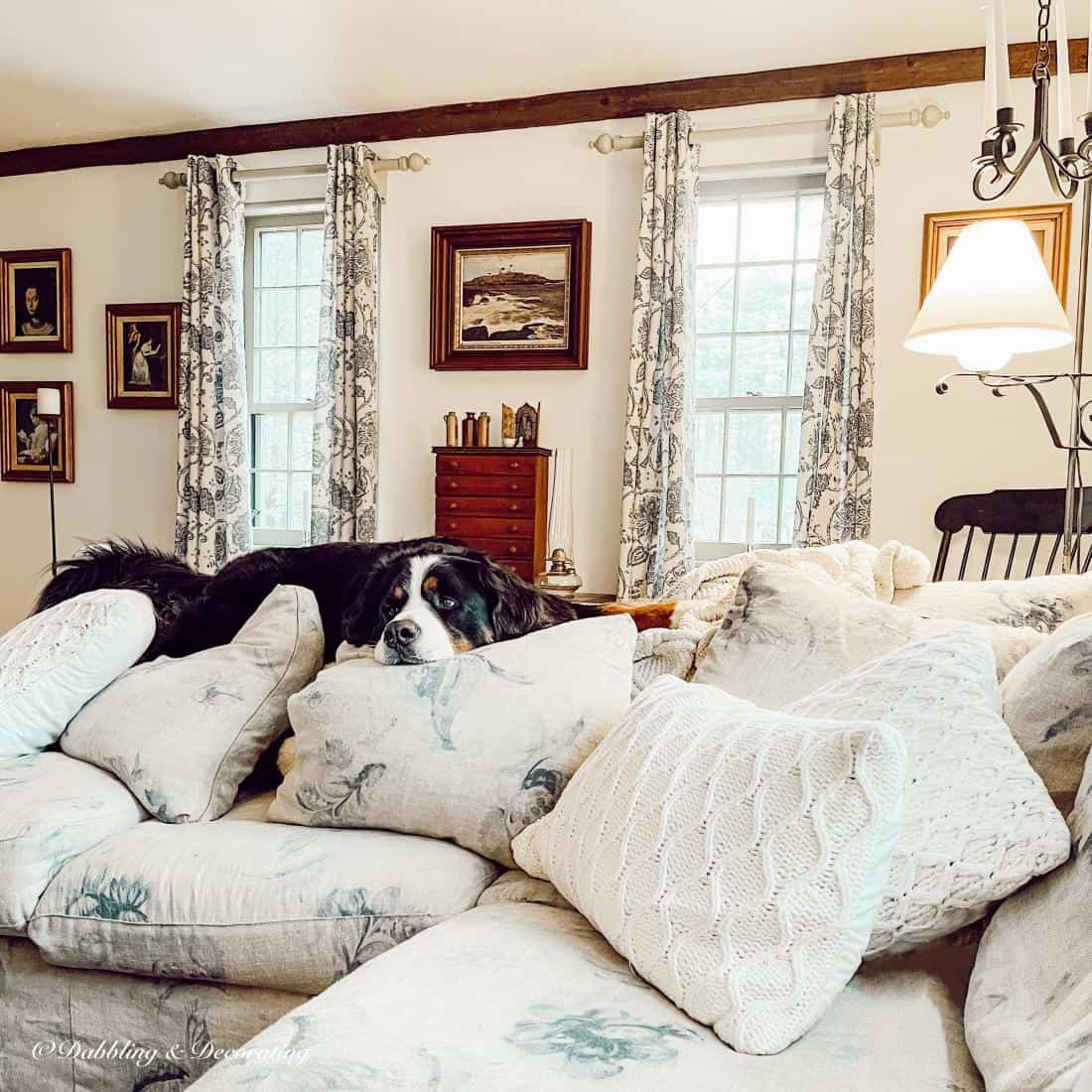 The next day I was up early and off to "a new for me" thrift shop called The Fabulous Find, one that was recommended I try out, and one I will definitely return to! It was filled with so many old and new treasures.
There, I found this old wicker chair for $95. It's super sturdy and I knew I would be able to find multiple places to use it in our home. It has that vintage charm and texture that I adore. It just needed a couple of new cushions and a blanket that I easily found at HomeGoods the following day.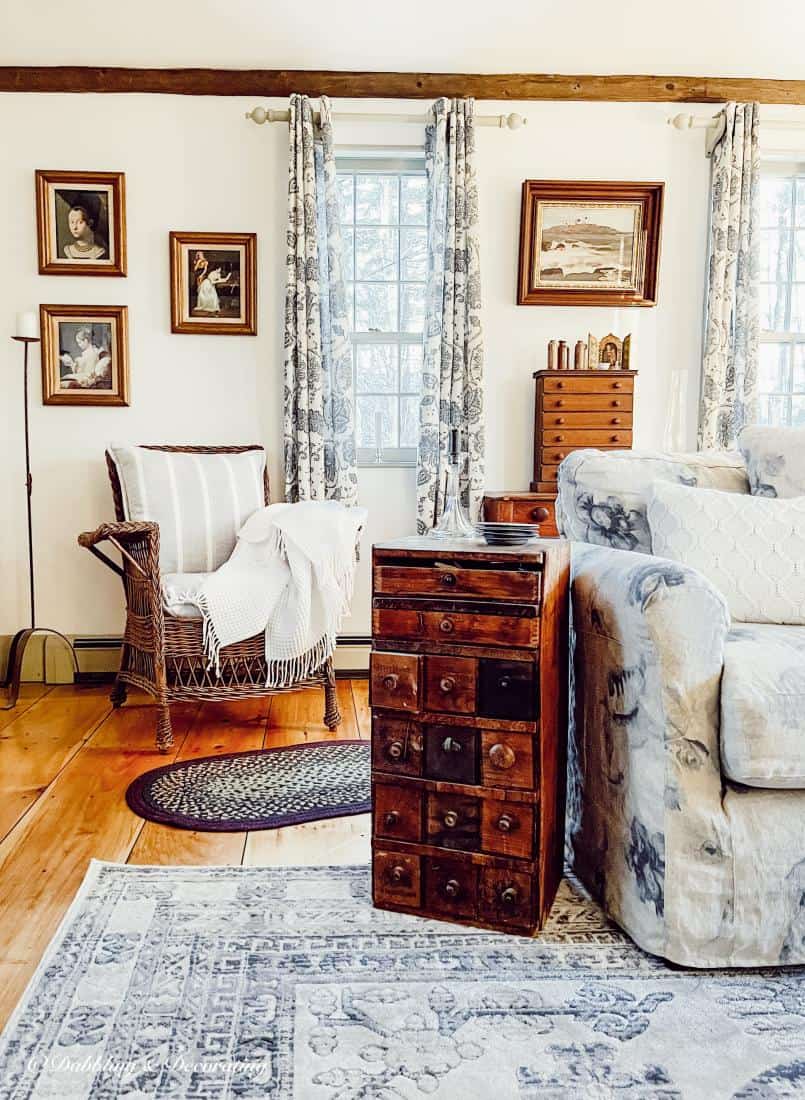 Another fun piece was this old silver mixer. Not that we make milkshakes often, I just love how it looks in our vintage-style kitchen.
You may also enjoy the post, Summer-Ready in Coastal Maine.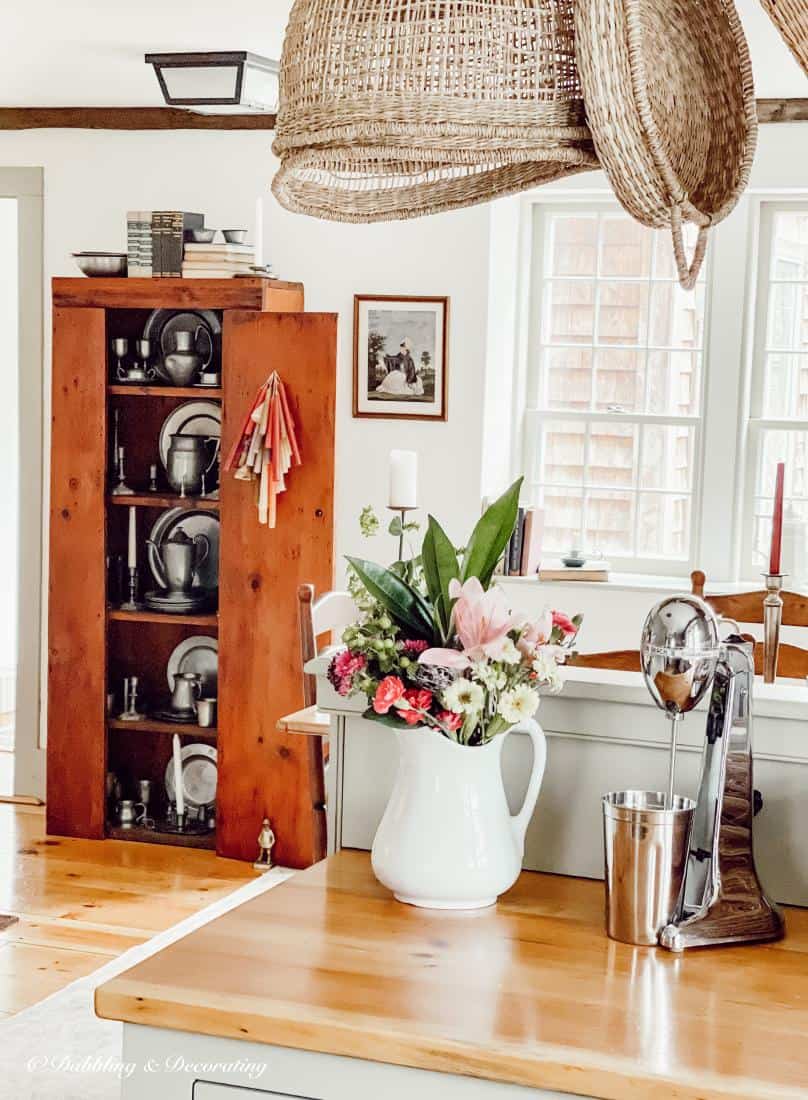 As I look onto the hutch in the background, this was a piece I also restyled when I was here. I originally decorated this with my mother's transferware collection, however, I switched the pewter back to this hutch, where my mother originally displayed it. And moved the antique transferware dishware collection over to the built-in corner hutch in the dining room. Always, thrifting and decorating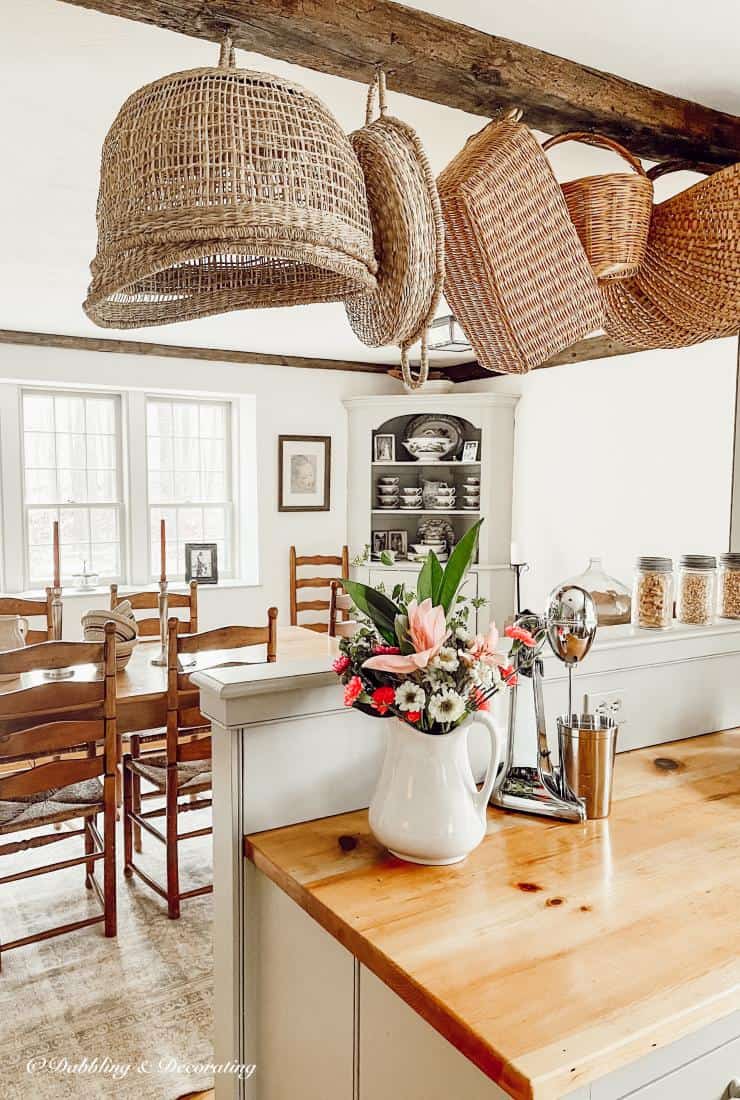 You may also enjoy the Vintage Shopping, A Church Collection Basket, and Wild Oats post.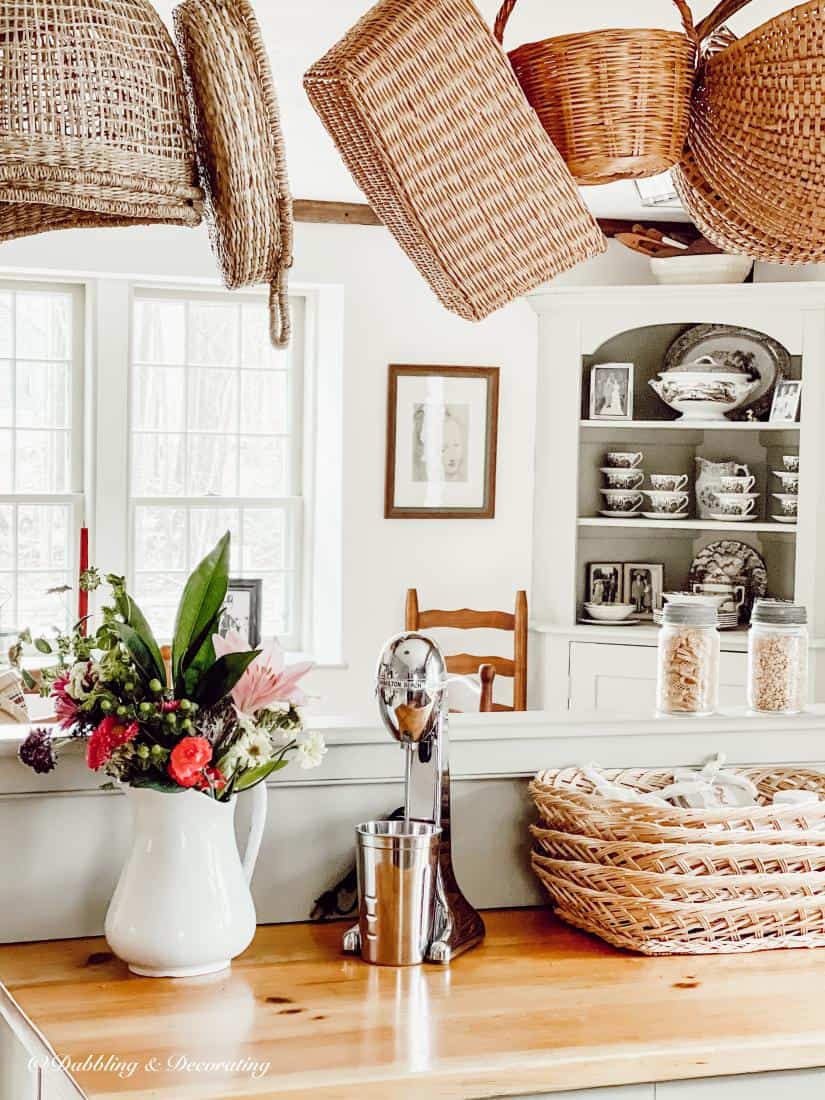 Three wreaths on the home's front door are such a favorite of mine for Christmas. Stop by the blog post, A Front Door Christmas Tradition, to see more of my favorite front door! Christmas is now over, though and I couldn't bear getting rid of the wreaths just yet. So, I removed the red bows and added some green and white striped bows along with a driftwood sailboat that I found over the summer. I think the wreaths will now last us at least thru February!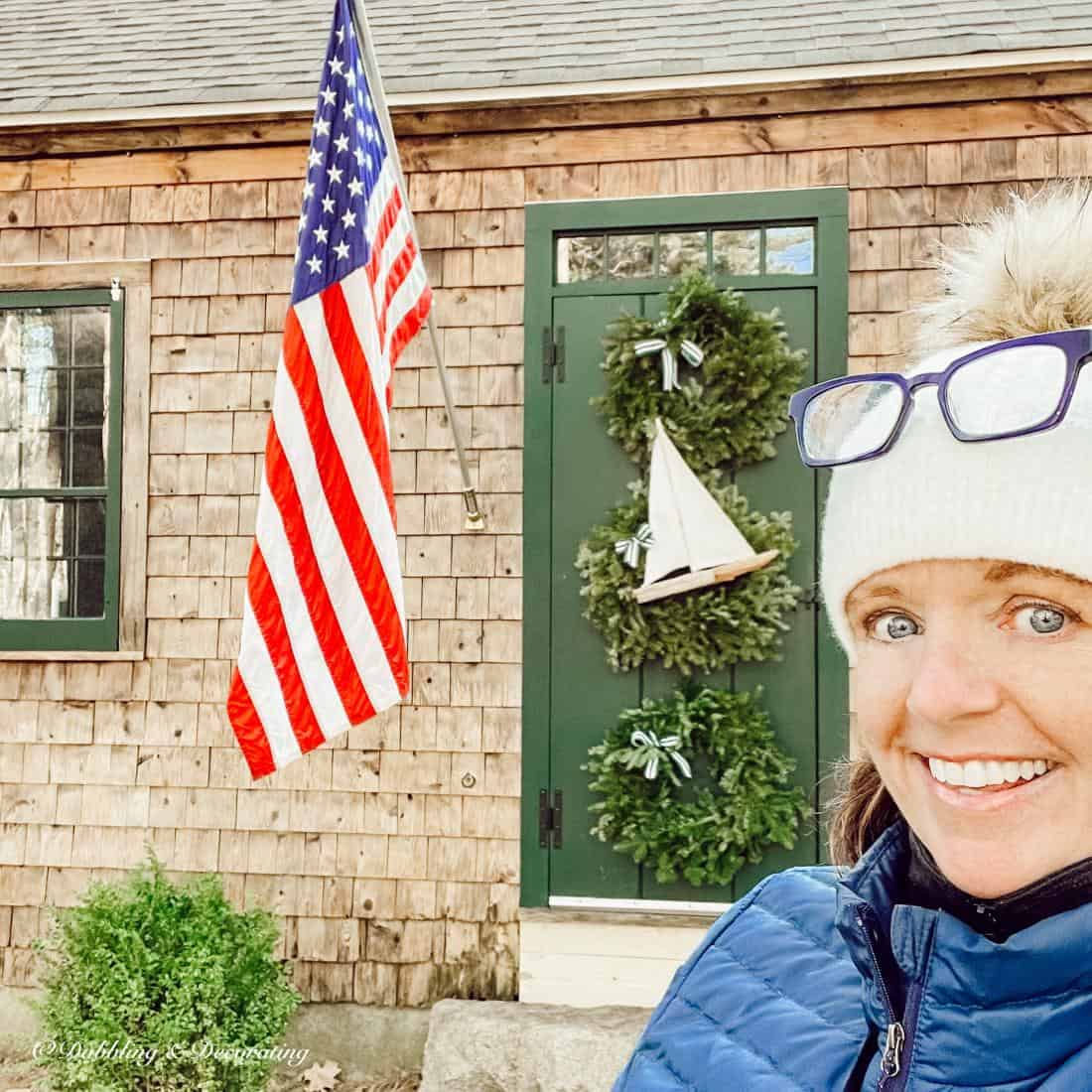 While in Maine, we always enjoy a good walk on the beach!
And on this day, I was left contending with a very dirty Ella on my mother's antique rug while I was hanging the newly thrifted white cotton curtains… Off to the groomers she went before our ride back to Vermont.
That's it for this trip friends, I will be returning very soon and will be working on the sunroom in the back of the house next, thrifting and decorating!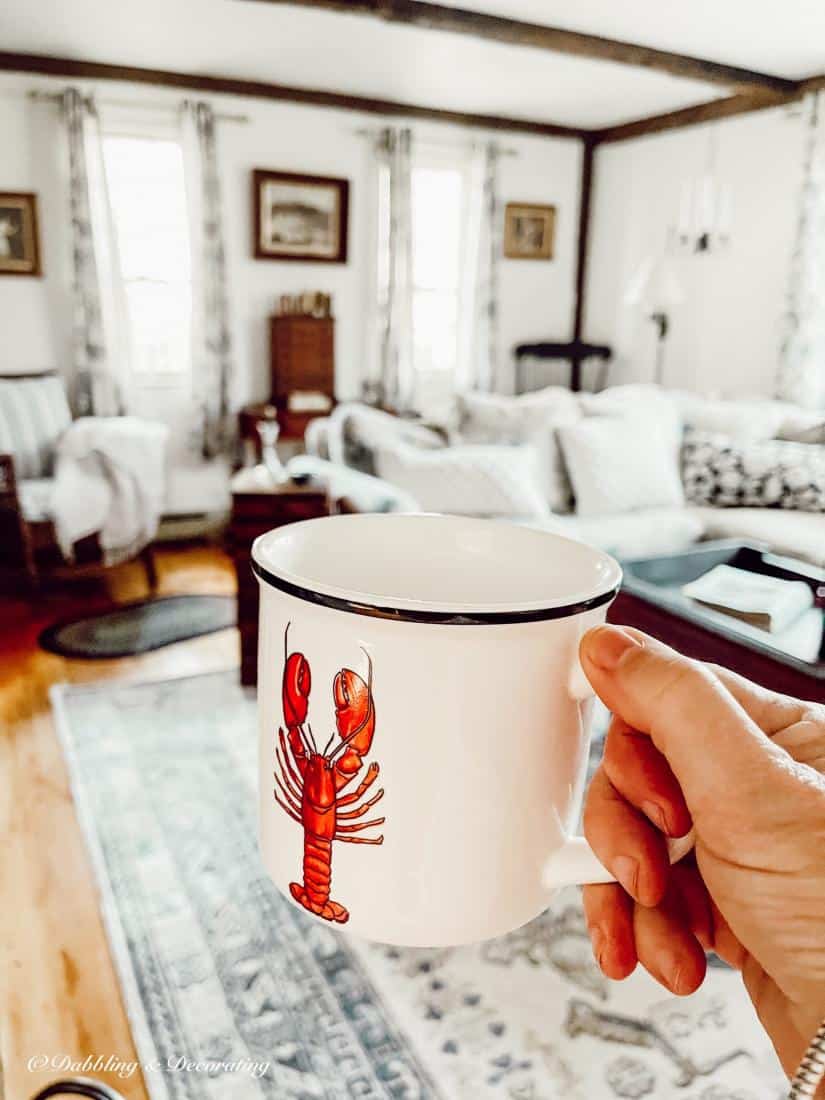 I'm so glad you dropped by, and if you are new to my blog, welcome! I hope you enjoyed your visit with us here today at our Home in Coastal Maine.
Be sure to also check out our Home in Vermont too, where we spend winters enjoying the coziness of home in the Green Mountains of Vermont.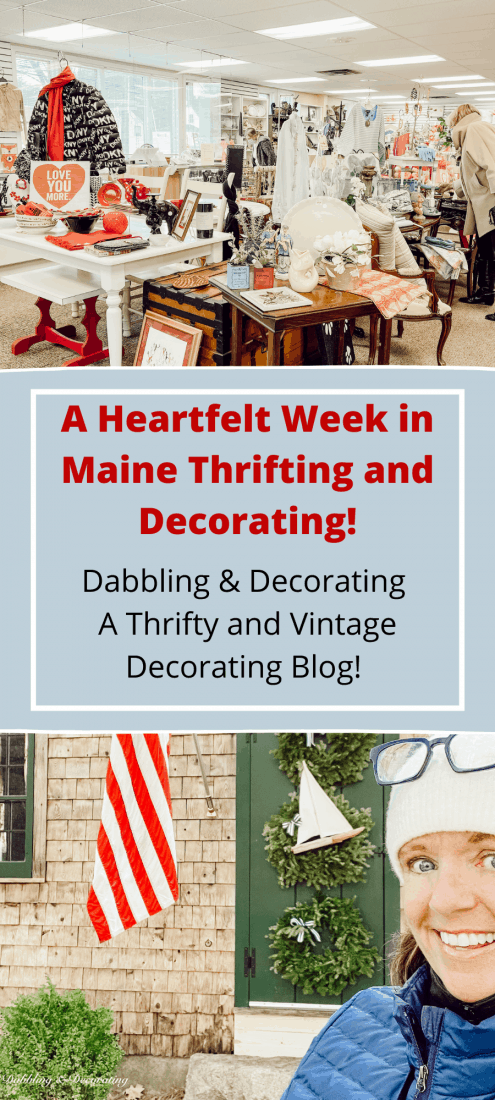 I've created the above custom pin just for this post! Hearing from you makes my day; your comments mean so much to me! Please join me over on Instagram & Pinterest to see more!
YOU MAY ALSO LIKE