This month I hit up some great thrifting in both Vermont and Maine. My old standby, The Cottage by the Brook in Vermont did not disappoint. If you are joining me from over at Kristi from French Creek Farmhouse welcome! I love all of Kristi's amazing vintage finds and how she decorates with them in her home. And that basket with the Eagle!! We were excited to have her join us as a guest host Thrifting with the Gals this past month.
I have always thought about having a nice wooden table for our farmer's porch at our home in Vermont. And this is where I spied this second-hand folding table, right in front of the Bargain Barn in all its glory.
Do you think this may be a wallpaper table? It seems a bit wider so I'm just not sure.
What is a wallpaper table? A table to apply paste so that the wallpaper can then be fixed onto the wall. The table needs to be long to accommodate wallpaper, so other tables typically do not work.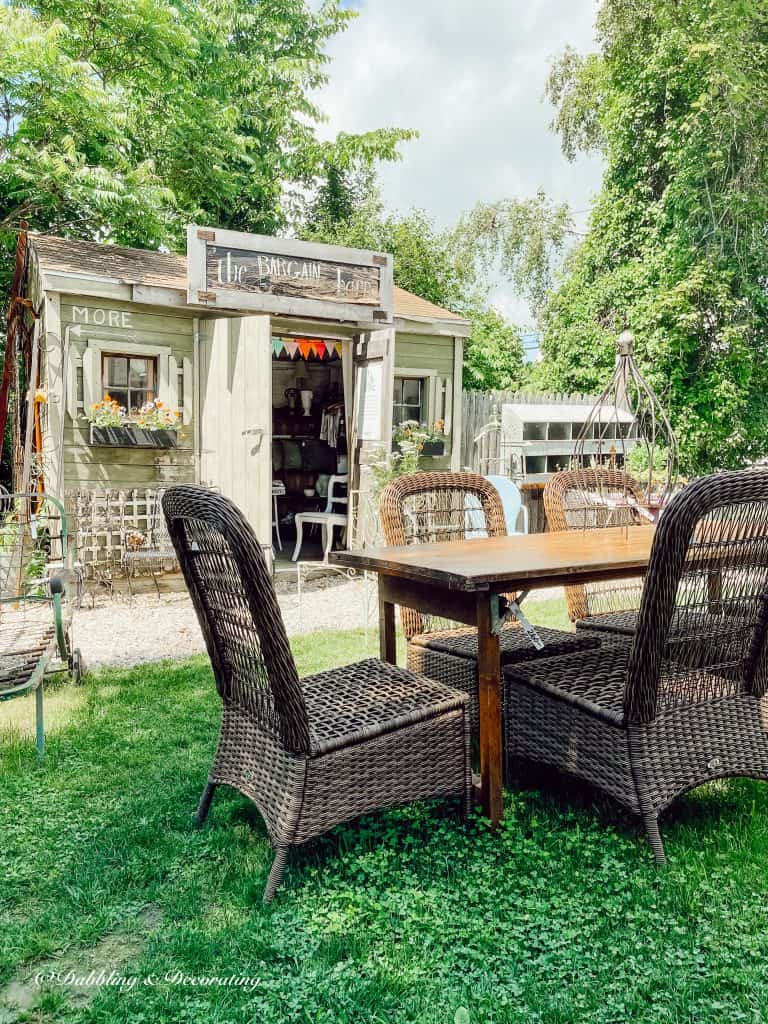 I loved this table so much and with the folding legs, it fit perfectly into the back of my SUV.
And then right onto our Vermont porch, where I enjoyed setting the table for breakfast the very next morning.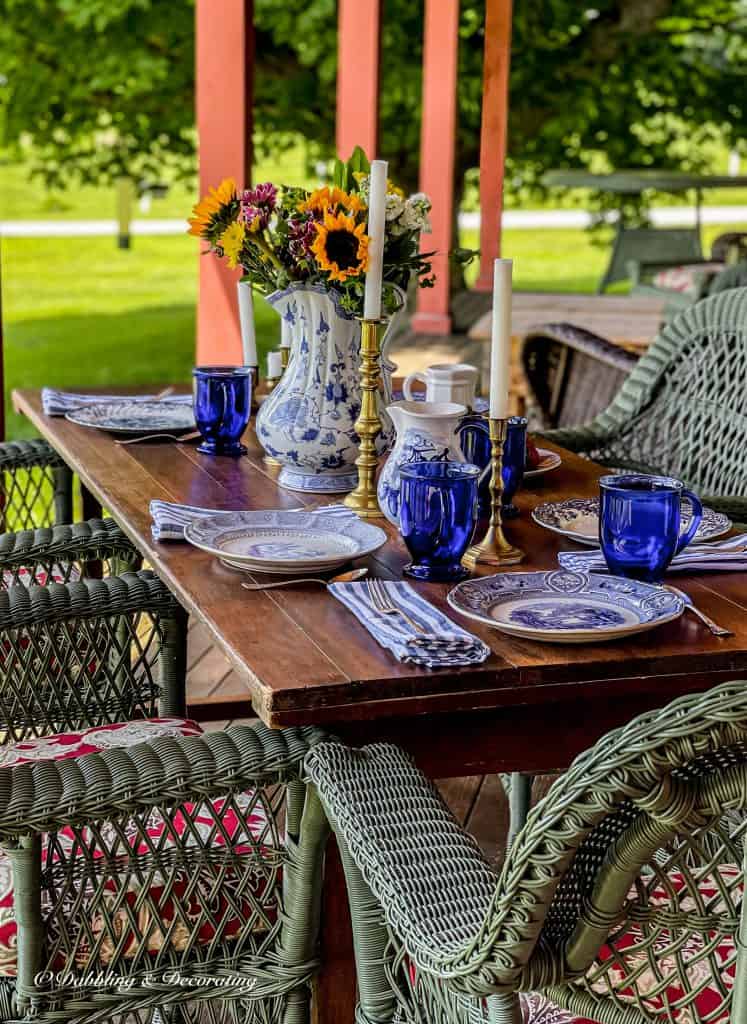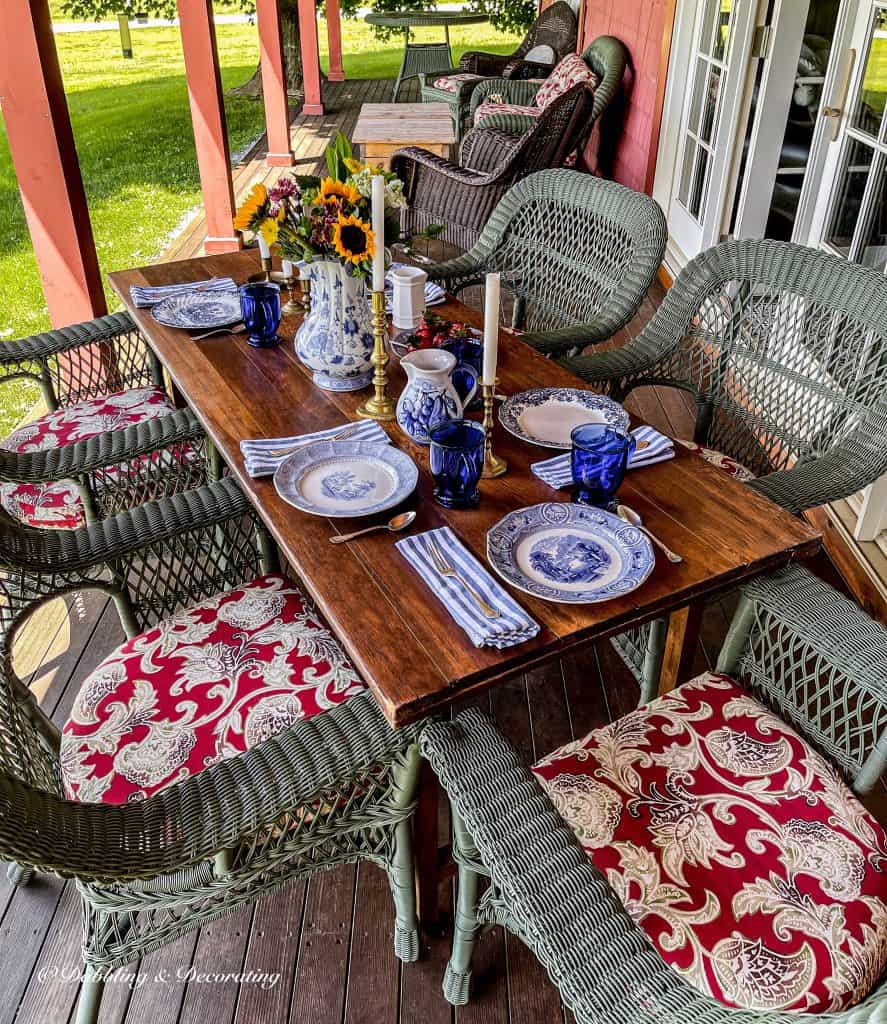 Breakfast in the Mountains…
Thrifting Local in Vermont
Next up I visited one of my local favorites here in Vermont, thrifting The Vintage Soul.
This shop is filled with beautiful vintage collections and is less than a year old. I love this local shop and it is on my list of favorites from Vermont to Maine!
Although I didn't find anything to bring home with me today, here are a few things that caught my eye thrifting!
THIS SHOP is located in Kittery, Maine! I adore it! Donation day is every Tuesday here so Wednesdays are the day to thrift this whimsical shop in southern, Maine. They have everything from clothes, dishware, home goods, furniture, and more. Do not miss this if you are local friends!

Here I found these lobster denim placemats and vintage linen napkins that I want to use this upcoming week, as a girlfriend of mine visits from Colorado and we host a few friends for a lobster dinner in our backyard in Maine.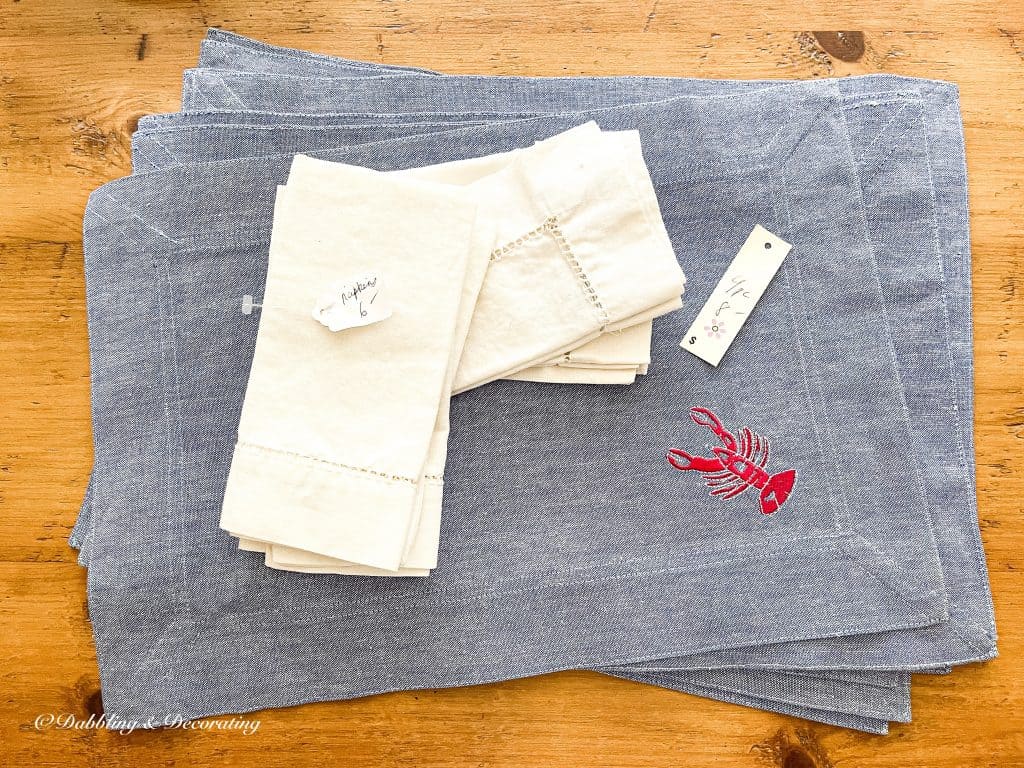 High on a shelf was this Johnson and Brother's "Autumn Delight" service for 8. The colors and pattern caught my eye for a fall table setting on our porch in Vermont.
The entire set was selling for $65! I found a similar service set of 12 selling for over $1200 on eBay. I just couldn't resist it at this price.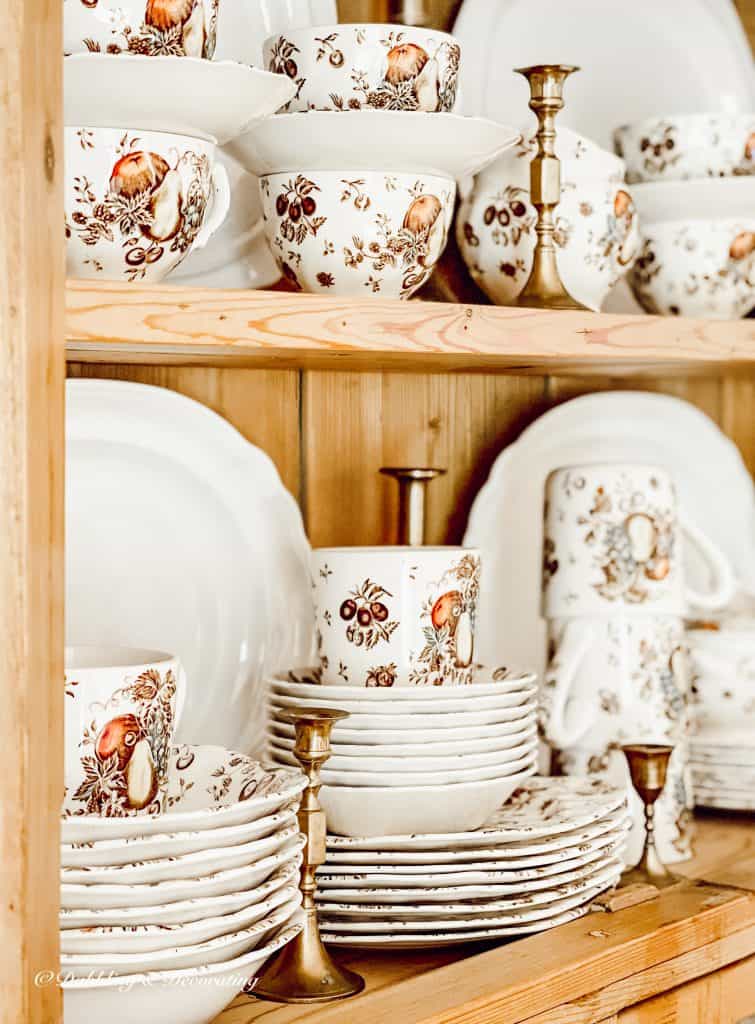 I brought it back to our home in Vermont and styled it in an antique pine cupboard with a collection of vintage candlesticks in our dining room.
Drop by here to see all about Autumn's Delight by Johnson Brothers.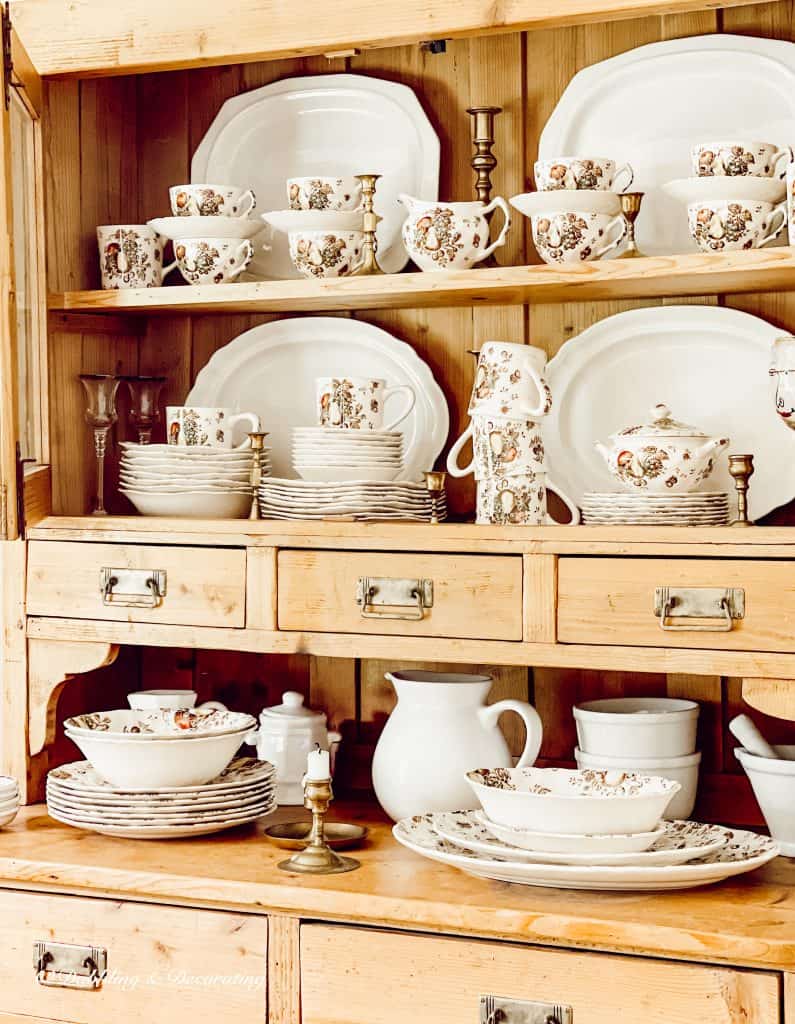 Breakaway Designs & Antiques is another shop on my favorites list. This shop along with the owners, Paula and Chris always inspires me so much. And they were getting married the very next day of my visit here:)

Upon walking in I fell in love with her actual "OPEN" sign and she sold it to me for just $30! Ha Ha… Love this place!
She even cleaned up all the chalk markings before taking it home!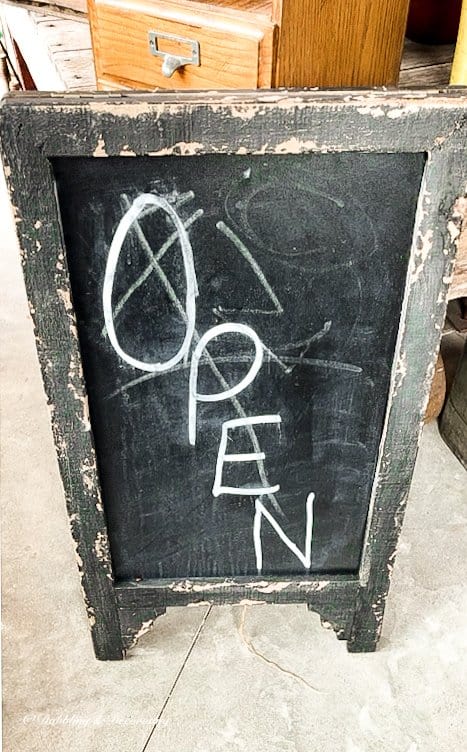 Thinking this bistro chalkboard sign would be so cute on our porch in Vermont next to my favorite second-hand table paired with the Autumn's Delight dishwares.
"Welcome to the Porch" it will say.
This chippy frame and rabbit book page, seriously? I couldn't turn these down either…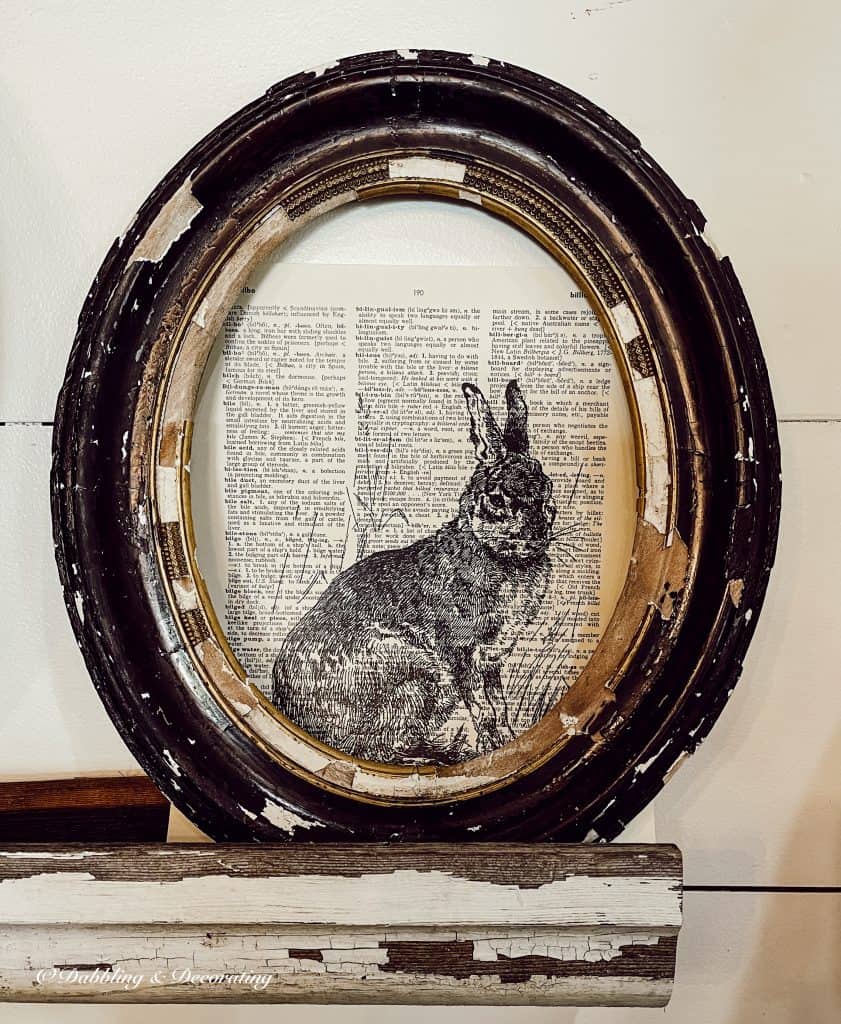 And since our porch is under construction right now in Vermont, both the bistro sign and the rabbit frame sit on our dining room table waiting for their fall debut too!!
We are also working on designing this backyard fire pit patio and conversation patio to be completed by the fall too.
Be sure to sign up for my weekly newsletter and never miss a post. So much to look forward to this fall!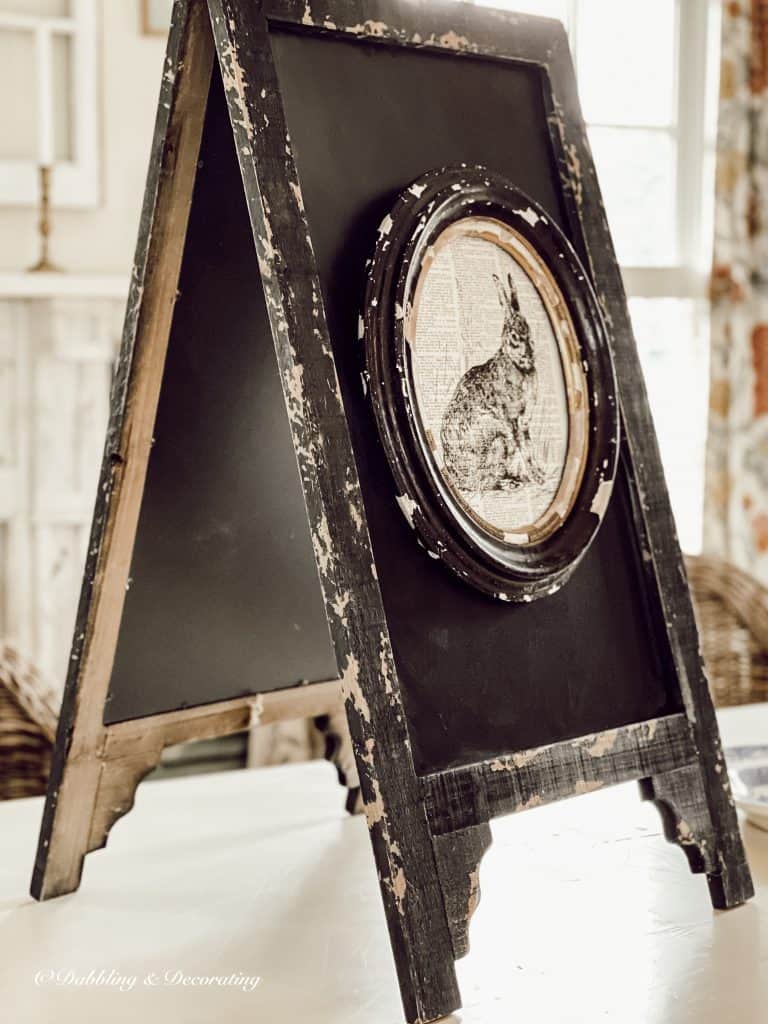 You may also enjoy the Vintage Shopping, A Church Collection Basket, and Wild Oats post.
More Thrifting Goodness

A New Shop and Thrifting Chincilla's
I found this "new to me" shop on Google and thought I would give it a try. It was a short drive and was located at a beautiful home in Kittery, Maine.
They have many beautiful things here and the prices were reasonable. But I think for the first time in a long time, I left here empty-handed, unfortunately.
We have been getting so much rain here in New England this summer! And this week I had friends here from out of town. I was excited to put all my past thrifted goodies together to create this outdoor lobster table setting.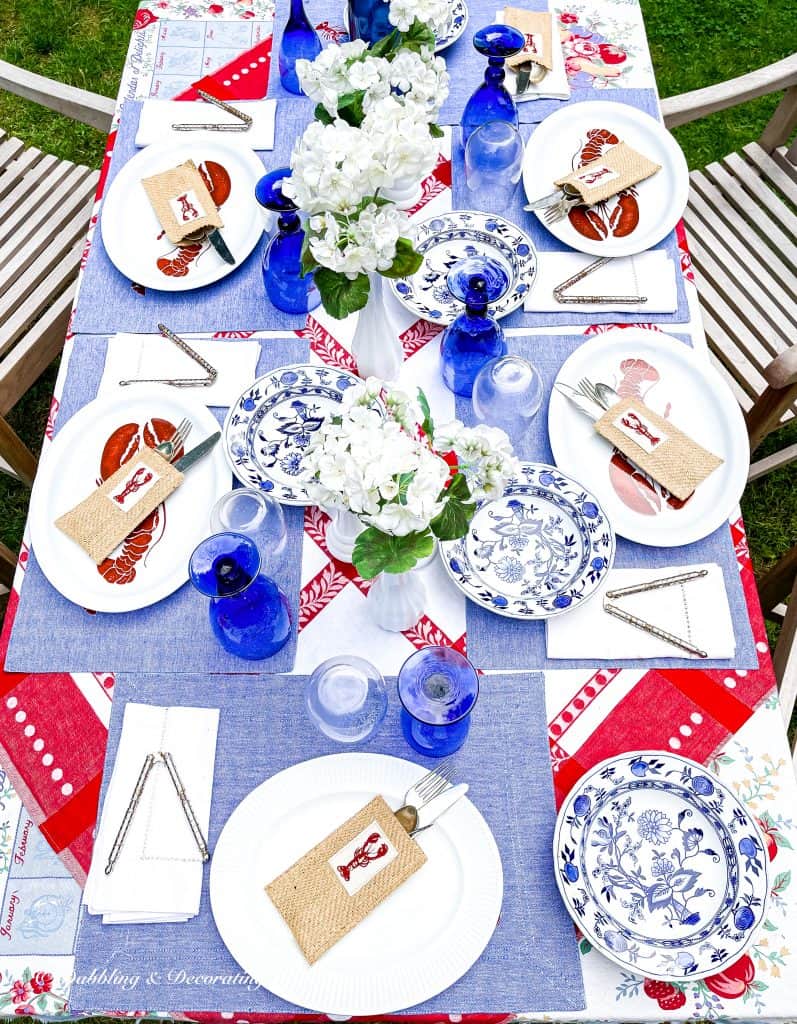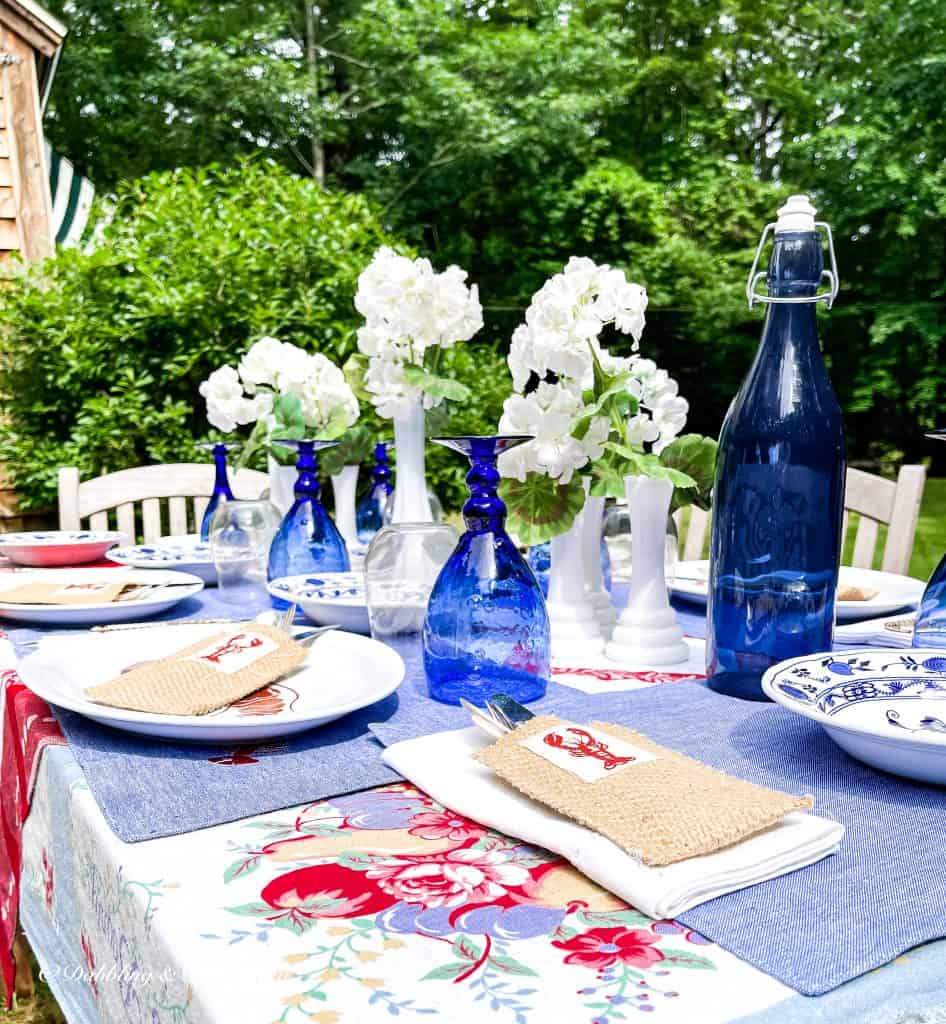 Check out the 12 Best Vintage Finds of 2021 Countdown here!
I'm so glad you dropped by today friend, and if you are new to my blog, welcome! I hope you enjoyed your visit with us today at both our homes in Coastal Maine and Vermont this week.
Please join me as a regular here at Dabbling & Decorating by signing up for my newsletter below and never miss an update!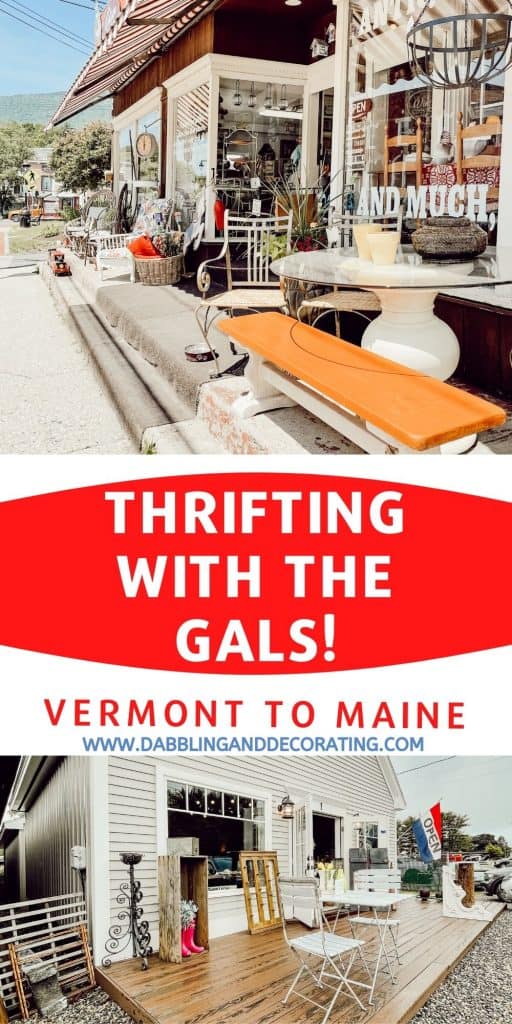 I've created the above custom pin just for this post! Hearing from you makes my day and your comments mean so much to me! Please join me over on Instagram & Pinterest to see more!
SHOP MY THRIFTED FINDS

Next up on today's "Thrifting with the Gals" Tour is Rachel over at The Ponds Farmhouse. Rachel and I have such similar taste. You won't want to miss Rachel's beautiful farmhouse finds from North Carolina!
Best Thrift Store Decor Ideas Thrifting with the Gals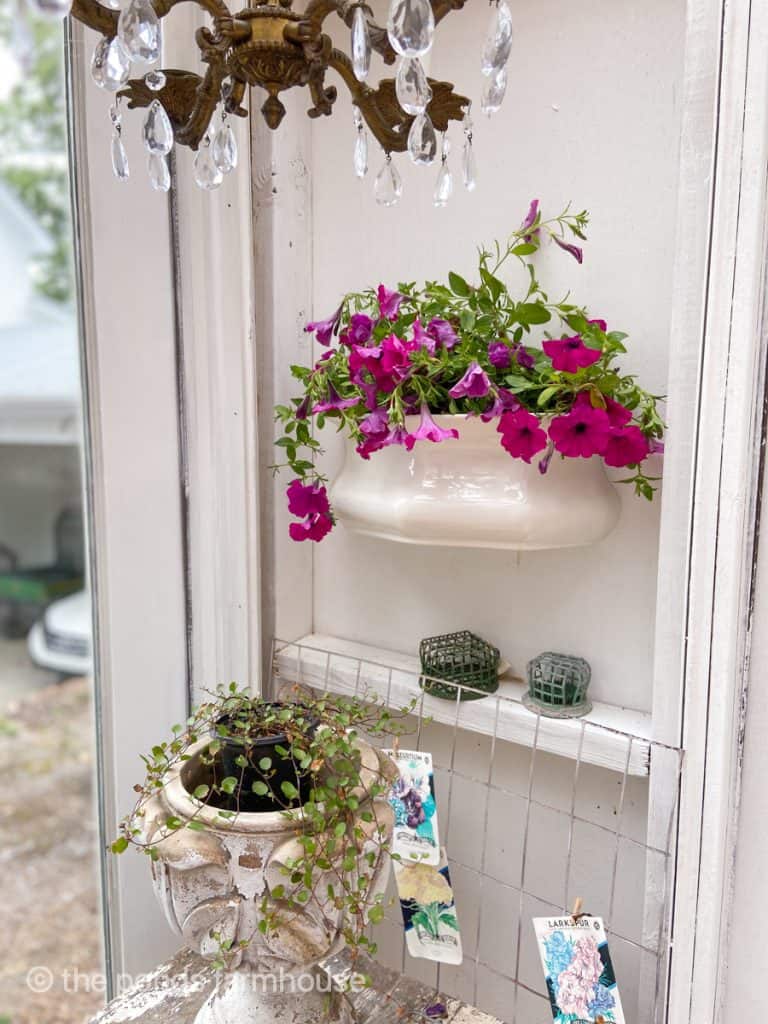 Thrift Unique Decorating Ideas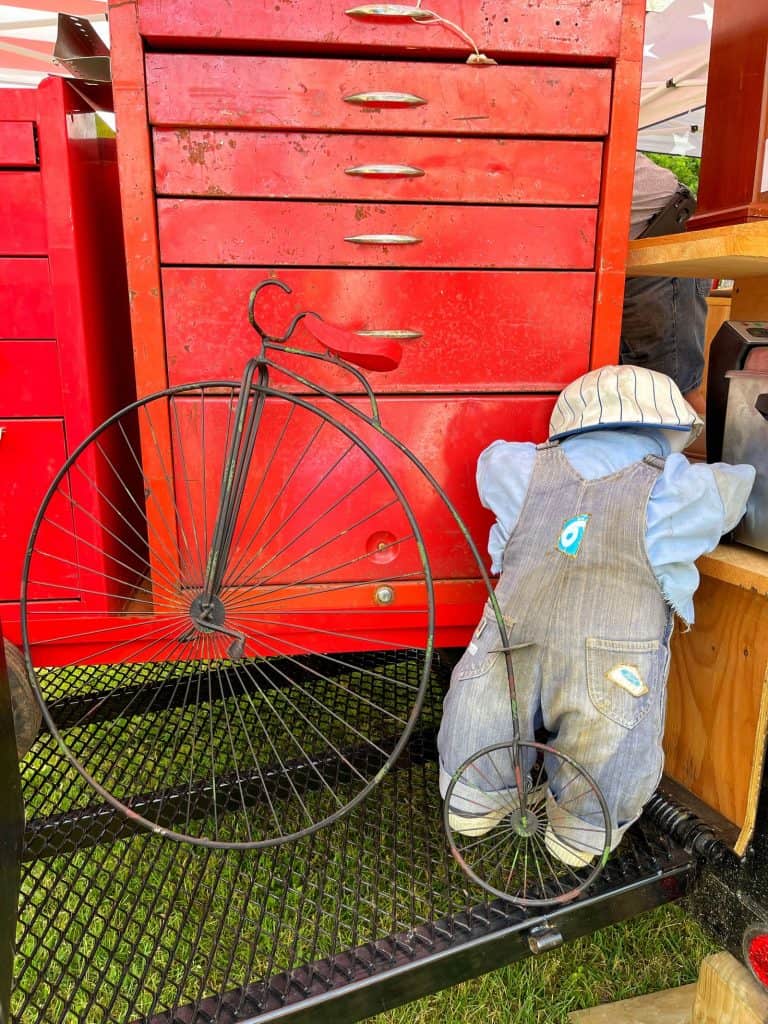 Vintage Picnic Basket Floral Arrangement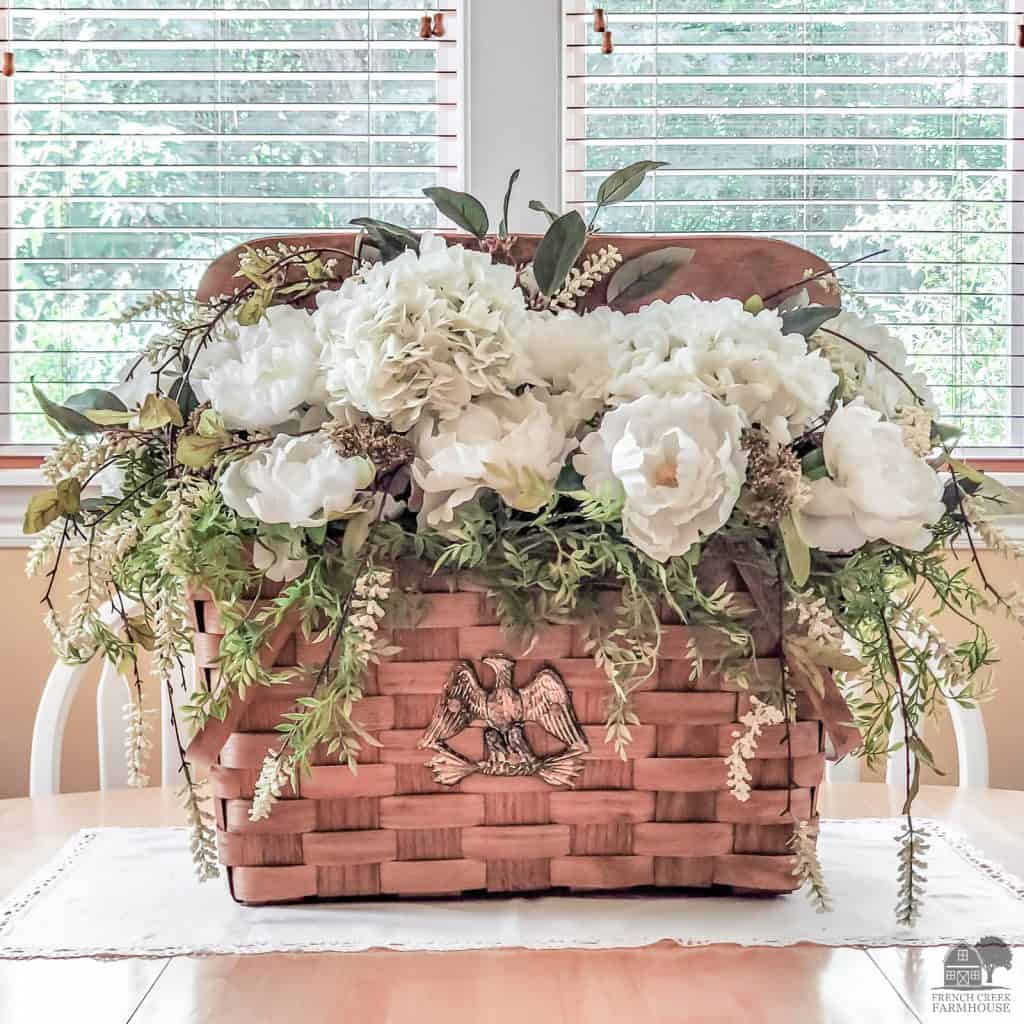 Join me over at "Thrifting with the Gals" to catch up on all our previous posts in case you missed them.