Capture your inspiration today with these 32 striking antique and vintage Christmas decor ideas you will want to bargain shop for this holiday season.
You may also enjoy the Vintage Booth Winter Window Display post from my Vermont vintage window booth!
Thrifting with the Gals
And joining me here today and into this holiday season are my "Thrifting with the Gals" buddies.
What is "Thrifting with the Gals"?
"Thrifting with the Gals" started with a group of friends who met over on Instagram and formed a special relationship through a mutual love of vintage home decorating. We share a passion for all things vintage, thrifty, and cozy.
Our styles are all very unique though, from Kristin's log cabin in the Northwoods of Wisconsin, Rachel's farmhouse in North Carolina, Robyn's beautiful French Nest in Florida, and of course myself thrifting for our homes from Vermont to Coastal Maine.
Meet the Thrifting Gals
32 Delightful Antique Christmas Decor Tidings
Not in any specific order…
1. Antique Horses
In all the antique shops this season, horses are everywhere. Add a holiday bow and display it on your mantel, table, wall, bedroom, fireplace hearth, or outdoors.
See this wooden horse decorated for the holidays in the post, Christmas Old Colonial Fireplace, Hearth, and Mantel.
2. Antique Tree Stands
Add all the love to your Christmas tree this year with a charming vintage tree stand.
3. Antique Christmas Figurines
Collect your favorite Christmas figurines.
4. Vintage Christmas Trees
Add small or large vintage Christmas trees to your holiday decor. They are plentiful in the second-hand shops this time of the year.
I haven't seen any pink ones myself, but I do hear they are on trend this year:)
You may also enjoy the Celebrate Holiday Preparations With Christmas Plaids, Checks, and Hot Chocolate Mugs post.
5. Vintage Evergreen Inspired Dress Forms
Could you love these vintage dress forms decorated for the holidays anymore?
You may also enjoy the posts, A Thrift Here, a Vintage There, and A Valentine.
And Meet My Ol' Gal, Miss Mannequin Dress Form.
6. Antique Game Boards
Antique game boards like these checkerboards here are fabulously decorated for the holidays hanging on a wall or set up on a coffee table.
7. Antique Architectural Pieces
Dive into your creativity, grab your favorite architectural pieces, and create your own Christmas ornaments and decorations.
You may also enjoy the post, 15+ Christmas and Holiday Thrift Store Makeovers.
8. Antique Christmas Card Holder
I didn't even know these existed until just recently. I always thought that Christmas card holders were a modern-day invention until I saw this one…
9. Ironstone
An Antique Christmas decor post wouldn't be complete without the mention of ironstone. And specifically, I love to collect ironstone molds. So charming when serving up small appetizers like peanuts, candy, etc…
10. Vintage Animal Decorations
Small animal figurines and Christmas tree ornaments are super cute touches for the holidays.
11. Antique Toys for Children
Collect children's old vintage toys to display in children's rooms, guest bedrooms, or under the Christmas tree. Maybe even as a gift?
12. Vintage Ski Clothing
Vintage ski sweaters, hats, boots, and mittens are always in style!
13. Old Paintbrushes
I love finding batches of old paintbrushes. They add wonderful charm and color to an office or home desk.
You may enjoy seeing these paintbrushes decorated on our bookshelves now in the post, How to Decorate Bookshelves for a Vintage Christmas.
14. Vintage Simplicity Patterns
I shared this video from 1970 over on Instagram this week of how my mother used to wrap Christmas presents with newspaper and red ribbons.
And one of my followers responded that she wraps her smaller Christmas presents in vintage Simplicity pattern packages. What a fabulous idea!
15. Vintage Brush Christmas Trees
These little brush trees are so on trend this Christmas. And so many fun ways to decorate with these cuties too.
I love decorating with vintage ski lodge decor at both our Vermont and Coastal Maine homes. Check out my Vintage Ski Lodge Decor series and follow along.
16. Vintage Skis
Grab them whenever you can, but don't pay more than $100 for a nice antique wooden pair. You can find them reasonably for around $50 too. Cross Country Skis and downhill alike!
See how I decorated with our vintage skis at our home in Vermont HERE and HERE!
You may enjoy seeing how I decorated with our vintage cross-country skis this year for Christmas in the post, How to Decorate Bookshelves for a Vintage Christmas.
17. Vintage Toboggans and Sleds
I've seen these beauties everywhere in the antique shops this holiday season.
Check out the toboggan I found last year and how I decorated with it on our porch HERE!
Learn all about these Jack Jumper sleds I found at Vintage Market Days Vermont this fall. So fun!
18. Vintage Snowshoes
One of my favorite vintage Christmas decor treasures to decorate with for the holidays and throughout the winter. Check them out HERE and HERE.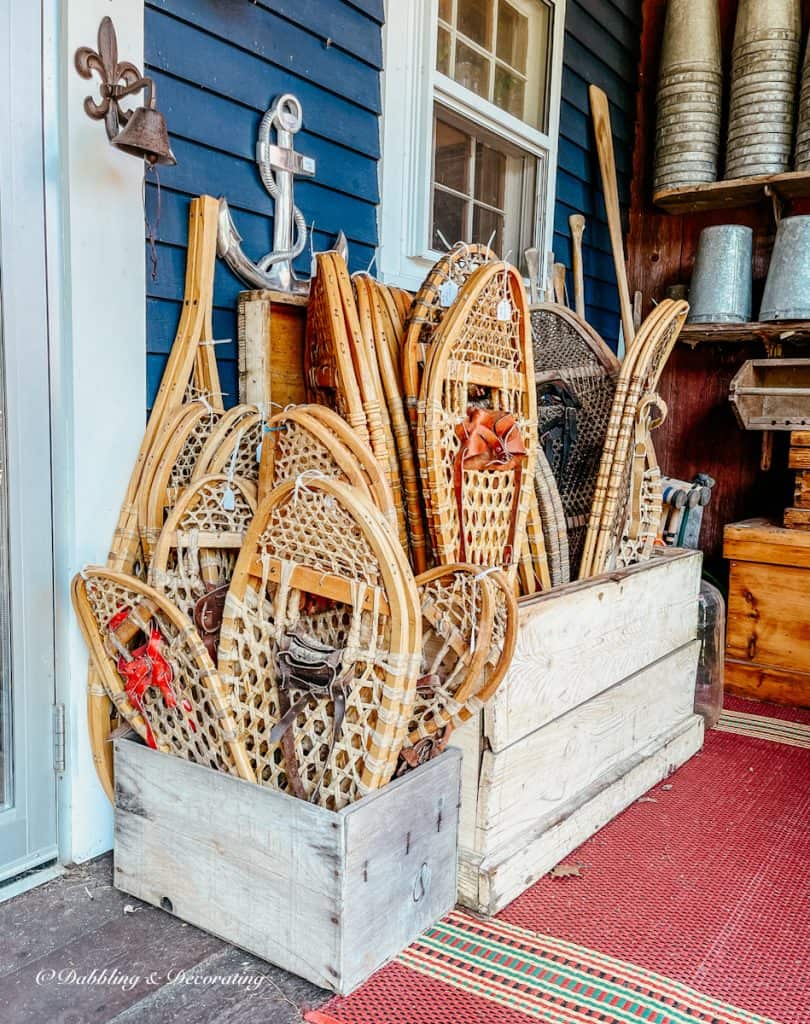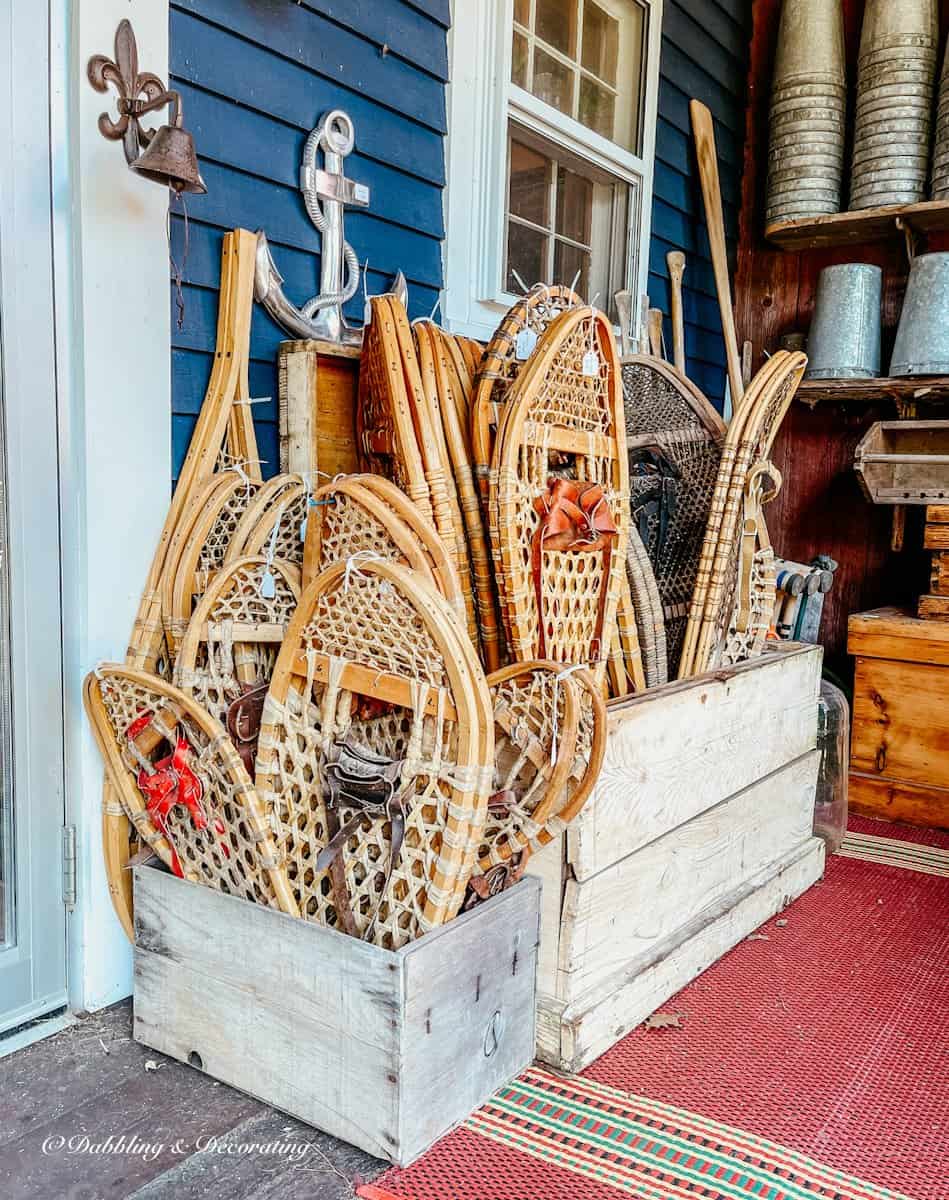 18. Vintage Ice Skates
Vintage ice skates have always been a New England holiday classic, displayed on front doors and wreaths alike.
You may enjoy seeing ice skates on our front door in Maine HERE.
19. Vintage Ski Boots
One of my favorite things to decorate with over the holidays. See how I decorated with my vintage ski boots last year on our porch HERE.
20. Vintage Christmas Ornaments
I love vintage ornaments, their nostalgia is so warming with all the memories of days gone by.
21. Vintage Brass Bells
My mother had a large vintage bell collection that I'm going to decorate with this year. Stay tuned for that coming to the blog soon.
22. Old Rustic Christmas Signs
The best are the ones you find from old farms, barns, shops, etc…
23. Cozy Sheepskins
I love sheepskins for our outdoor furniture during the winter months. The fluffier and more durable the better! Maybe even one to throw on the floor as a rug.
You may enjoy this post to see how I used sheepskins on our porch seating, Picturesque Table Setting with Autumn Mountain Views.
24. Old Vine Wreaths
Old vine wreaths are something you can use year-round. I love how these were designed and just $6!
25. Pinecones
Pinecones aren't antique, but they are an easy way to add texture and bring the outdoors inside during Christmas time.
26. Vintage Linens
Add colorful vintage linens to your kitchen and bathrooms.
27. Antique Bicycles
Antique bicycles are so sweet. Enjoy them in your outdoor and indoor Christmas decor and then again in the summer in your gardens!
28. Antique Spools
I picked this one up the other day, as I love the light blue color to go with the newly painted blue walls that we are having painted at our home in Vermont as I write this…
I'll probably display it on our bookshelves. See it on our bookshelves now in the post, How to Decorate Bookshelves for a Vintage Christmas.
You may also enjoy the Vintage Market Days Vermont Fall Haul post where I picked up some evergreen antique spools.
29. Vintage Christmas Candles
Oh my gosh, there are really some adorable vintage Christmas candles in the second-hand shops. Such a super cute way to add character to almost any room of your home.
30. Antique Bugles
I have my mother's antique bugle collection in all shapes and sizes displayed over our fireplace mantel this Christmas. You may see them in the Christmas Old Colonial Fireplace, Hearth, and Mantel post.
31. Wooden Trees
The neutral lover in me just loves collecting old wooden trees. Not necessarily even Christmas trees.
See more of this holiday coastal tablescape HERE.
You may also enjoy the post, Homes in Sweden | My 10 Favorite.
32. And This One is Just for Fun!
If you are here and made it this far, we are vintage-loving soul mates for sure!
HAPPY HAPPY HOLIDAYS!
I'm so glad you dropped by, and if you are new to my blog, welcome! I hope you enjoyed your visit with us here today at our Home in Coastal Maine.
Be sure to also check out our Home in Vermont too, where we spend winters enjoying the coziness of home in the Green Mountains of Vermont.

I've created the above custom pin just for this post! Hearing from you makes my day! Your comments mean so much to me! Please join me on Instagram & Pinterest to see more!
Don't Forget to Check out the other "Thrifting with the Gals" Posts
YOU MAY ALSO ENJOY