Today I am so thankful to be joining 30+ extremely talented home decor bloggers in sharing our "Bloggers Summer Best House Tours" with you here today sponsored by Kelly over at the Tattered Pew. If you are joining me from over at Ana of Fiddle Leaf Interiors and are new to my blog welcome! Ana is so creative and supportive, I just adore her.
We are at our home here in Coastal Maine for the summer. A home we inherited and have been renovating and decorating ever since. Join me where I share My Coastal Maine Heritage and Embrace My Roots, a multi-generational family story of living, working, and growing up in Maine.
Guest Bedroom House Tour
This is my favorite room in the house! It's small and I just love decorating it throughout the seasons.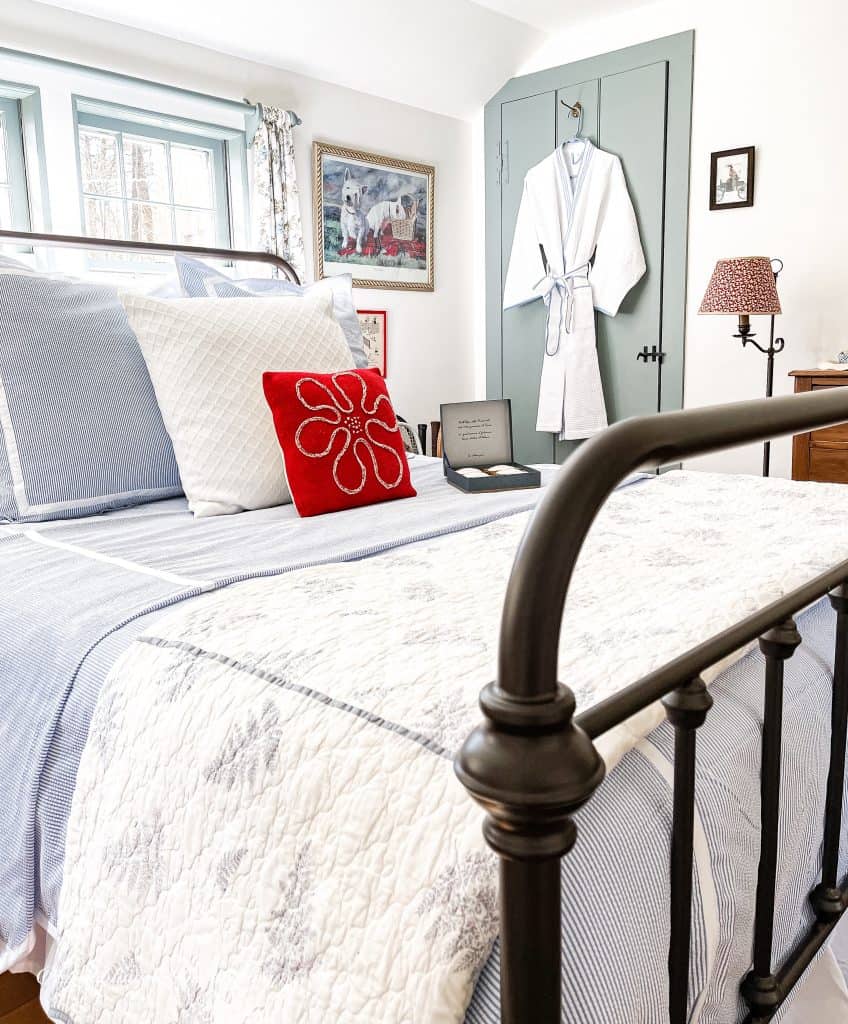 Here is the same bedroom last year decorated for Labor Day weekend with some old family quilts and blankets that I found in a trunk in the attic.
And last year for The Fourth of July the bedroom looked like this!
Here, I partnered with Schweitzer Linen and their amazing Seersucker Bedding. Order your own and save 20% with the coupon code dabbling20.
And of course here with lobster pillows when we first inherited the home.
You may also enjoy the post, Coastal Bedding Ideas For Your Beach House.
Many of you ask what the paint color is for this room. Here is the formula that we used.
This year I added a blue and white duvet bed set that I found "Thrifting with the Gals" for $18.
I also share How to Fold and Display Heirloom Quilts here in this bedroom.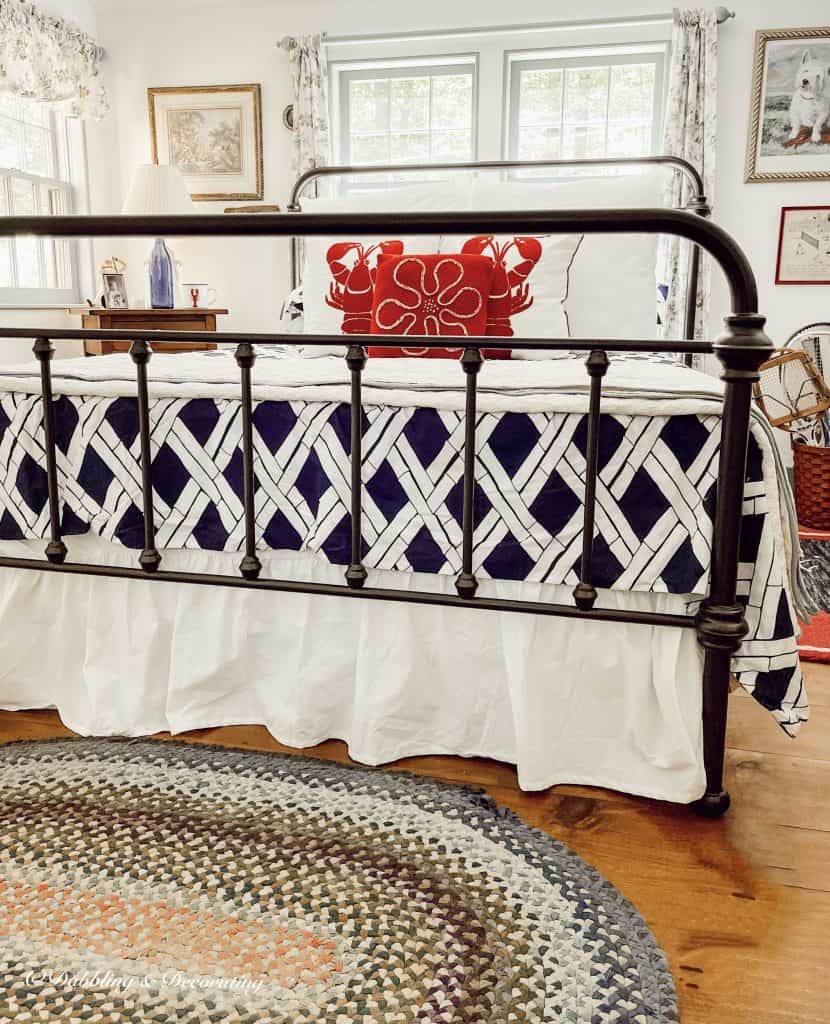 You may also enjoy this year's COASTAL GRANDMOTHER SUMMER DECOR "IN MY MOTHER'S HOME".
Living Room House Tour
Our Living Room in this New England Colonial Home is filled with collected antiques and treasured family heirlooms. Equipped with an old fashion brick fireplace surrounded by a linen slipcovered sectional by Four Seasons Furniture. Several pillows along with my mother's hand-knit blankets keep this room cozy even in the summer months.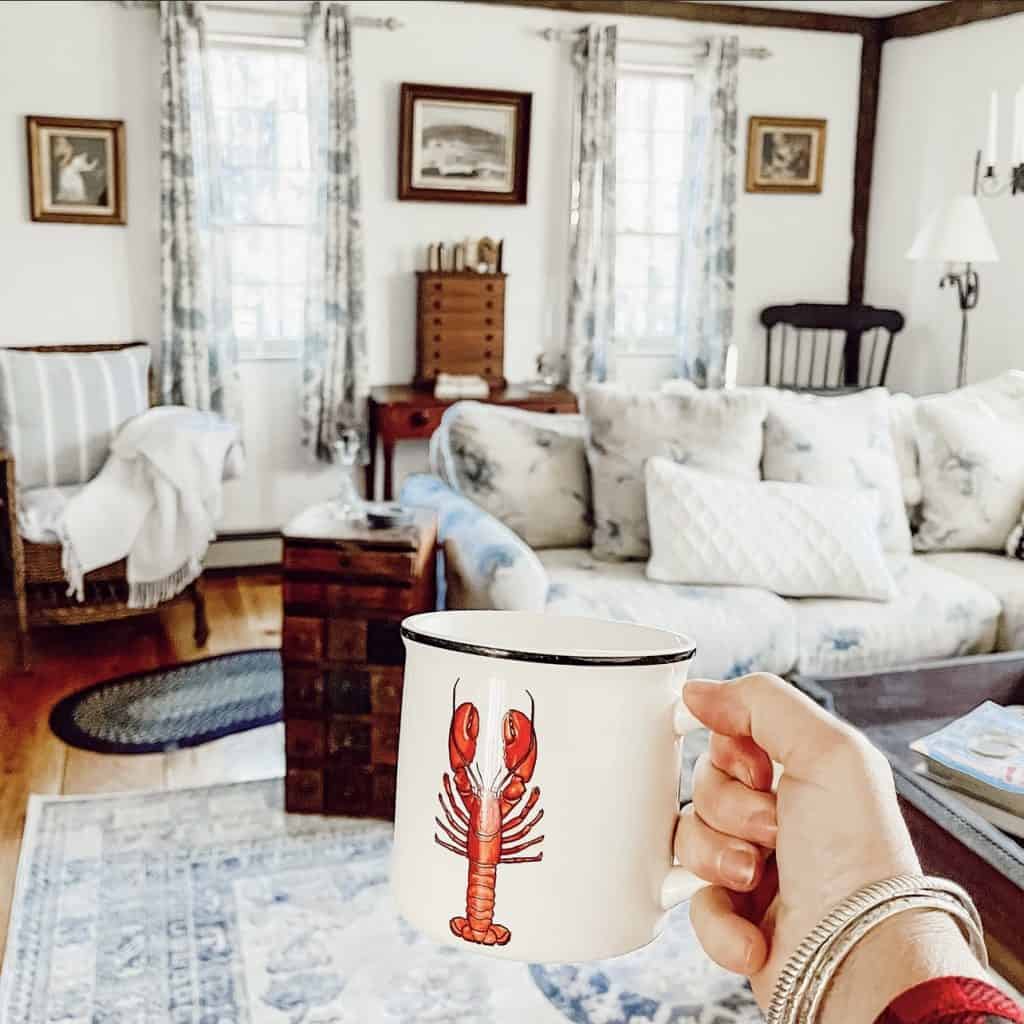 A bouquet of cut greens from the backyard fills a basket behind the sectional. Having something "live" in every room always makes a home feel so cozy. And it can be as simple as cutting greens from a tree in the summer.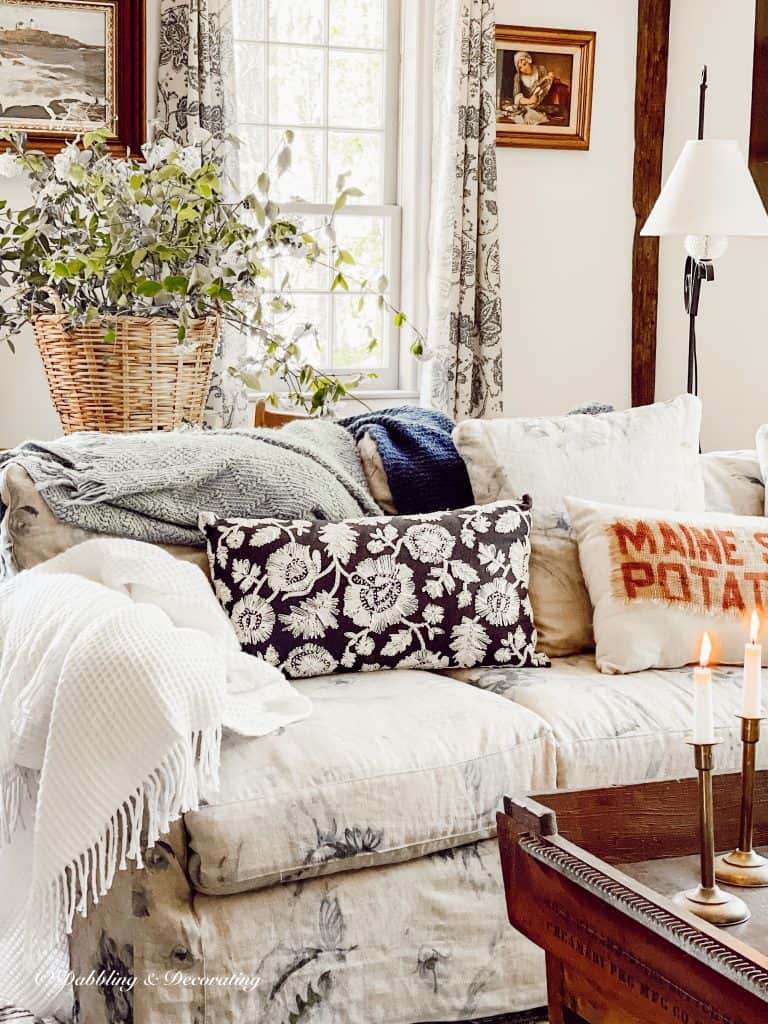 Vintage collectibles, accentuated with my favorite blues compliment the woods and whites beautifully. I like to add a few white accents in the summer to lighten up this room.
And lilacs, give me all the lilacs!!
This is our favorite spot for all our Cozy Couch Moments too.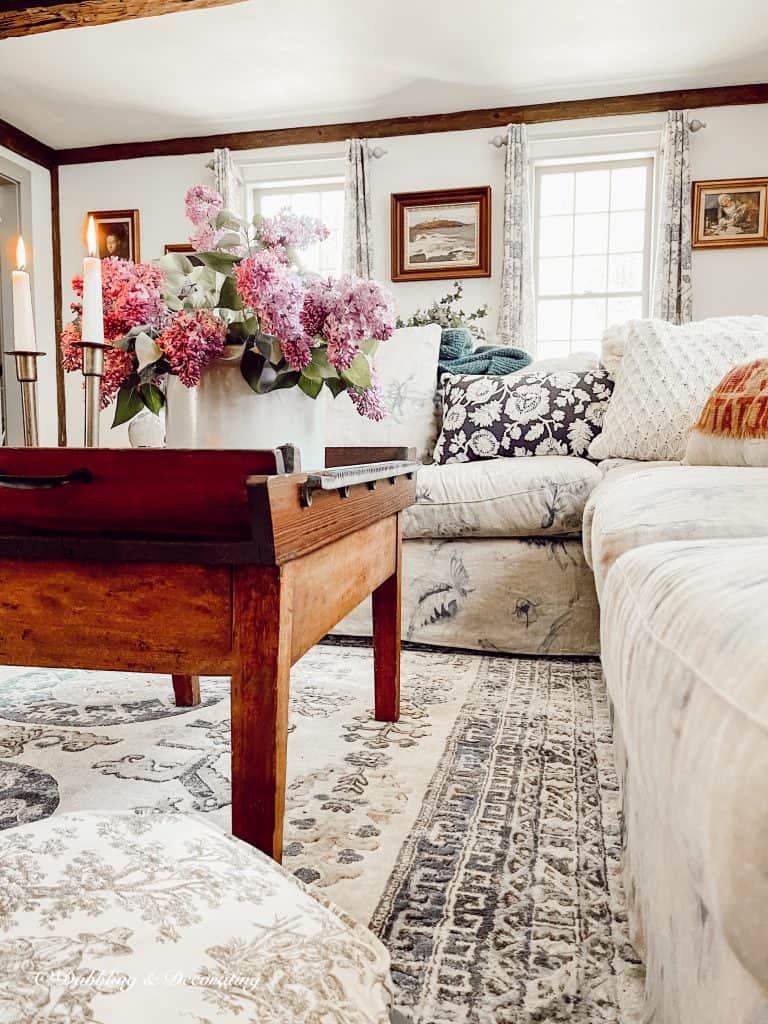 Sunroom House Tour
Can you believe this room can reach over 100 degrees in the summer? But we love it so much and it is our go-to room for coffee in the morning and a visit with friends over summer drinks in the late afternoon.
We found these Sun Shade Sails that match the Essex Green House trim and they have cooled this room down substantially. They were such a steal too, compared with purchasing custom awnings.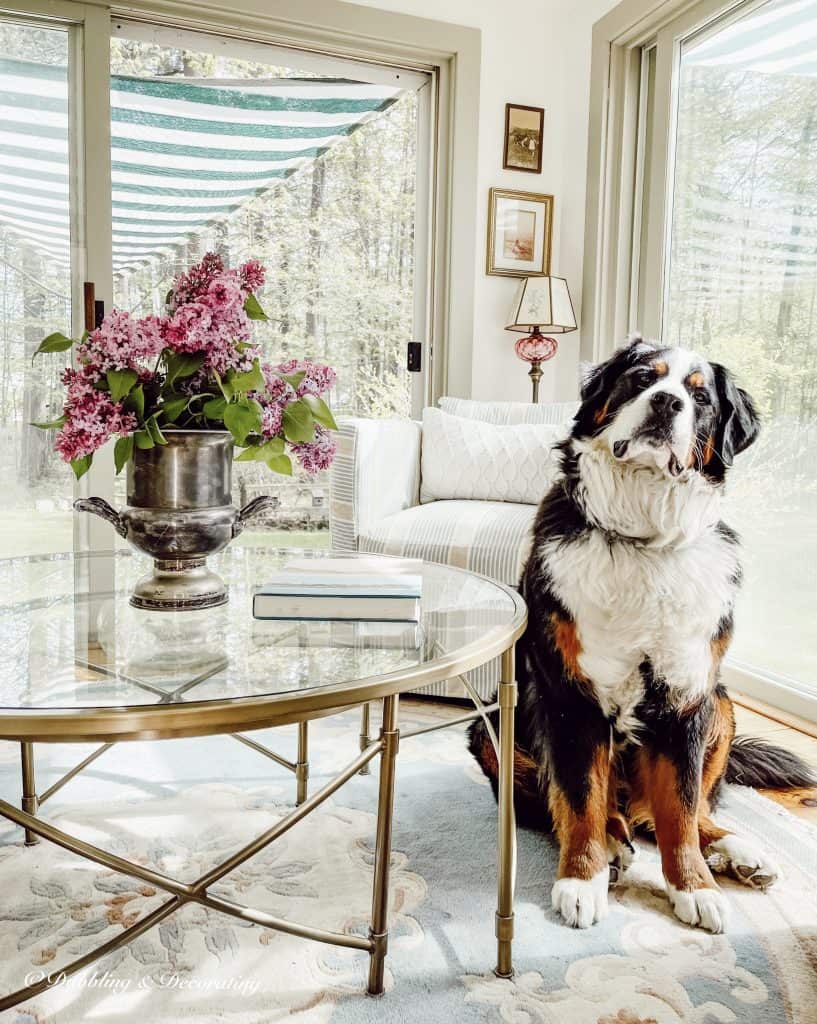 This room came together nicely with the addition of 4 Four Seasons Furniture slipcovered chairs along with this nesting coffee table, which is perfect for guests when serving appetizers and drinks.
My mother's antique lamps and photos are the specially added vintage charms.
And check out this Fabulous Vintage Hutch Makeover in this space today.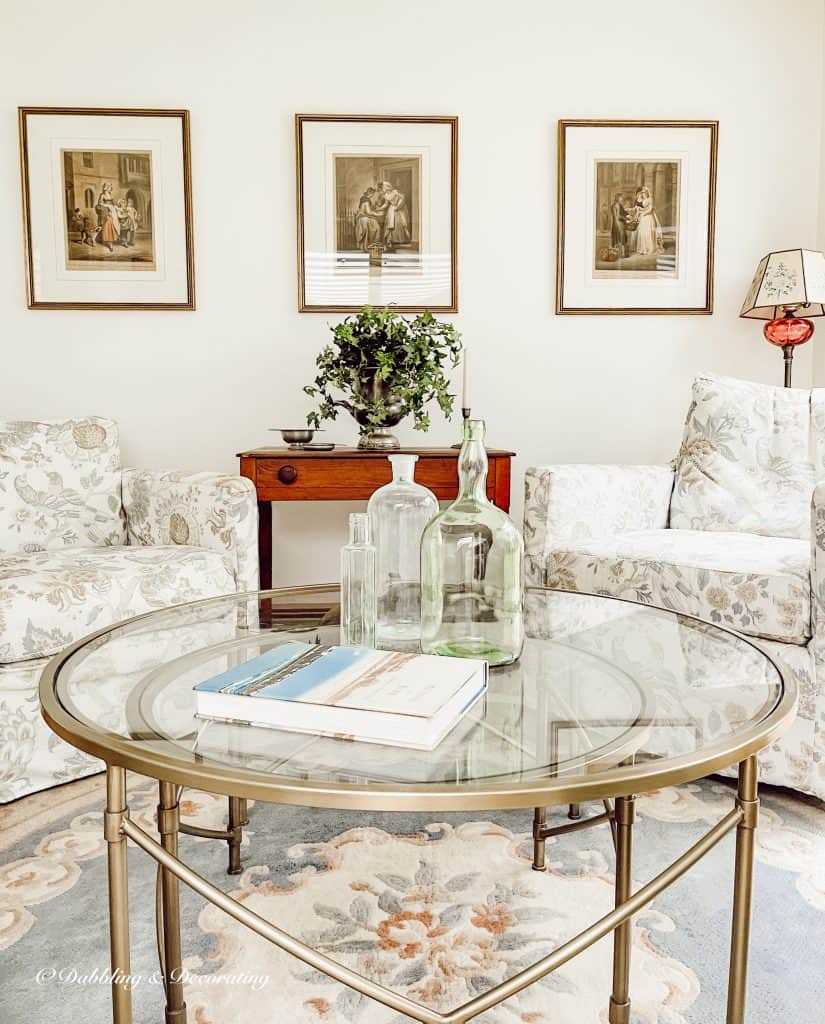 You may also enjoy the new white valance curtains we hung in the kitchen and hallways here, How to Fold and Hang Tie-Up Valance Curtains
And Behind the Scenes Photo Shoot with Country Sampler Magazine.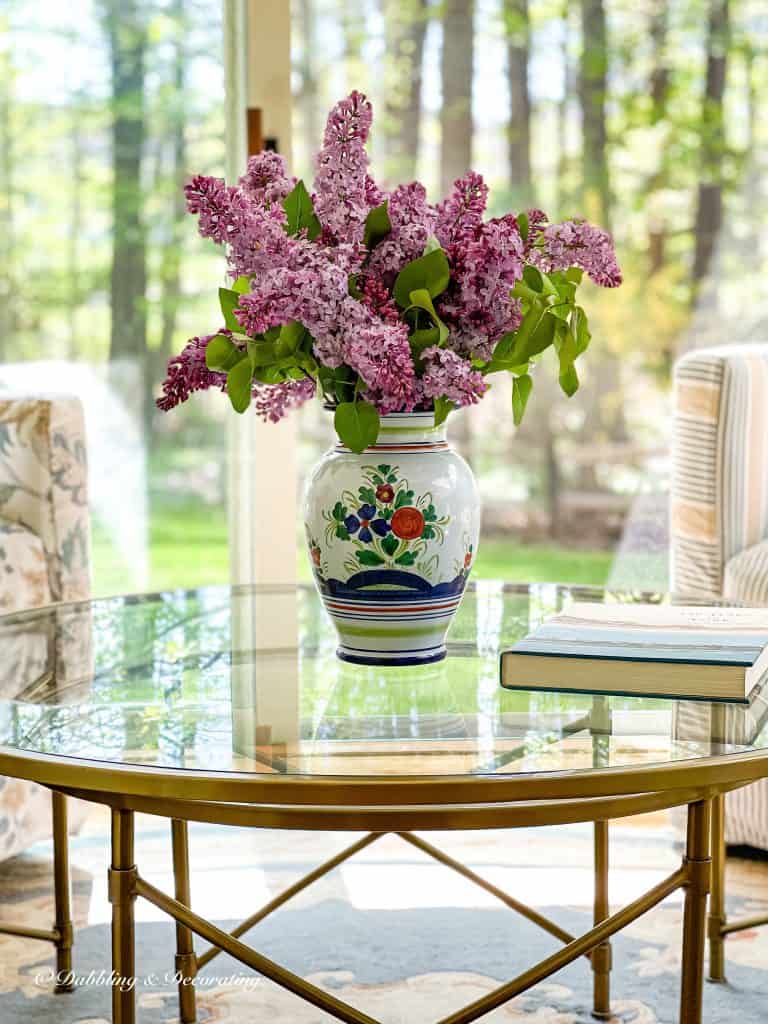 Dining Room House Tour
The dining room is a high-traffic area between the kitchen and the living room and the first room entering our home.
A large pine table that I found on Facebook Marketplace is surrounded by antique chairs, which had been my mother's for years.
You may also enjoy the post, Entertain with Red, White, and Blue! Easy Summer Table Trimmings.

A thrifted basket with fresh-cut flowers from the backyard creates a simple yet bold statement for summer upon entering this room from every direction.
Here's another summer arrangement with my mother's vintage crocks and fresh Rhododendrons from the backyard.
A small ironstone mold filled with beach rocks, vintage teacup, and teapot drawer knobs adds a bit of old-school charm to the crocks.
Our old chippy green apothecary in the dining room is stacked with thrifted blue and white dishes along with $1 thrifted milk glass bud vases and cut flowers from the backyard.
An antique dough bowl that hangs above the apothecary cabinet is balanced with a pink flower photo, also thrifted.
From the Backyard
Last year we spent the summer cleaning and restoring the cedar shakes on the side of the home after almost 30 years of weathering.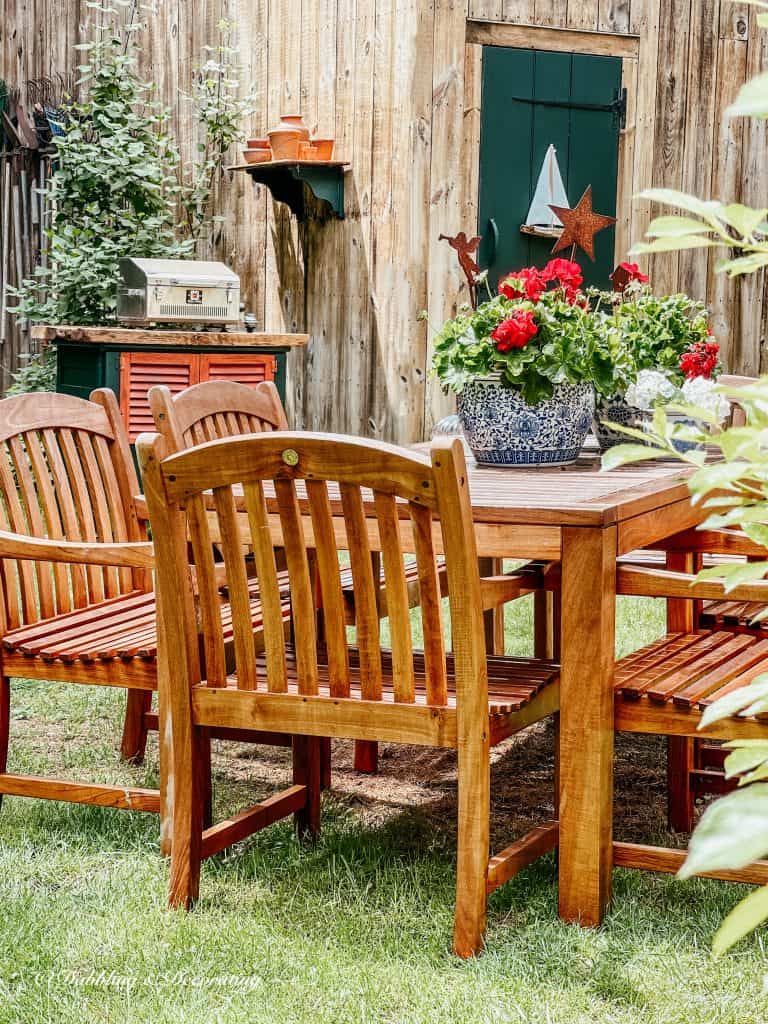 We also painted the house trim a beautiful and classic New England historical Essex Green.
We enjoy our evenings eating outdoors on this new teak table, grilling with the Solaire SOL-EV7A Portable Grill (which seriously makes the best hamburgers and hot dogs ever!) on this fun DIY grilling station that we made out of an old dresser, barn wood, and shutters.
A small DIY outdoor planter shelf for my terracotta pots was a fun project that I made out of a thrifted child's wooden desktop.
If you love all things thrifty, chippy, and vintage as we do here, join me every Wednesday over on Instagram where I share all my weekly thrifting adventures along with tips and tricks in the series "Thrifting with the Gals!". And enjoy blog posts like What Does Frugality Mean to you?
And be sure to join me here for My Favorite Beach Day Essentials! An absolute favorite of mine!
I'm so glad you dropped by today friend, and if you are new to my blog, welcome! I hope you enjoyed your visit with us here today at our home in Coastal Maine.
Next up on today's Summer House Tour is Kelly over at The Tattered Pew. Kelly loves the color green, hosts this wonderful Blogger's Best Summer House Tour, teaches kindergarten, and will be joining us "Thrifting with the Gals" this Wednesday over on Instagram. You definitely don't want to miss Kelly's home tour today friends!

I've created the above custom pin just for this post!  Hearing from you makes my day; your comments mean so much to me! Please join me over on Instagram & Pinterest to see more!
Blogger's Best Summer Home Tour
This week I'm joining some of my blogging friends for the Bloggers Best Summer Home Tours! All week long we are welcoming you into our homes. You can visit each summer home tour by clicking the links below.
Monday's Tours

The Tattered Pew / Stonegable / My Wee Abode
White Arrows Home / Fiddle Leaf Blog / Dabbling and Decorating
Tuesday's Tours

The Flowering Farmhouse / Sanddollar Lane / Cottage In The Mitten
Up To Date Interiors / Bricks 'n Blooms / Cottage On Bunker Hill
Wednesday's Tours

Open Doors Open Hearts/ Pasha Is Home / Shiplap and Shells
A Blue Nest / Cloches and Lavender / Simply 2 Moms
Thursday's Tours

Cassie Bustamante / First Day of Home / Midwest Life and Style
County Road 407 / She Gave It A Go / Robyn's French Nest
Friday's Tours

The Ponds Farmhouse / DIY Beautify / Follow The Yellow Brick Home
My Thrift Store Addiction / Tatertots and Jello / Sweet Pea
YOU MAY ALSO ENJOY