It's labor day weekend and my mind is starting to drift to cooler and cozy decor starting with this guest bedroom on the first floor of our Coastal Maine Home. This has been my favorite room in the house to decorate and I'm excited to share a few fun finds with you here today too!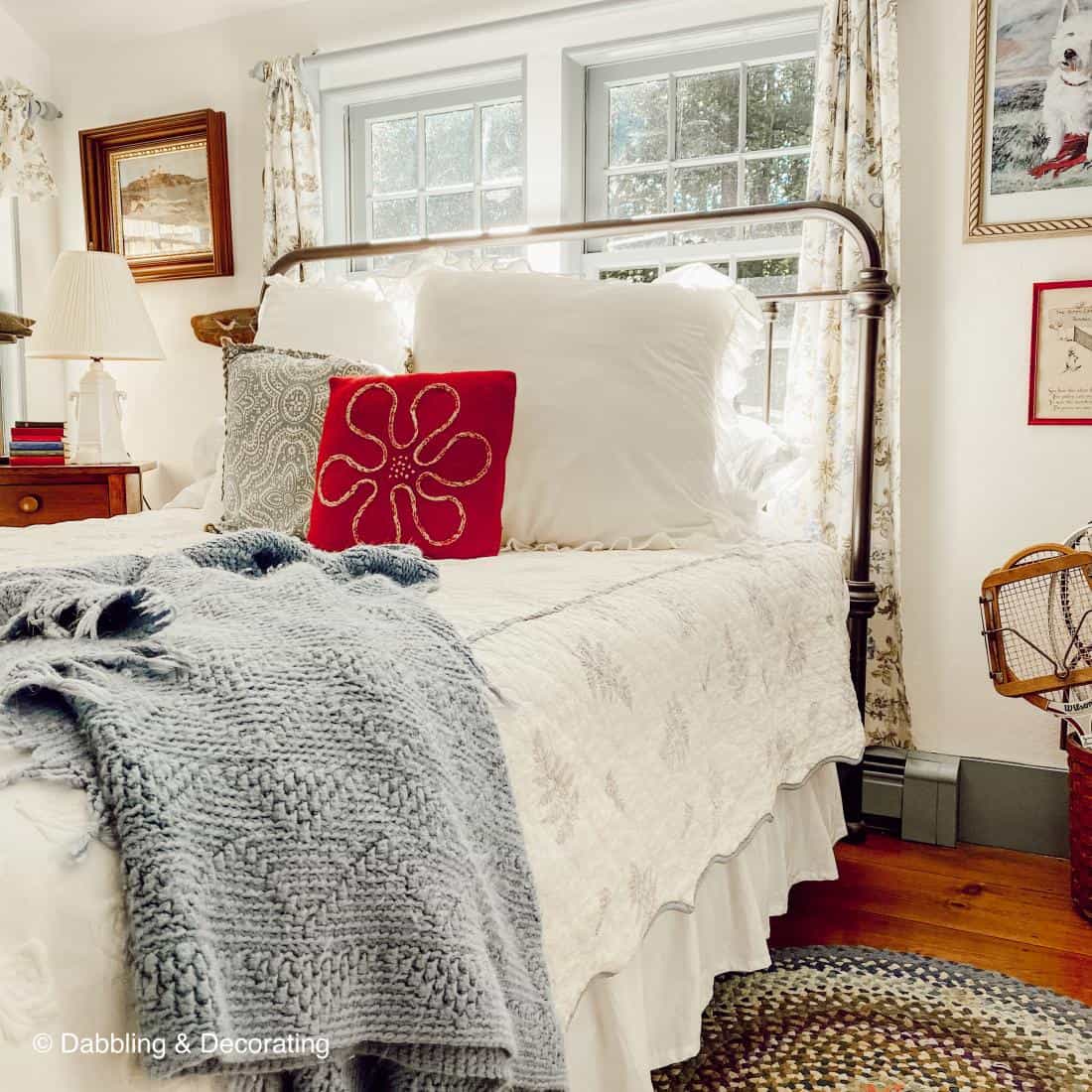 A few days ago I was rummaging around in the attic working on two other guest bedrooms that reside in the attic of the home. Check out the small attic bedrooms too.
When I discovered a trunk full of old quilts and blankets that my mother had collected over the years. Such a treasure chest of goodies! One of them was this white quilt with blue leaves and trim. I washed the mothball smell out and hung it on the clothesline for days!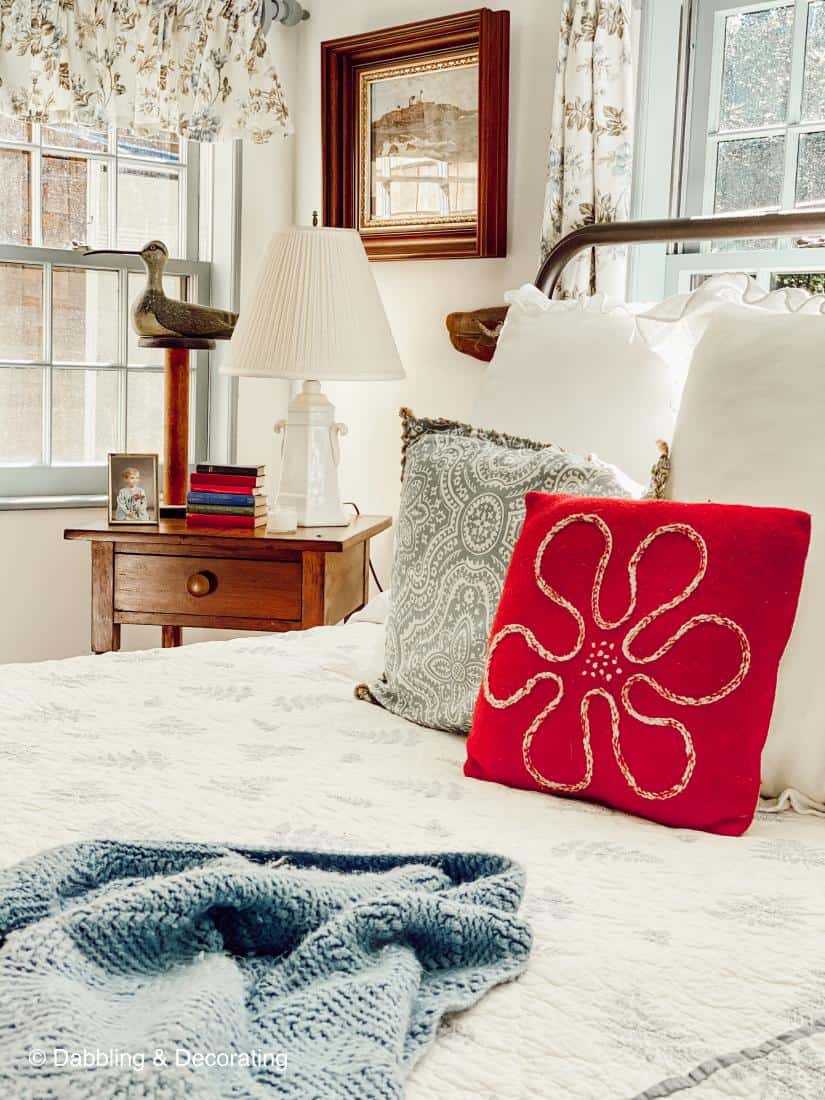 I found these blue and gold curtains, which are two panels and one valance thrift shopping for $15! I didn't know what I was going to do with them, but I just luved the pattern with two of my favorite colors! I feel like they fit this room perfectly and add a nice warm and cozy feel to our blue guest bedroom. I bunched them up at the end of the rod, as I luv the light that comes into this room and did not want to darken it by covering up these windows that look onto our backyard.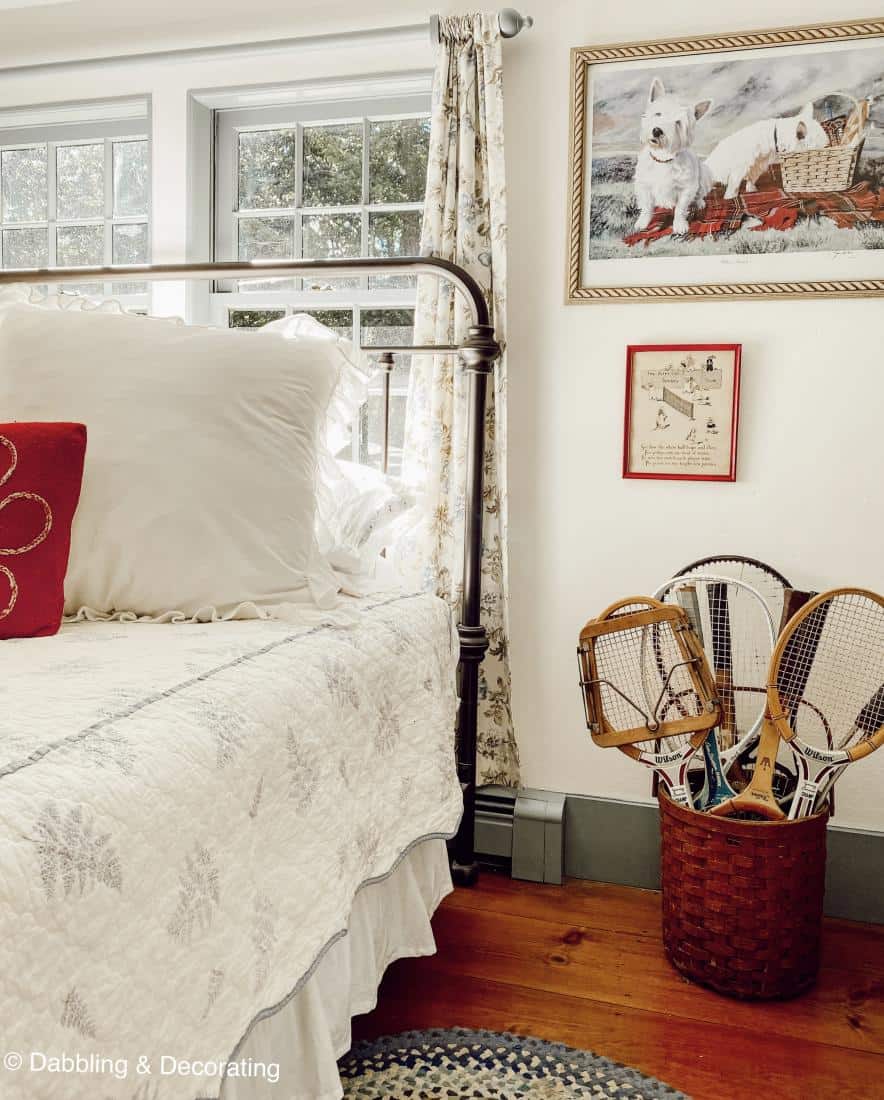 My mother knitted the blue throw and all the pillows are thrifted.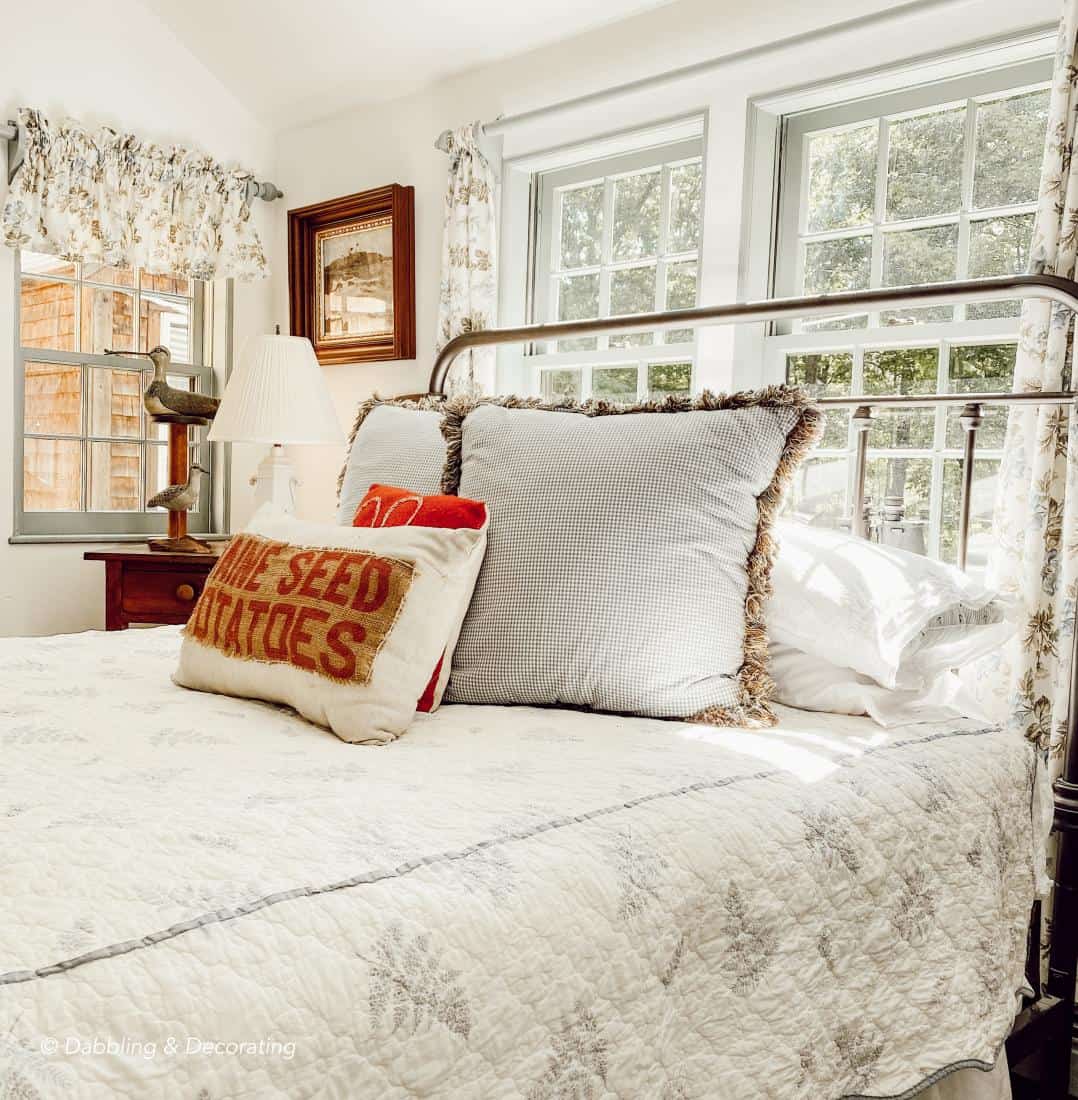 The basket of tennis racquets is my favorite treasure of all. They were all my father's, who played until he was 86 years old!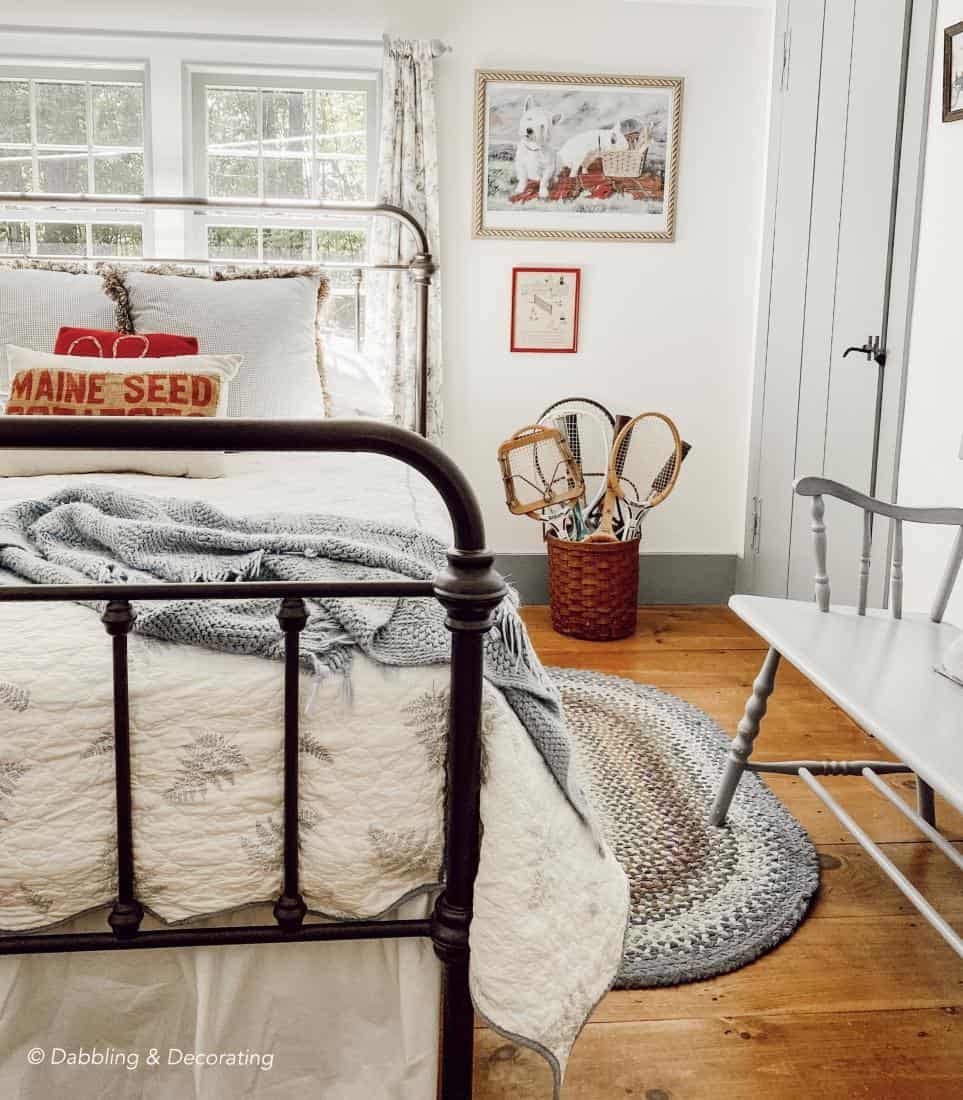 SAVE THESE IDEAS TO YOUR FAVORITE PINTEREST BOARD!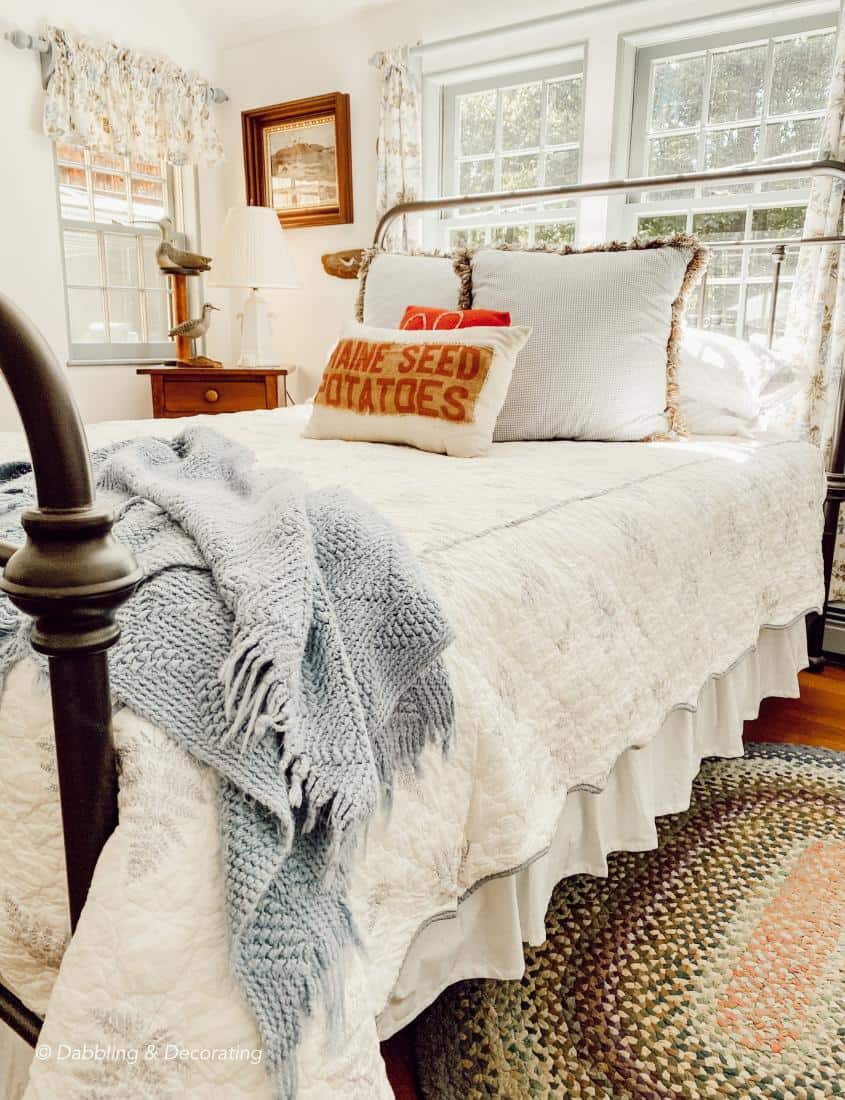 My mother also made the braided rug that lies at the side of the bed as well as throughout the home.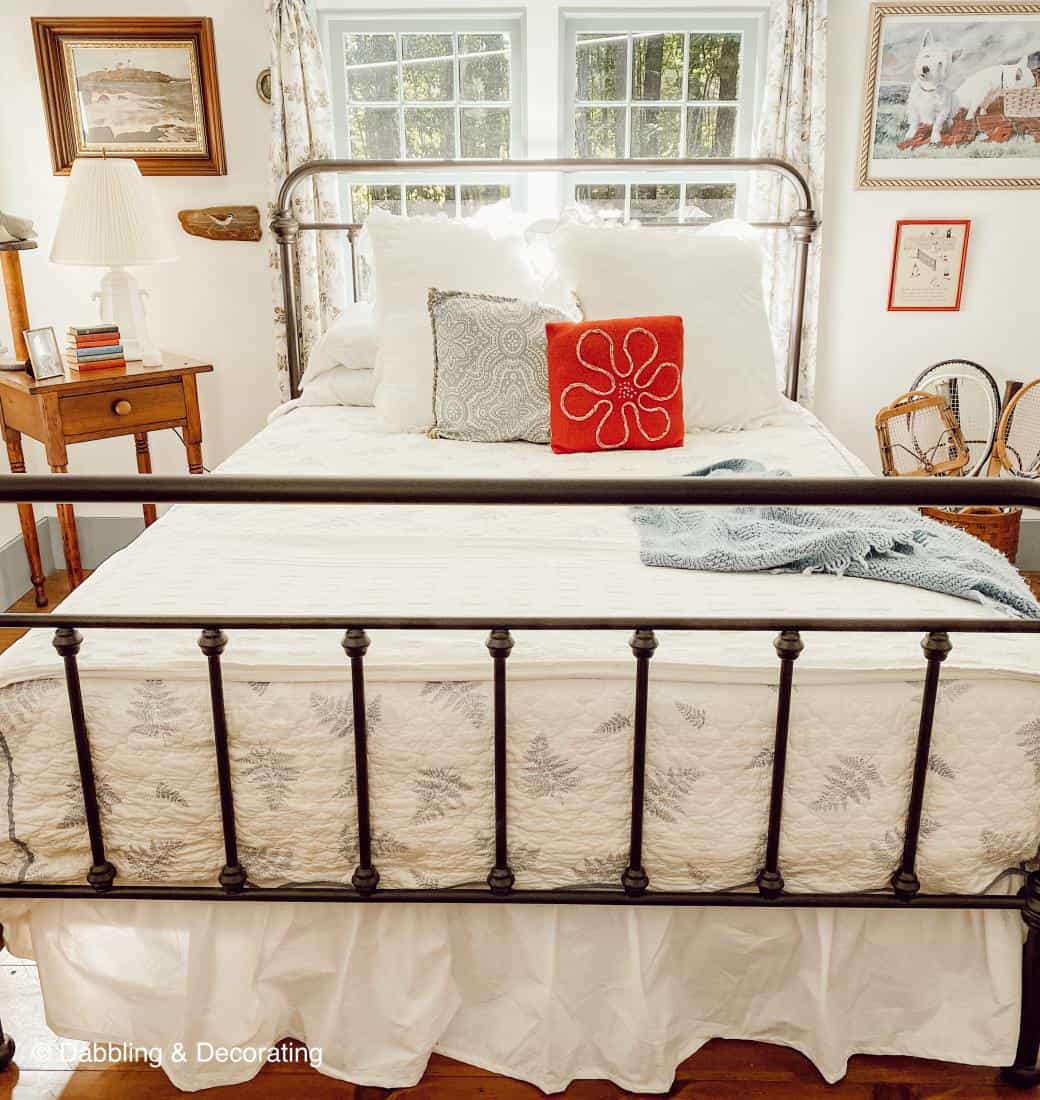 You may also enjoy the post, 5 Cozy Cottage Christmas Guest Bedroom Swaps.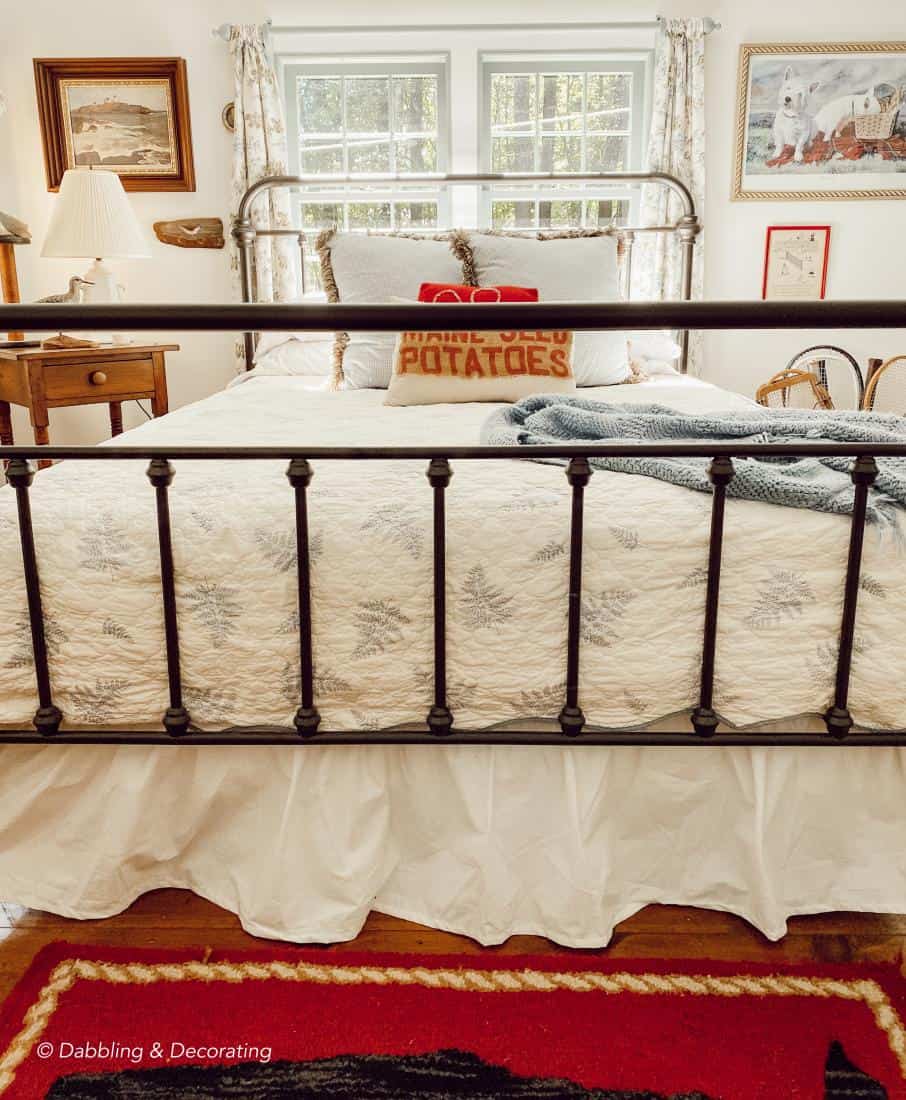 A second vintage blanket that I found in the trunk in the attic, is also this white folded one that I added to the foot of the bed.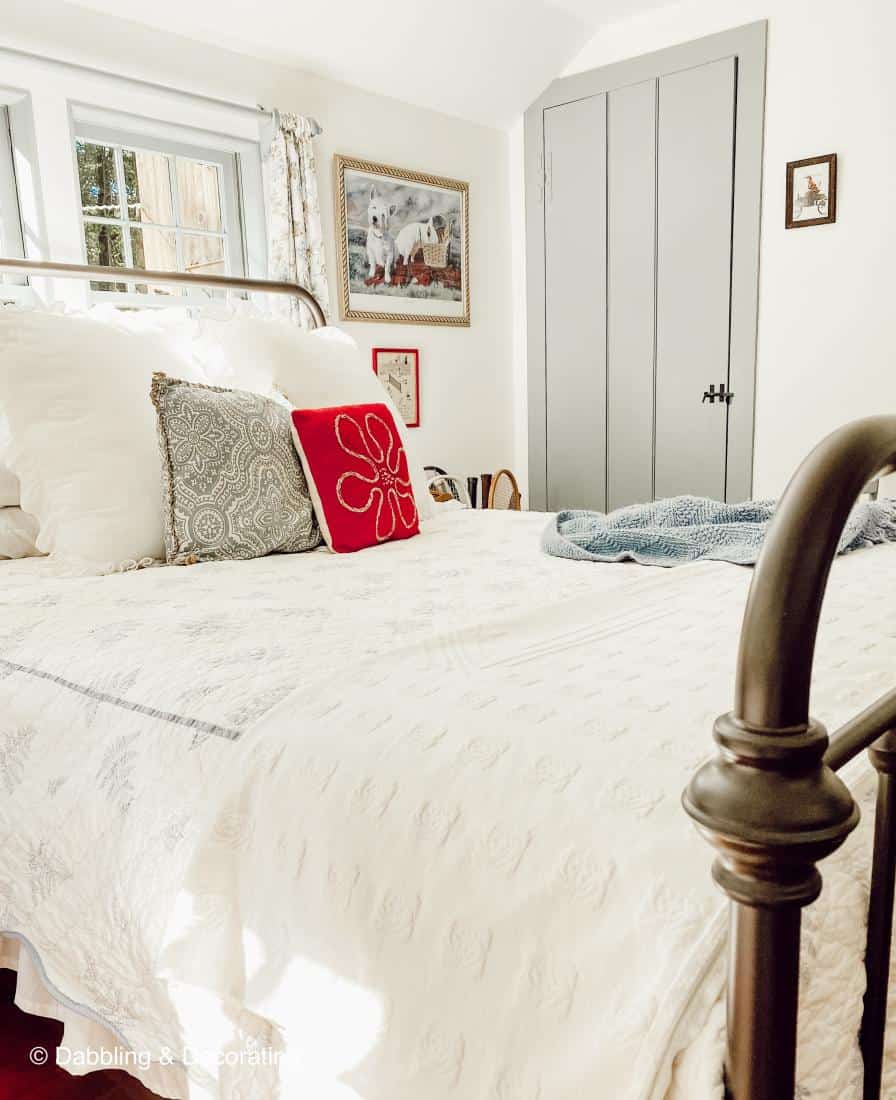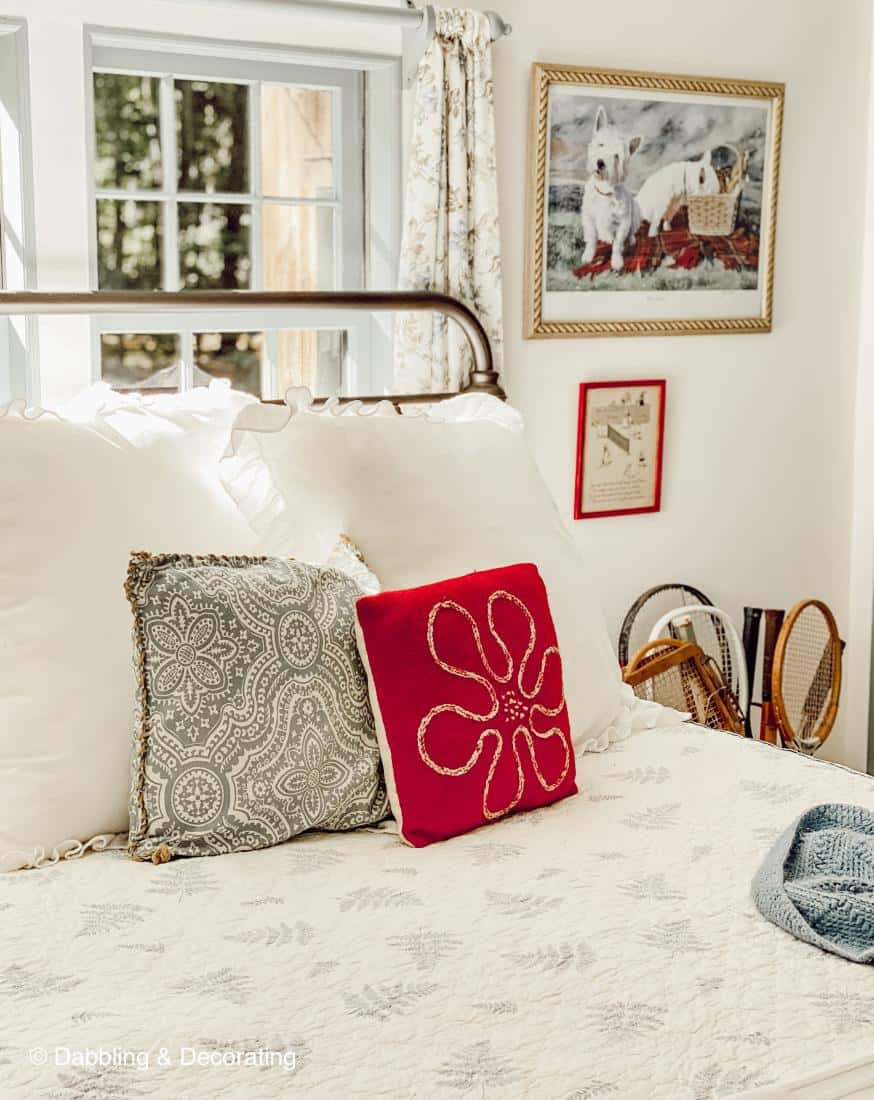 This guest bedroom is now feeling a little bit more like fall and ready to usher in some cooler temperatures.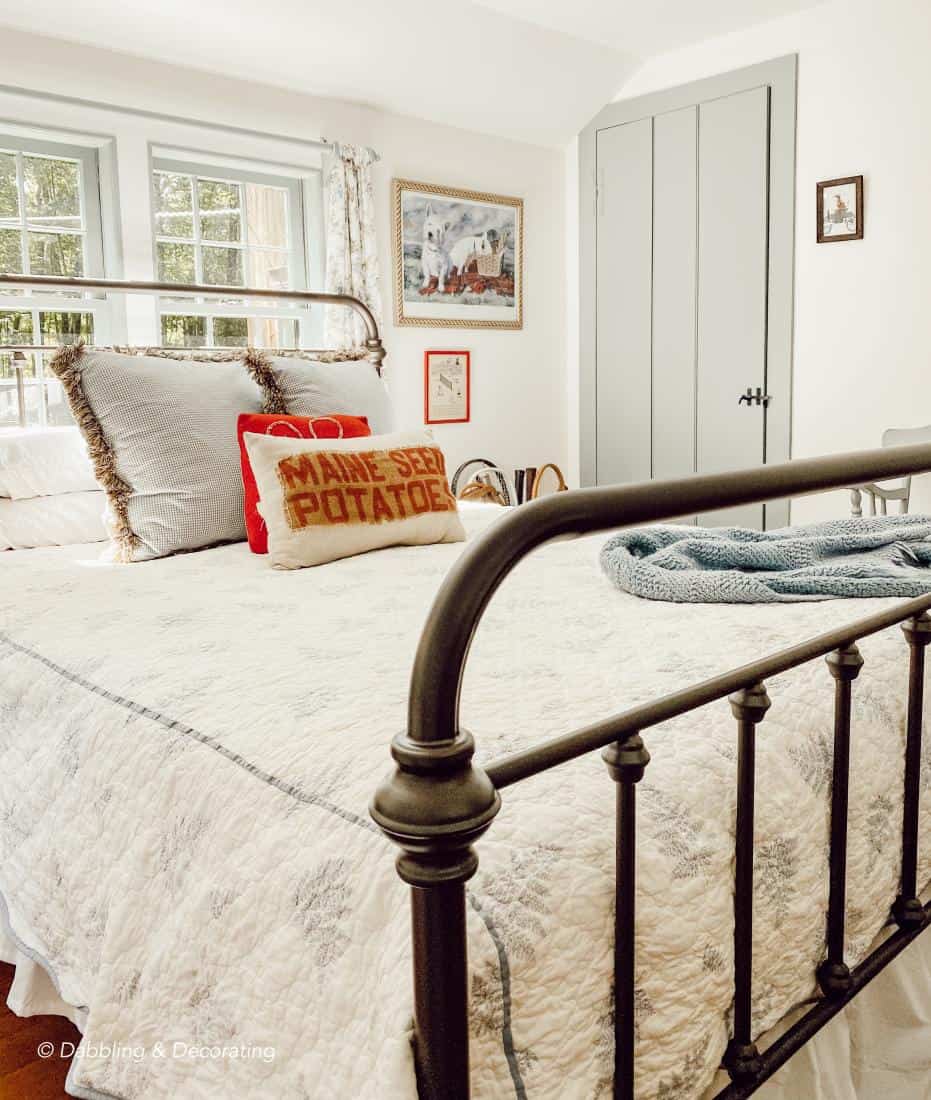 I'm so glad you dropped by, and if you are new to my blog, welcome! I hope you enjoyed your visit with us here today at our Home in Vermont.
Be sure also to check out our Home in Coastal Maine where we spend summers and weekends when we are craving a walk on the beach or a visit with old friends.
Please join me as a regular here at Dabbling & Decorating by signing up for my Saturday morning newsletter and never miss an update!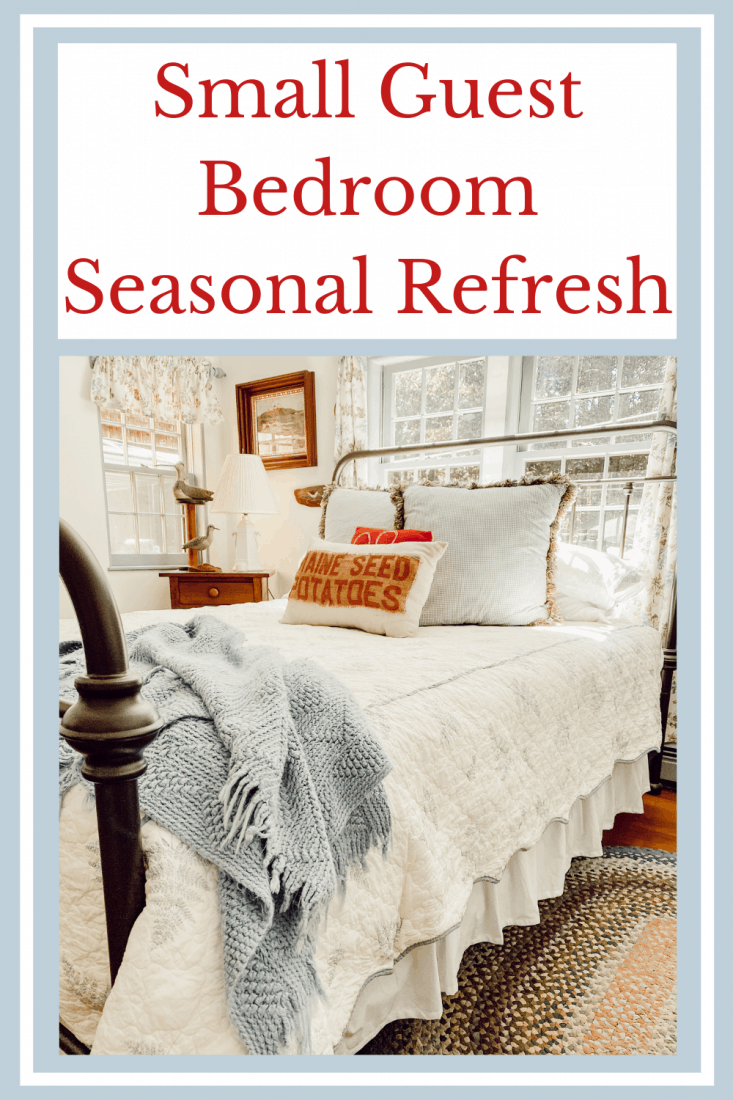 I've created the above custom pin just for this post! Sharing is Caring! I would love to hear from you too~ Your comments mean so much to me and truly make my day… Please join me over on Instagram & Pinterest to see more!