As September winds down and the cooler temperatures set in, we say goodbye to our summer home in Maine and head back to our home in Vermont. I am really looking forward to all the Vermont fall colours this year, and I can't wait to share it all with you!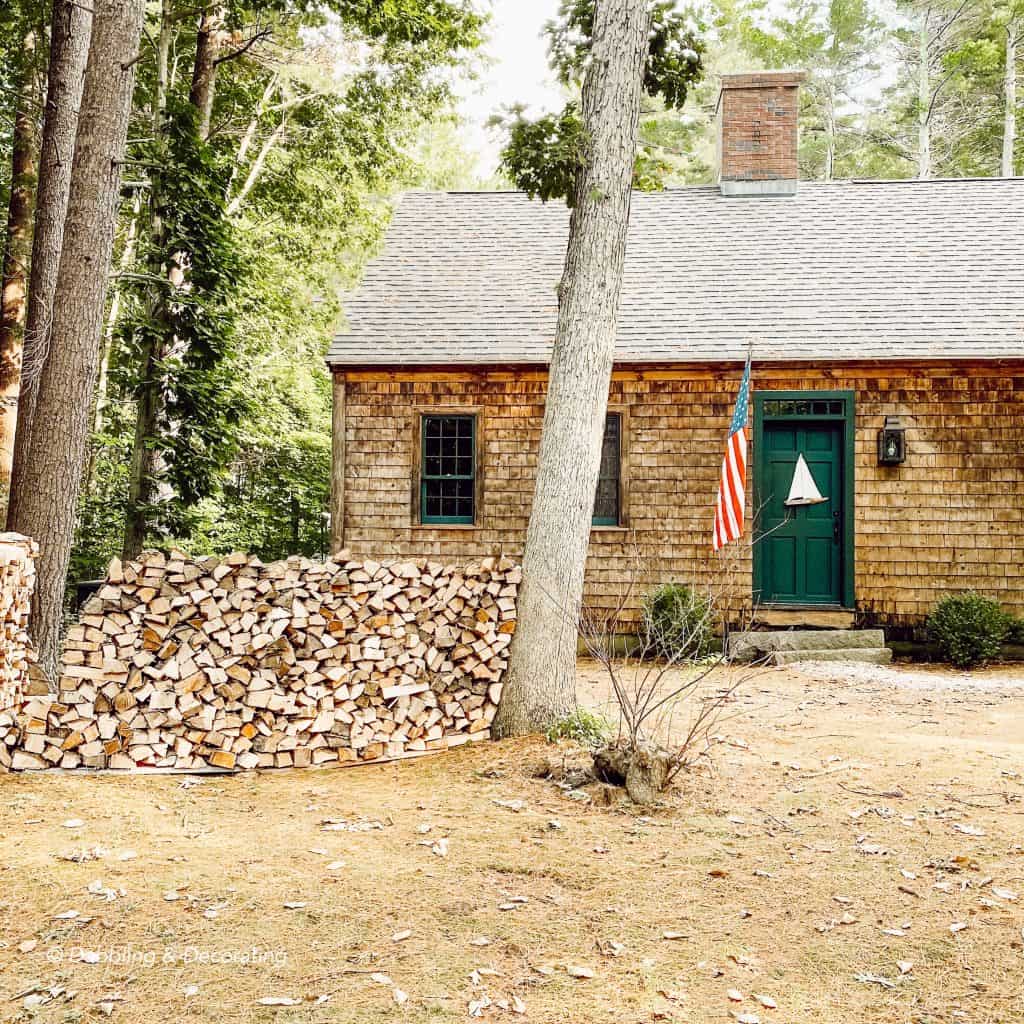 Thrifting with the Gals Round-Up
And now it's time once again for the "Thrifting with the Gals" monthly round-up. Each week, we take you along on our thrift store and vintage shopping trips over on Instagram. However, today, we share tips on using those thrifted vintage finds here on our blogs.
If you are joining me from Rachel over at The Pond's Farmhouse, welcome my friend! I'm so excited you are here, and I'm sure we both share a love for all things thrifty, vintage, and chippy! Rachel always has the best-thrifted furniture makeovers, and isn't her kitchen island to die for?…
Grandmillennial Nautical Curtains
Before we packed up and headed back to the mountains, I had one last "Thrifting with the Gals" outing in Maine, where I found these grandmillennial nautical curtains at York's Antique Gallery. Honestly, I think these drapes are one of my favorite finds ever.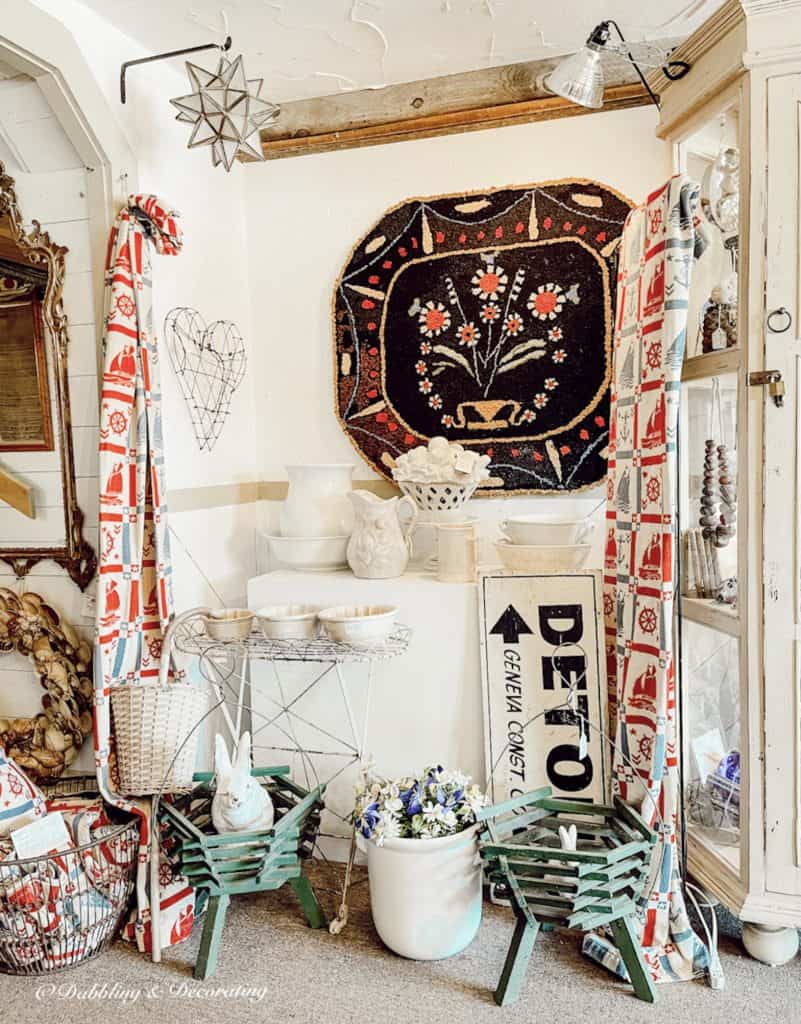 Drop by and see these curtains today, all hung and styled in our living room in Maine,
Leaning into Grandmillennial Style with Fabulous Drapes here.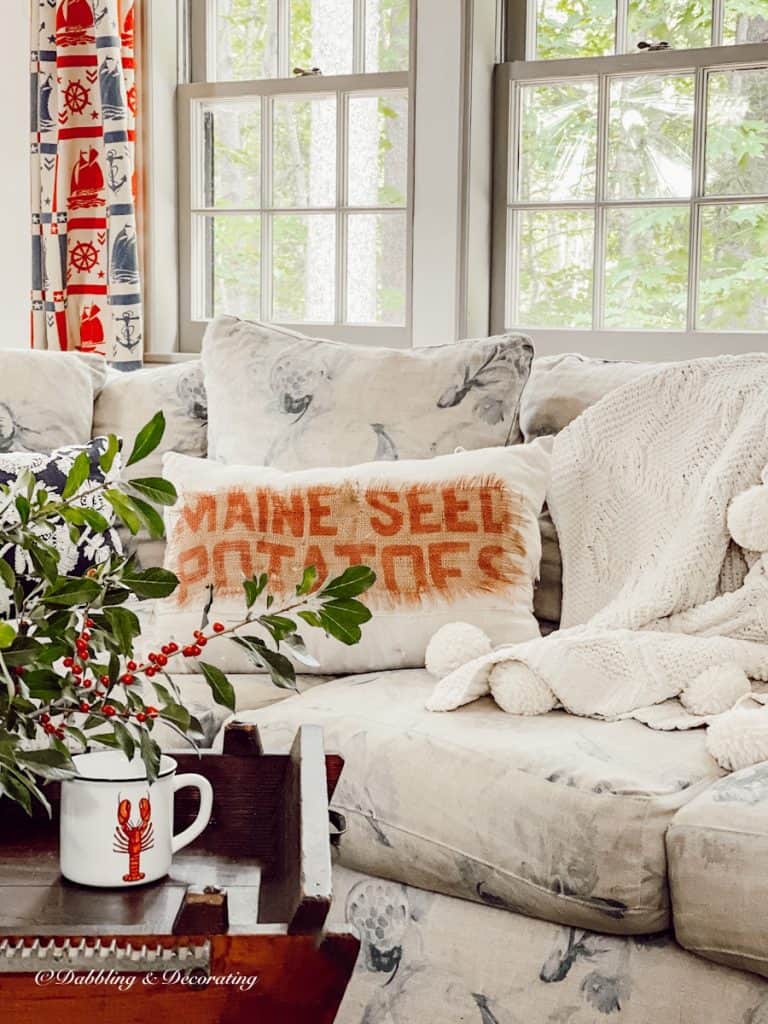 Wonky Little Chair
And this "wonky little chair" was sitting so pretty at York's Antique Gallery along with these amethyst bottles. Oh My! The perfect fall colours to bring home into our sunroom.
I adore the amethyst colors with the antique dark woods.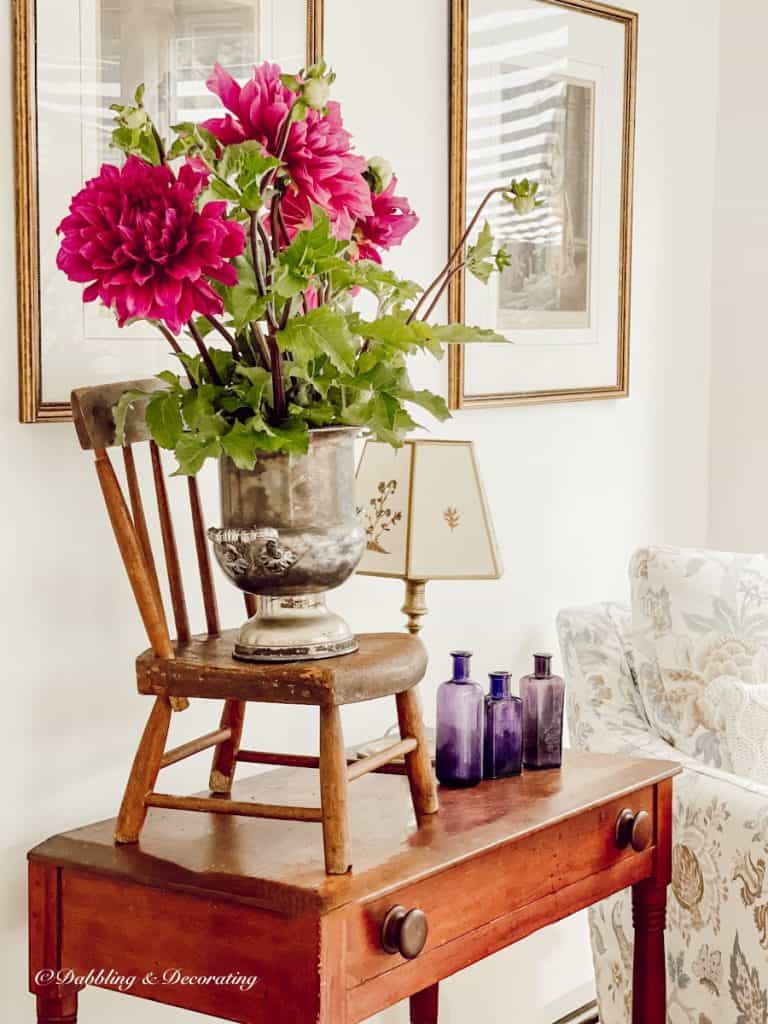 The Cottage by the Brook in Fall Colours
My favorite stop on my way back to Vermont is always at The Cottage by the Brook in Westminster, Vermont.
There, I picked up this blue and white small vintage platter for $5. I used it this weekend with a few garden-grown tomatoes, mozzarella, and basil.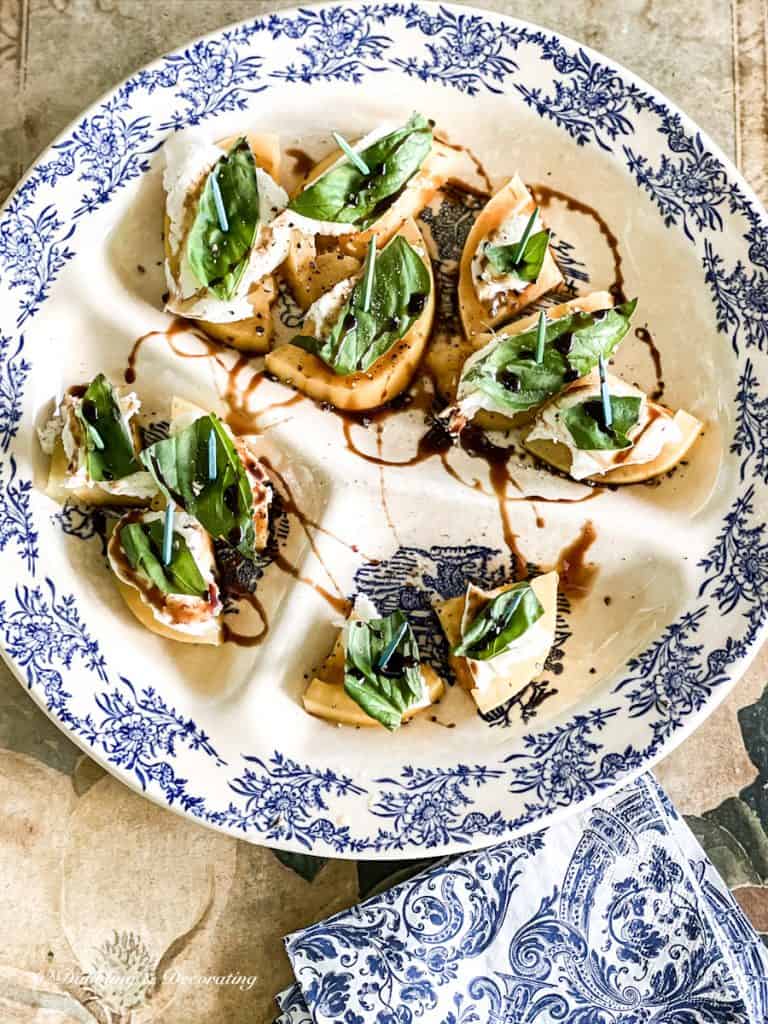 I also knew they would have some of the freshest vintage ideas for Halloween, too. And they did not disappoint.
You may also enjoy the post, 10 Best Fall Inspired Vintage Decor Ideas.
The Vermont Country Store Decorated in Fall Colours
While back in Vermont, The Vermont Country Store is a must-stop if you ever find yourself traveling the mountain roadsides looking for Vermont's fall colours.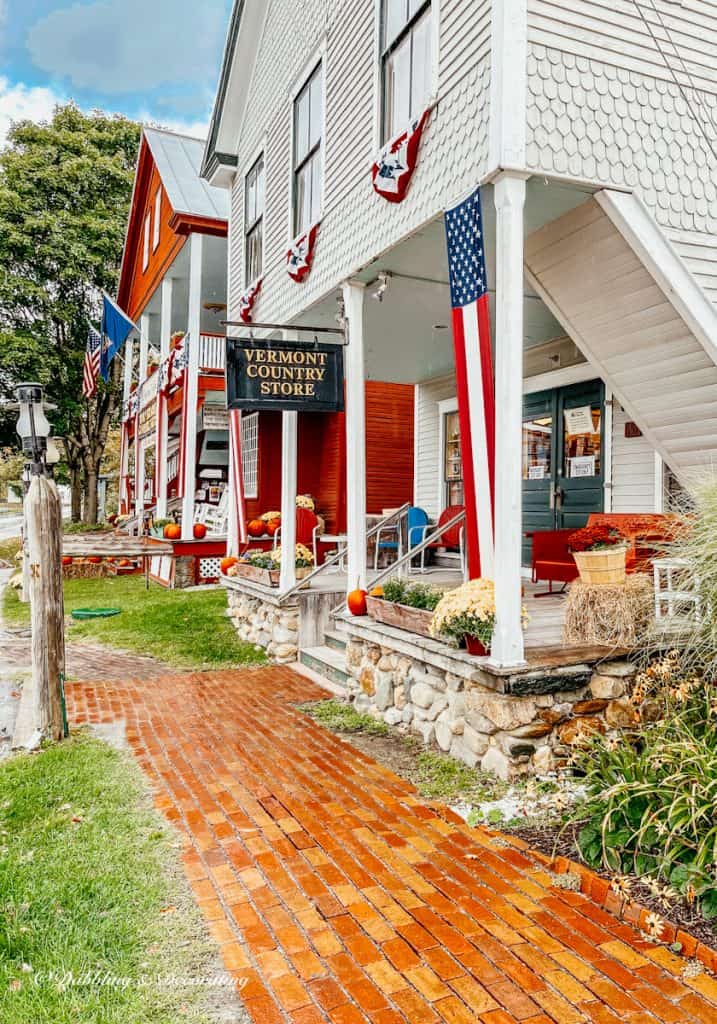 It's not thrifting, friends, but it's just as quaint and inspiring, with its vintage Coca-Cola coolers, old-fashioned candy counter, cheeses, maple syrups, and all the hard-to-find products from days gone by! Don't miss it, trust me!
Just look at this cheese platter I created from all the cheeses found here!
Check out my full shopping day on A Fall Visit to the Vermont Country Store here. Ella and I left with a cozy flannel shirt, a luxurious duster, and large amounts of delicious provisions.
Ella thinks the duster is for her…
They also have a fabulous catalog and online store that you may shop if you can't make it to the stores themselves.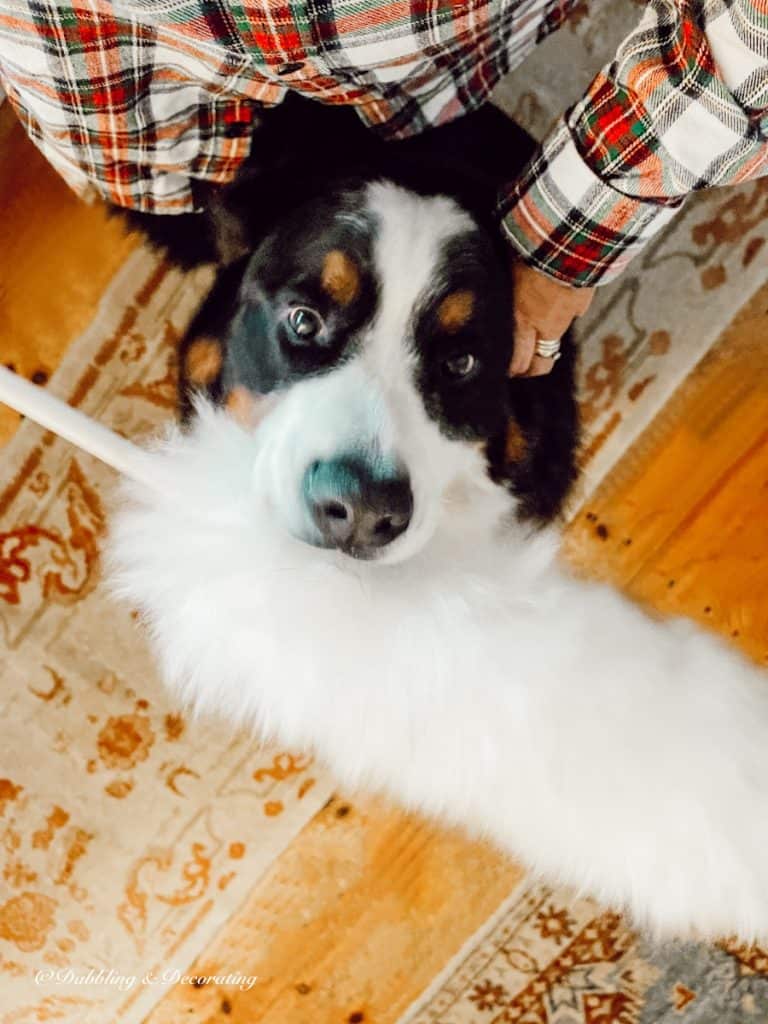 You may also enjoy the post, Vintage Market Days Fall 2022 Vermont.
How to Easily Upcycle Plastic Urns
Next up, I found these plastic urns while out thrifting at a local store that was going out of business; you can see how I upcycled them here. I love how they look on our porch here in Vermont for the fall.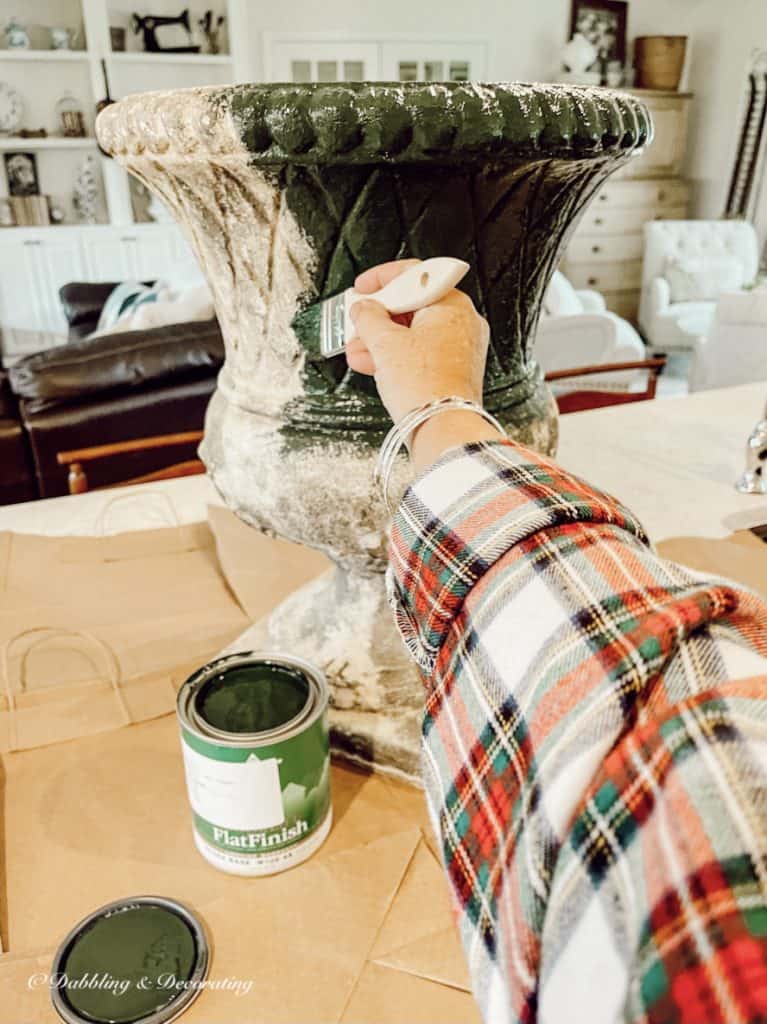 Vermont Foliage Home Tour
To see more of our home this fall, join me over on the post, Vermont Foliage Home Tour, and in 2022, in the post, Vermont Fall Foliage Home Tour.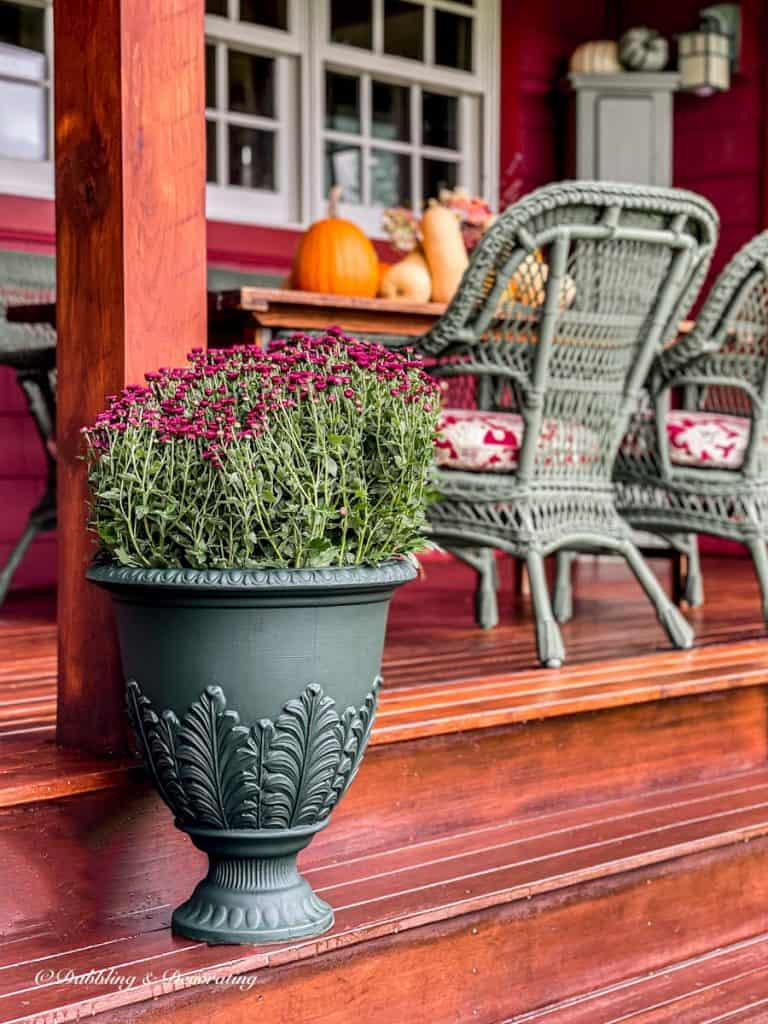 Vermont Vintage Market Days and Fall Haul
And there's always Vermont Vintage Market Days. One of my favorites, I enjoy attending twice a year. Read all about this year's trip and fall haul here amongst all the Vermont fall colours.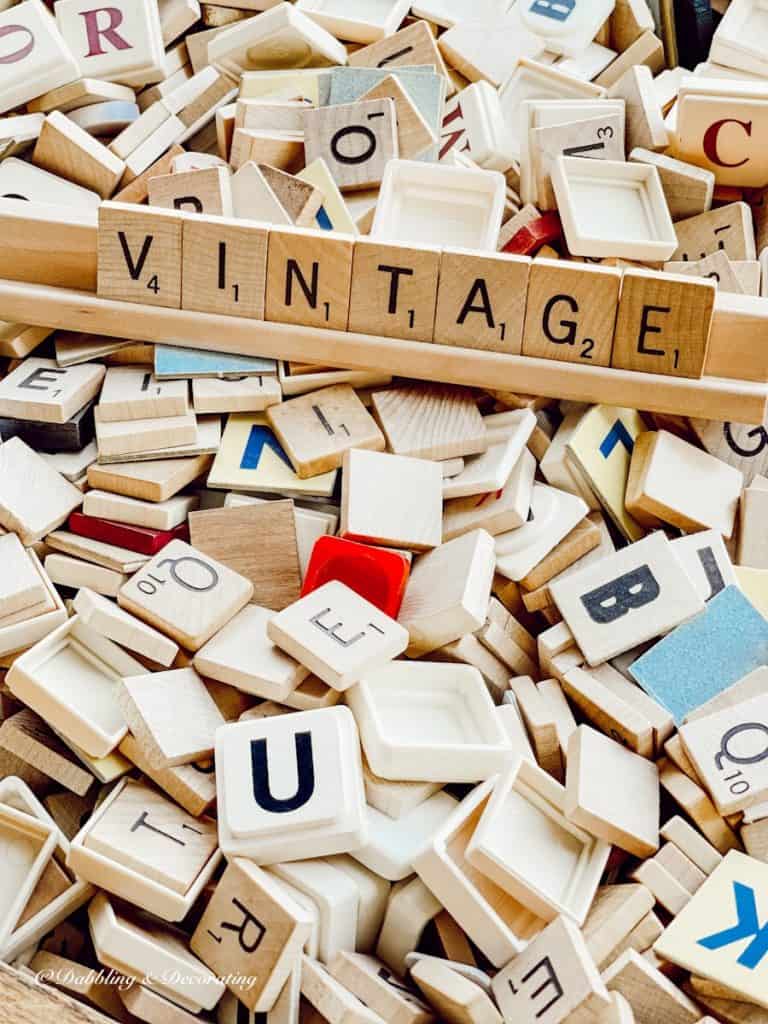 How to Style a Table in Vermont Fall Colours
I found the most amazing antique blue and white dishes at the market, and with them, I created this outdoor fall table on our porch. I'm calling them my "October Blues"!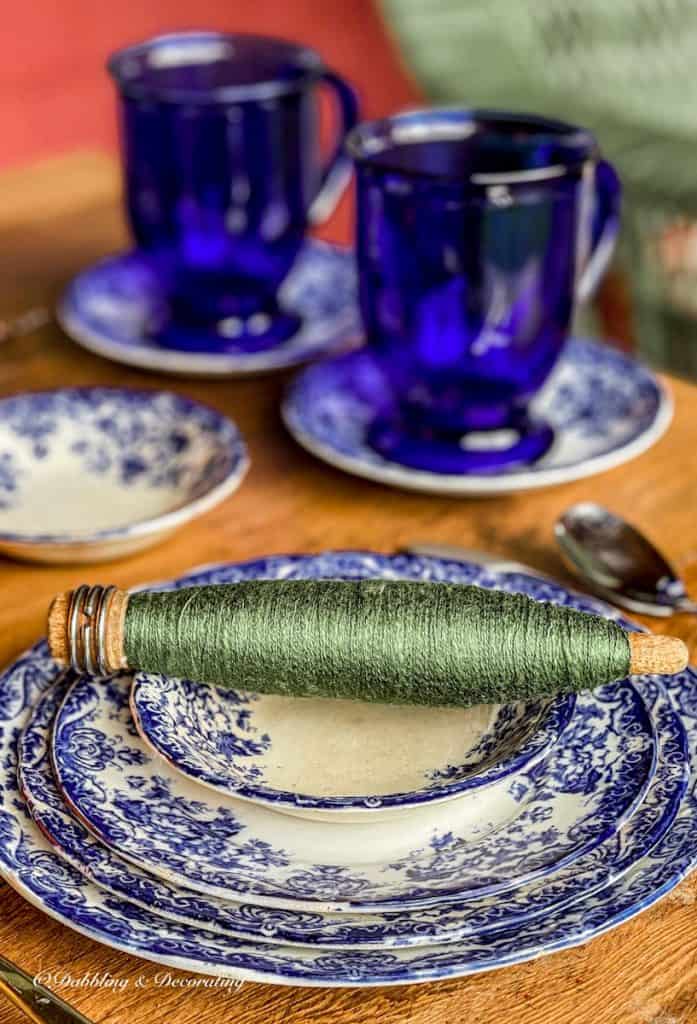 Check out this second-hand wallpaper table, too, that I found thrifting this past summer. It's the perfect table for our long, narrow porch.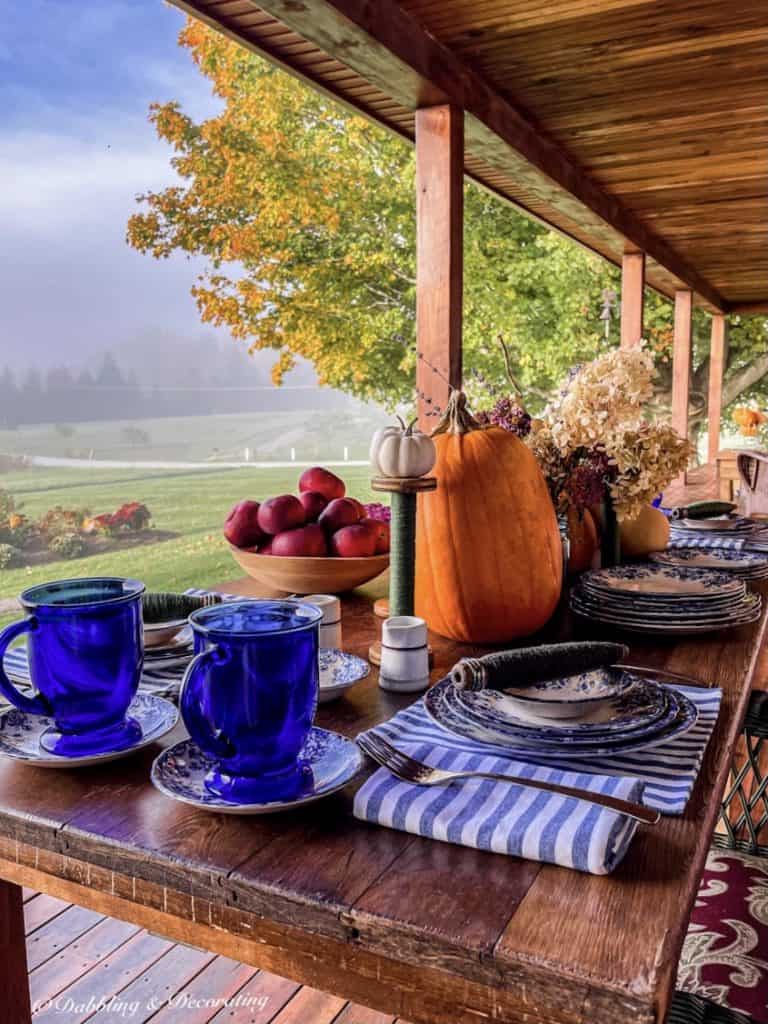 You may also enjoy this Outdoor Table for 2 with Mountain Views, too!
Cheese Platter
Check out this week's Vermont Cheese Platter | Vintage Style!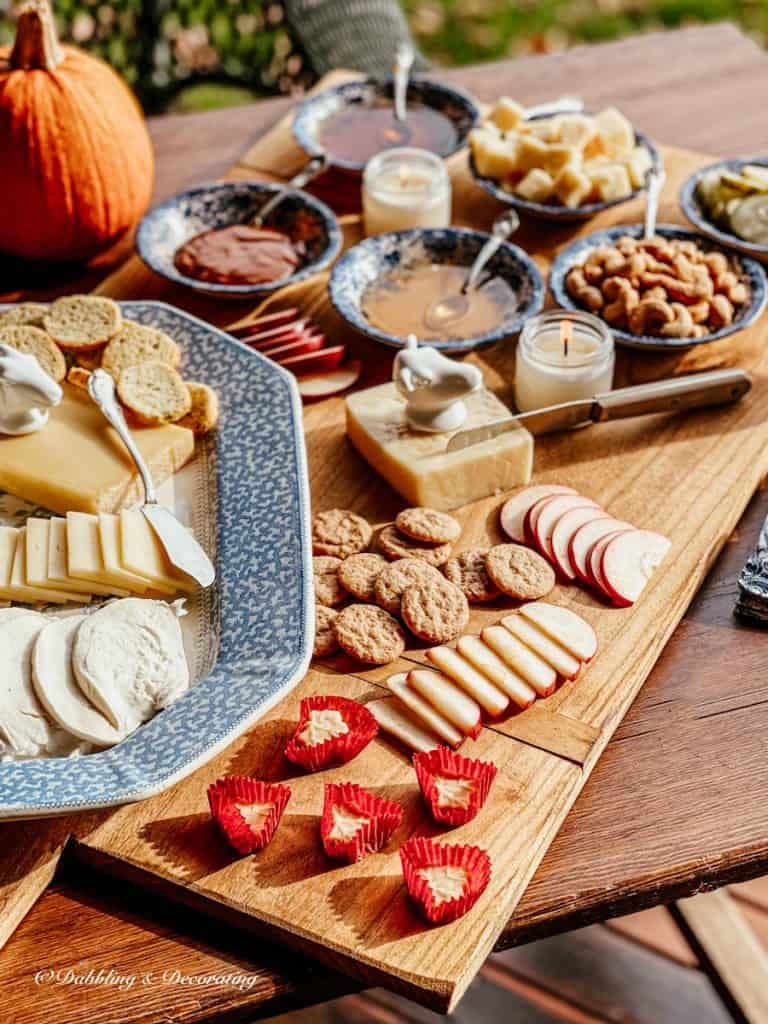 I'm so glad you dropped by, and if you are new to my blog, welcome! I hope you enjoyed your visit with us here today at our Home in Vermont.
Be sure to also check out our Home in Coastal Maine, where we spend summers and weekends when we are craving a walk on the beach or a visit with old friends.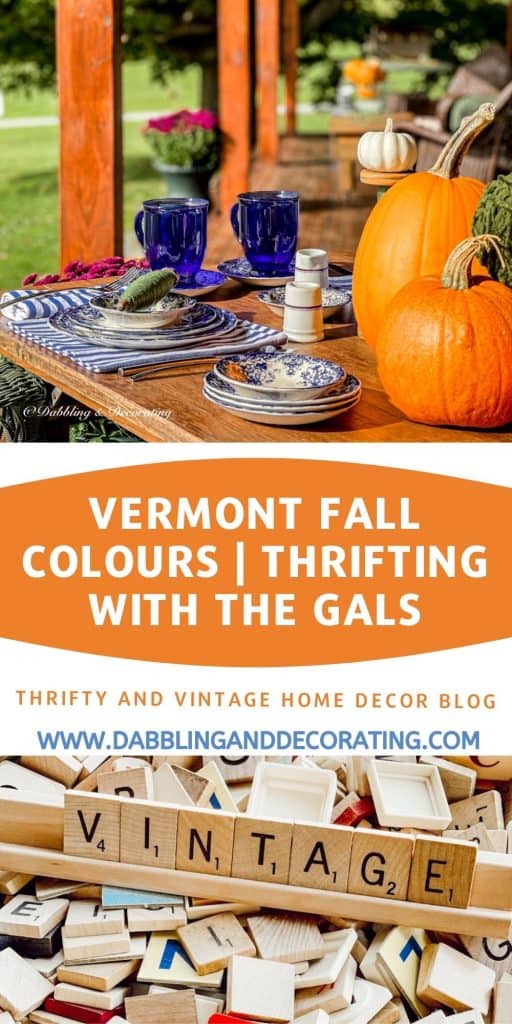 I've created the above custom pin just for this post!  Hearing from you makes my day; your comments mean so much to me! Please join me over on Instagram & Pinterest to see more!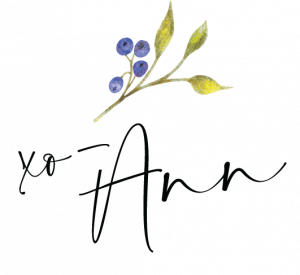 Next up on the tour is Kristin from White Arrows Home. Who lives in my favorite log cabin in the Northwoods of Wisconsin. It's amazing, friends!
The Ponds Farmhouse – 7 Thrift Store Furniture Makeovers – White Arrows Home –Vintage Skotch Kooler Decorating and Junktales – How to Create Warmth in the Kitchen with Copper.
YOU MAY ALSO ENJOY