Spring always gets me cleaning and wanting to refresh everything in the home! And this guest bedroom was certainly in need of some fresh touches after being closed up for most of the winter months. A few simple changes and this guest bedroom can't wait for its first guests! New bedding, vintage & thrifty finds, a little spray paint, and new window treatments can really add so much.
Here's the Before
I wanted to lighten up this room and remove all the dark touches that are weighing this bedroom down. I started by spray painting the thrifted Pottery Barn breakfast tray and bed stool white. And the tall green linen hutch a light pink to soften the room. All paints that I already had on hand…
Living in Vermont, I am drawn to the old Inns and the coziness & quaintness that they offer. This was what I had in mind when refreshing this guest bedroom. I want our guests to feel like they are joining us at a local Vermont Inn with french doors that walk out onto our deck overlooking the Green Mountains. Soon this view will be filled with apple blossoms, green mountains, green grass, and sunshine!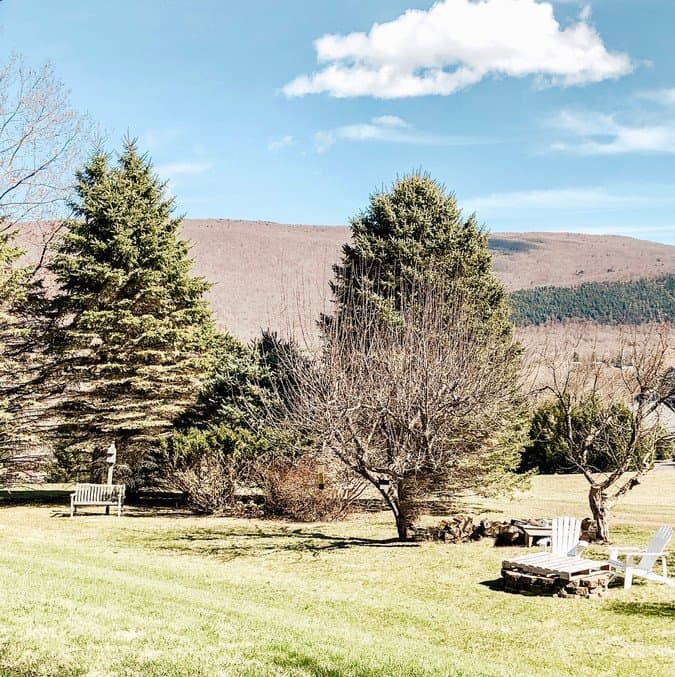 Welcome Friends!
I'd luv for you to join me as some of my first guests. Grab your favorite beverage and imagine yourself on a getaway to the mountains of Vermont.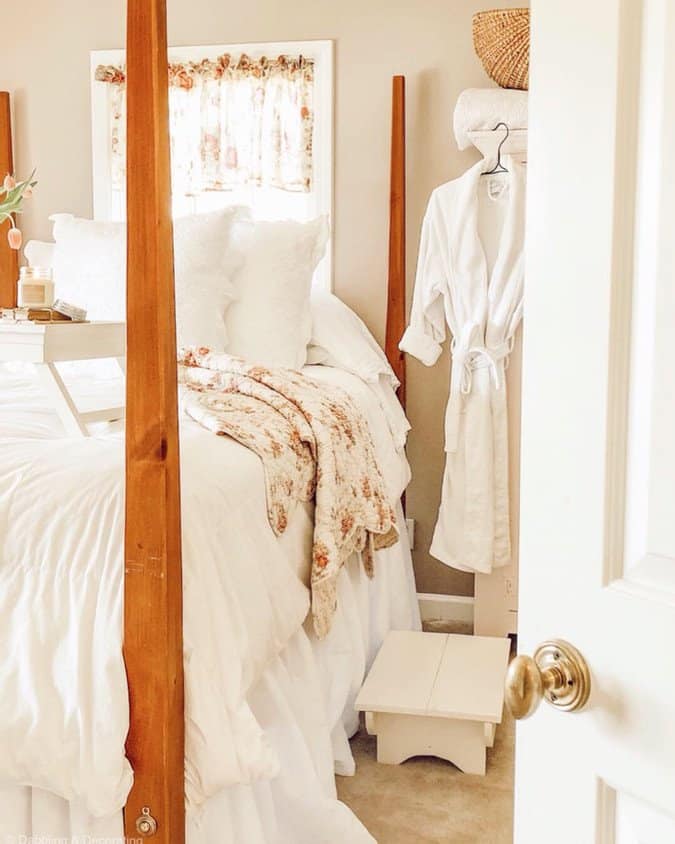 This room was immediately softened by the transition of the dark browns to white on the bed tray and bed stool.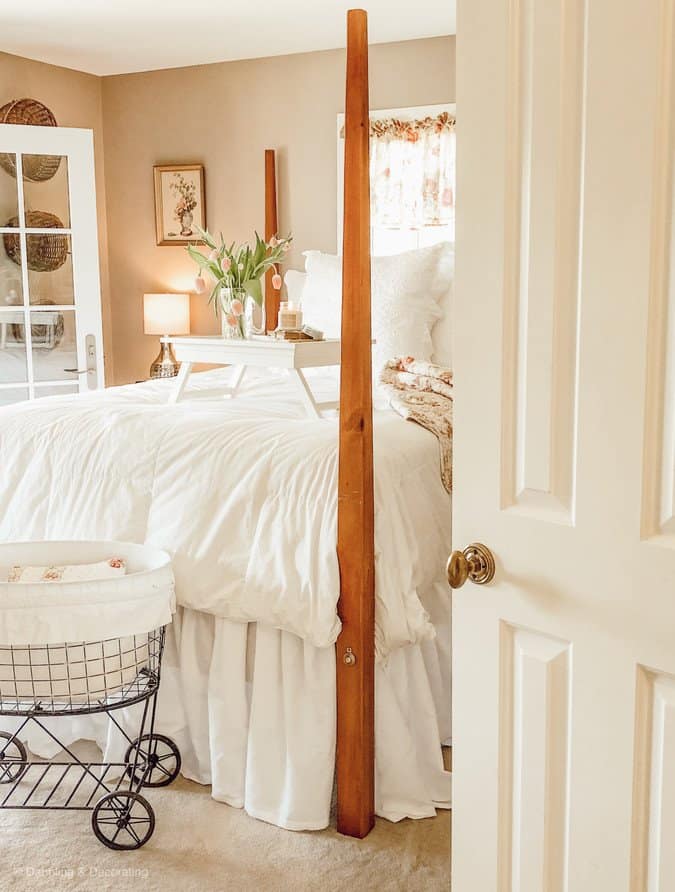 A new white bed skirt from Amazon that actually fits the 25″ drop of this high vintage wood post bed, really adds a bit of romantic charm. A little vintage pink and a gold photo at our local consignment shop and some new window treatments also from Amazon.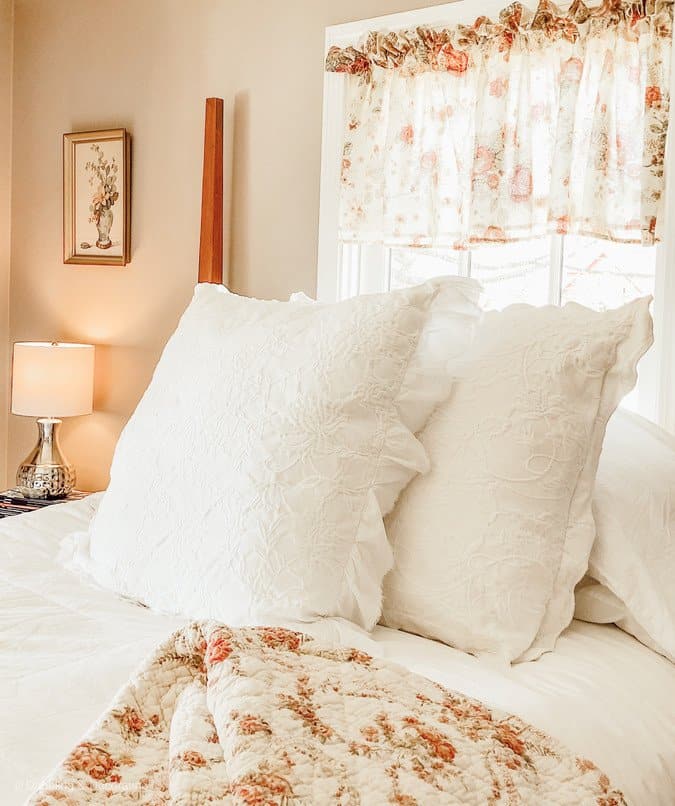 A little pink and gold quilt that I also found at our local consignment shop looks so cute just draped over the white bedding and adds that bit of spring color.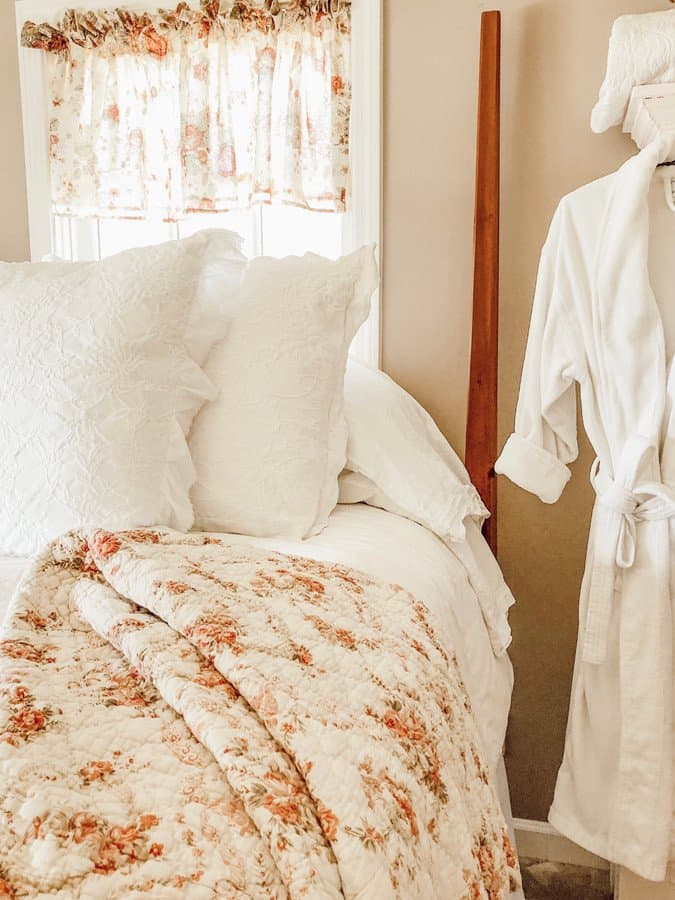 And who doesn't luv some spring tulips with a vintage perfume bottle?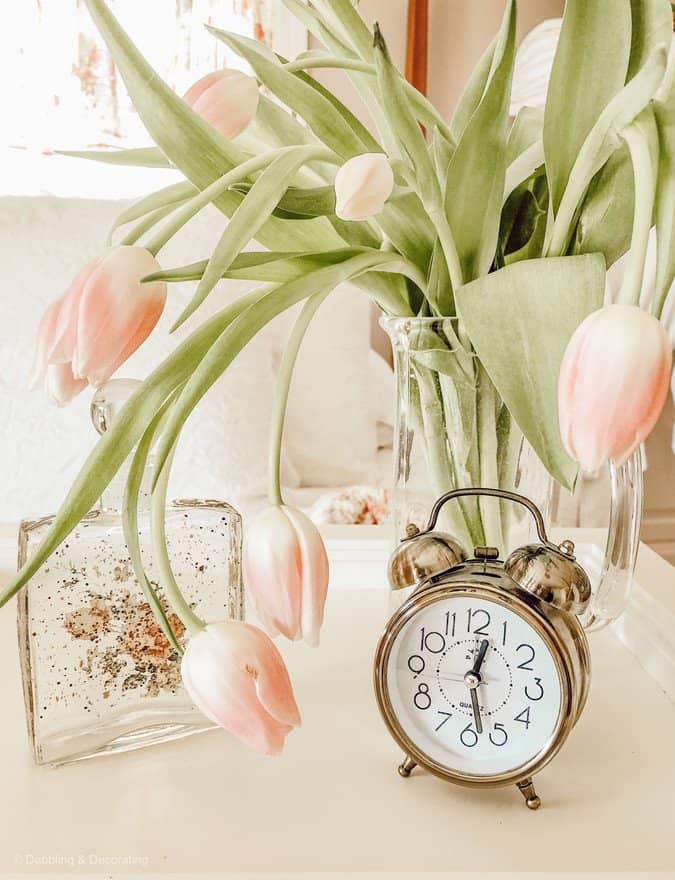 Pin these ideas for later!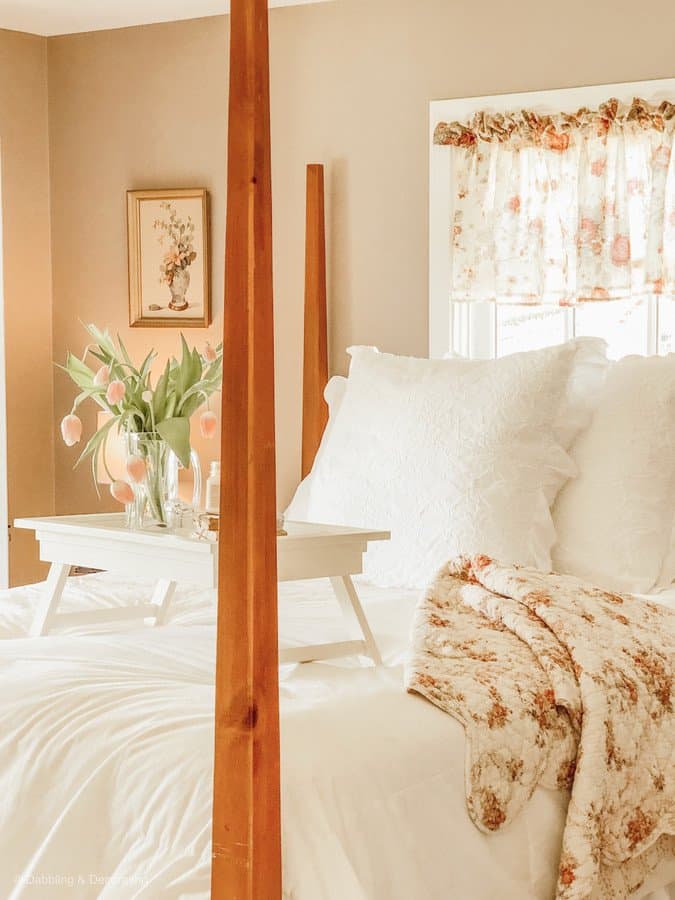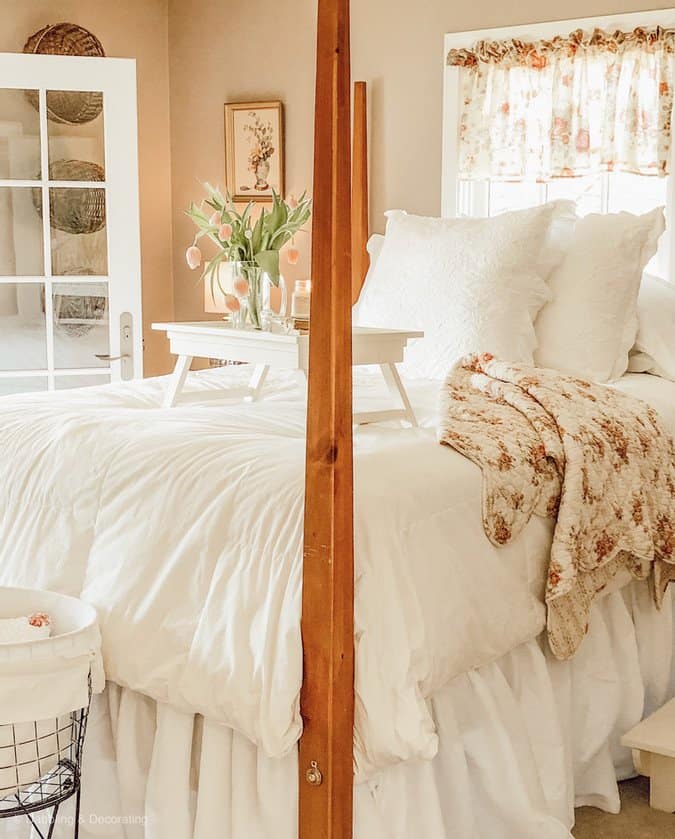 A repurposed vintage laundry basket with extra bed linens and towels at the end of the bed that I picked up from Pottery Barn years ago.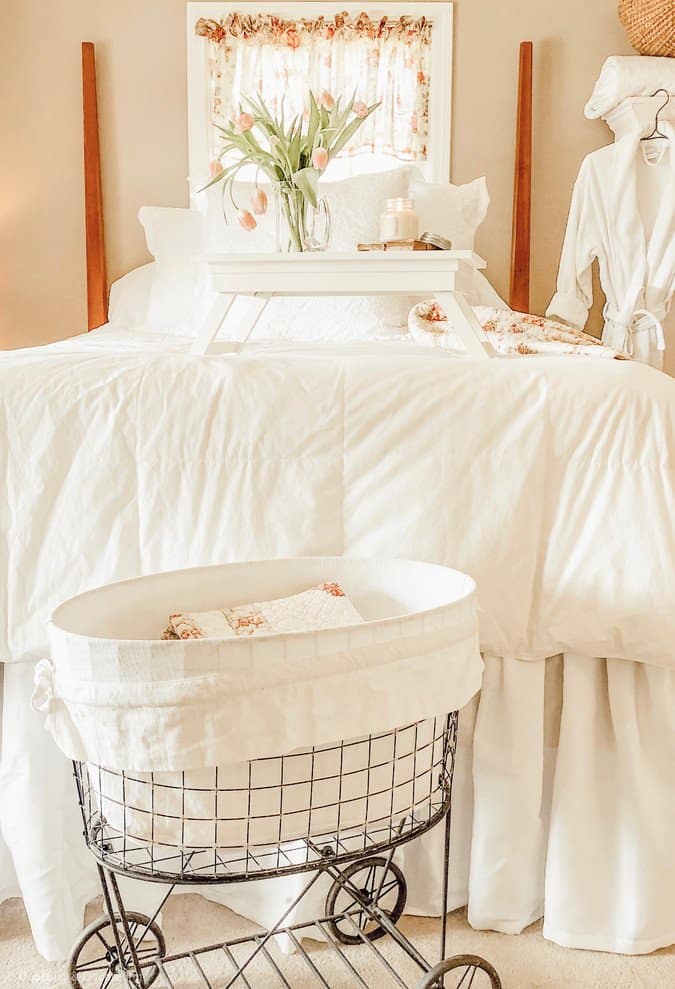 A couple of vintage prints from the local consignment shop add a little vintage character.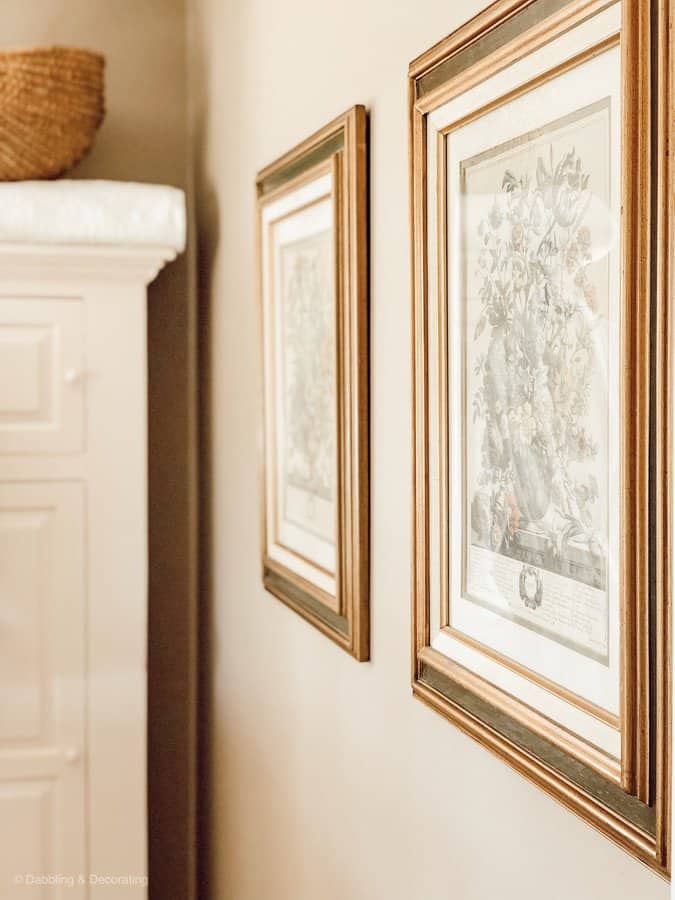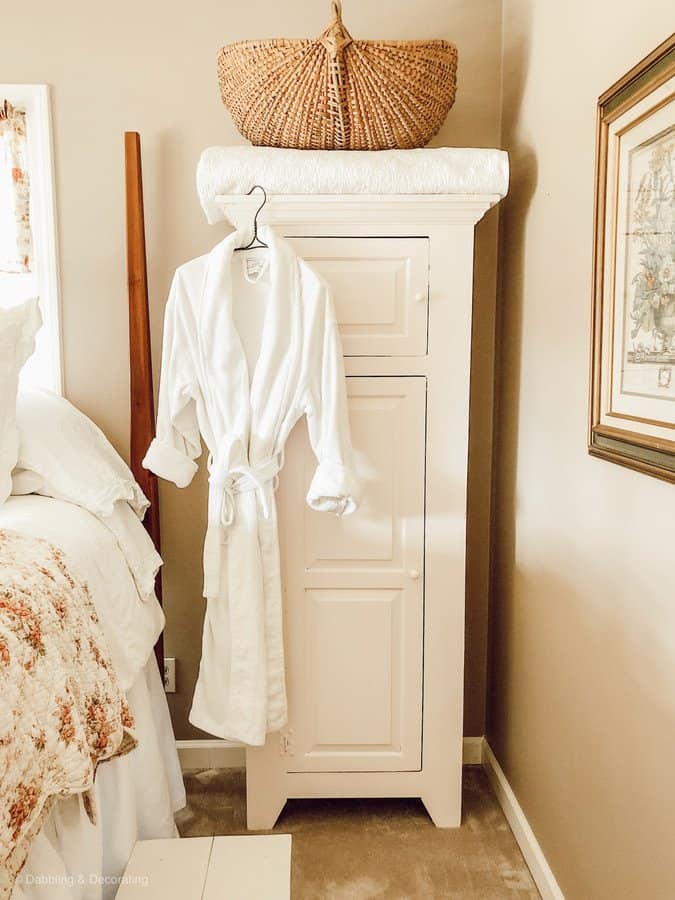 A cozy bathrobe on a vintage hanger for lounging on the deck with a cup of coffee.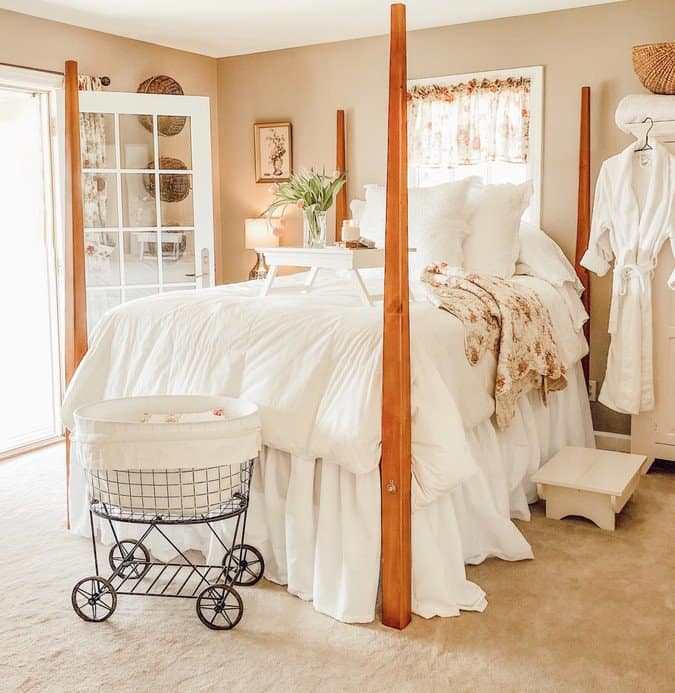 I luv the look of vintage suitcases. Here I painted and refinished this one along with the vintage suitcase holder to hold our guest's luggage. To see the suitcase DIY click here.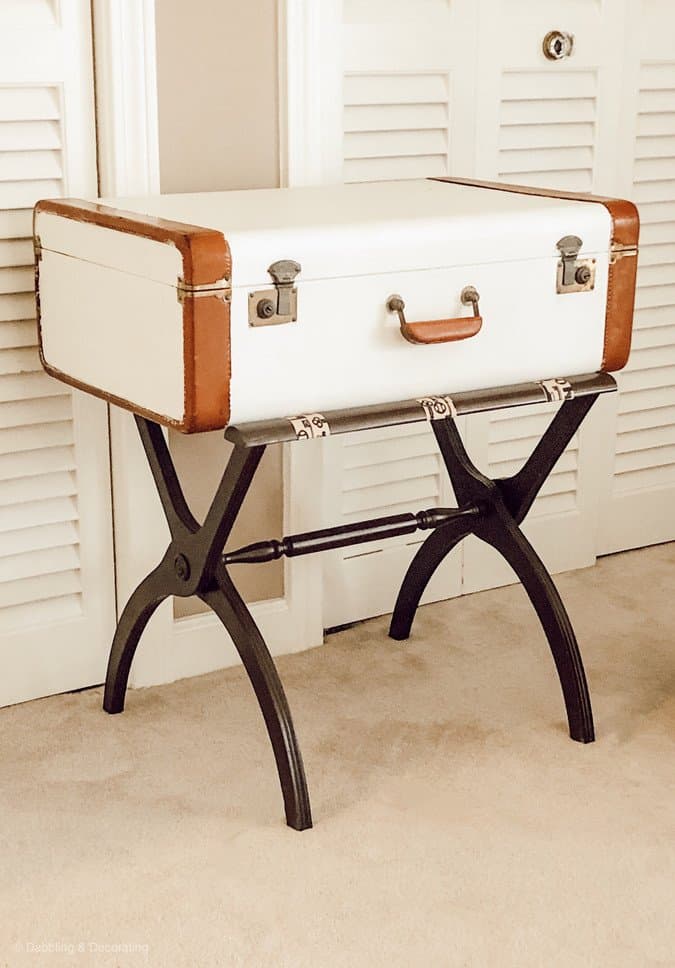 Vintage clock faces tied to an old wire basket just for fun between the closet doors.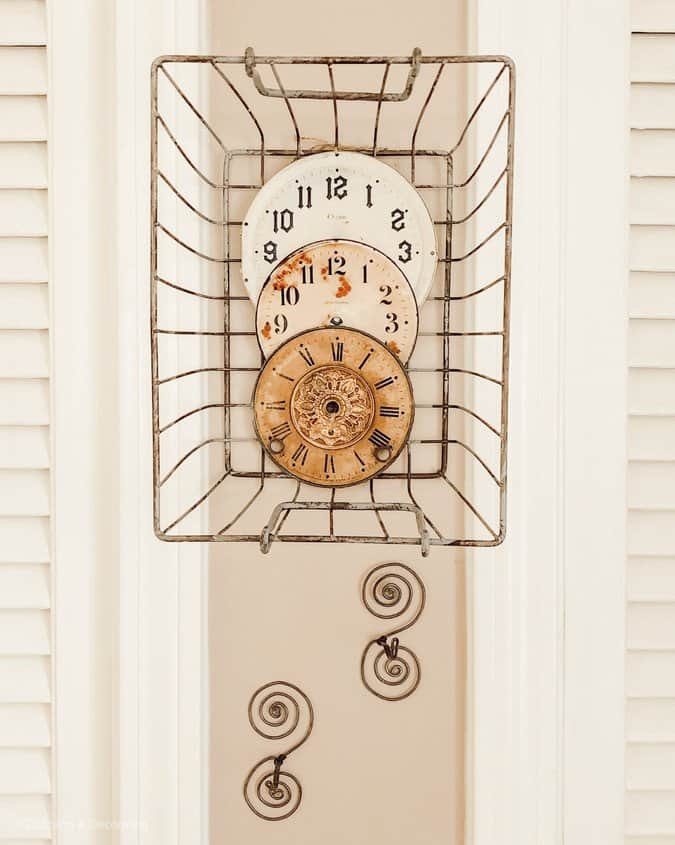 A little Clean Cotton scent by Antique Candle Co.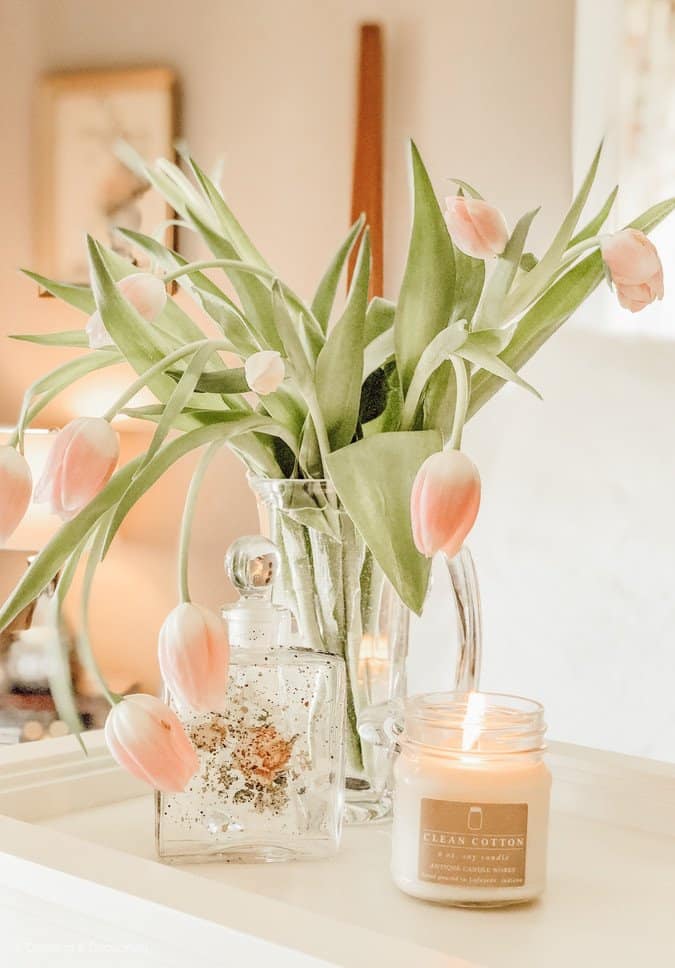 And I can't forget my little helper, Ella who is here to greet you at the door on every visit!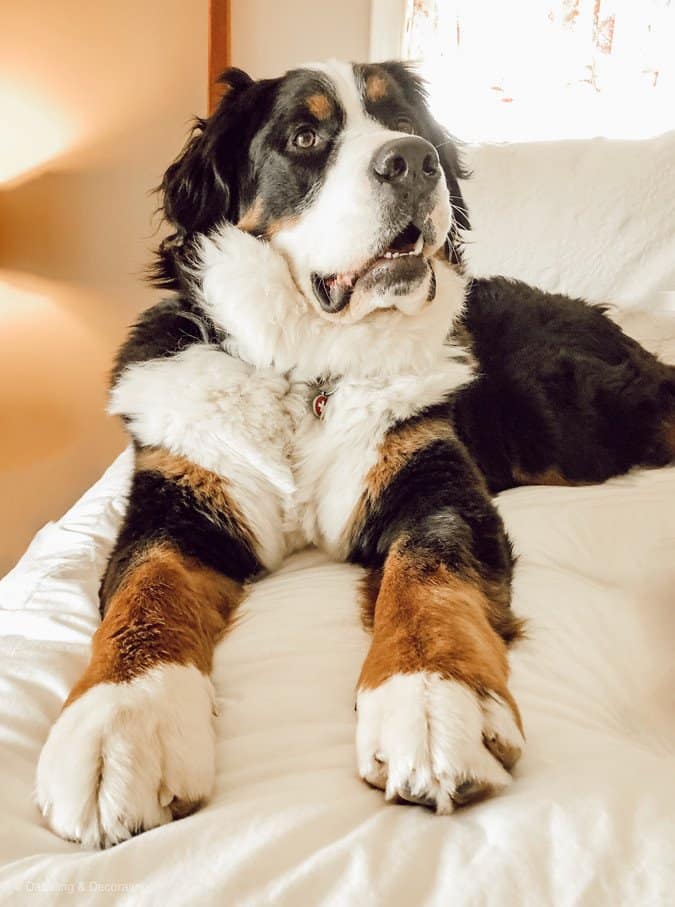 How did you enjoy your stay? I'd luv to hear from you!
Pin It!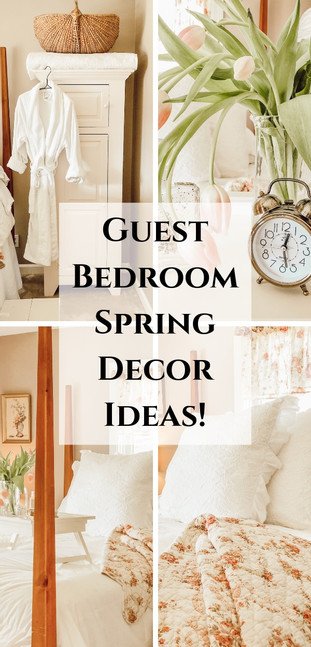 If you like this post, I would luv for you to share it on Pinterest! I've created the above custom pin just for this post! Sharing is Caring!
I would luv to hear from you! Your comments mean so much to me and truly make my day…
Please join me over on Pinterest and Instagram to see more!
Styled by Ann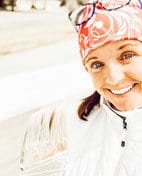 Thanks for the Feature!​