I have a refurbished hutch that I bought here in Vermont a few years ago. And when I got it home, the colors just didn't match the way I envisioned it. And now that I have more time on my hands during the lockdown, my project this past weekend was to repaint this old hutch into a blue hutch.
I have been so inspired by all the antique blues over this past year, that I have been collecting some really fun pieces to work with. I just adore the warmth and softness it adds to our home. I called the local hardware store and they left a color swatch outside for me to choose from. I settled on C2 Paint Cadeau in a Matte finish. I called it in, and the paint was ready for me to pick up curbside in about 10 minutes…
The before photo is at the end of this post.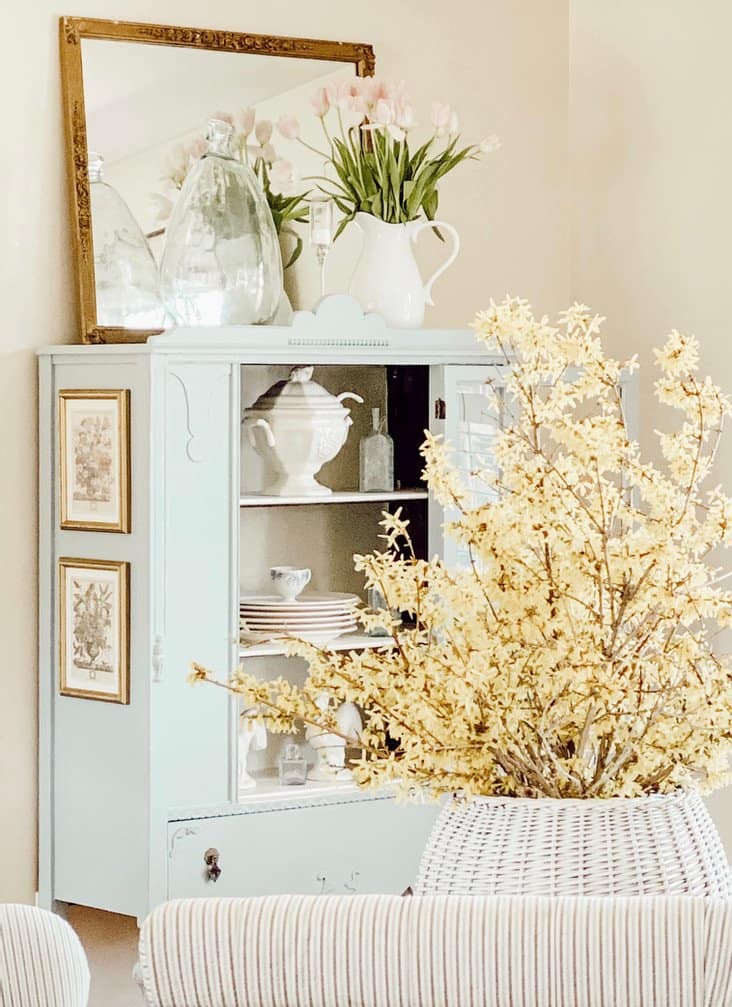 The only prep I did on this hutch was to remove the hardware and the glass door. There was no sanding or priming required. It was a very simple paint project and it completely transformed this hutch so it would fit our space much better. I also used the blue from the curtains as a guideline when choosing the color.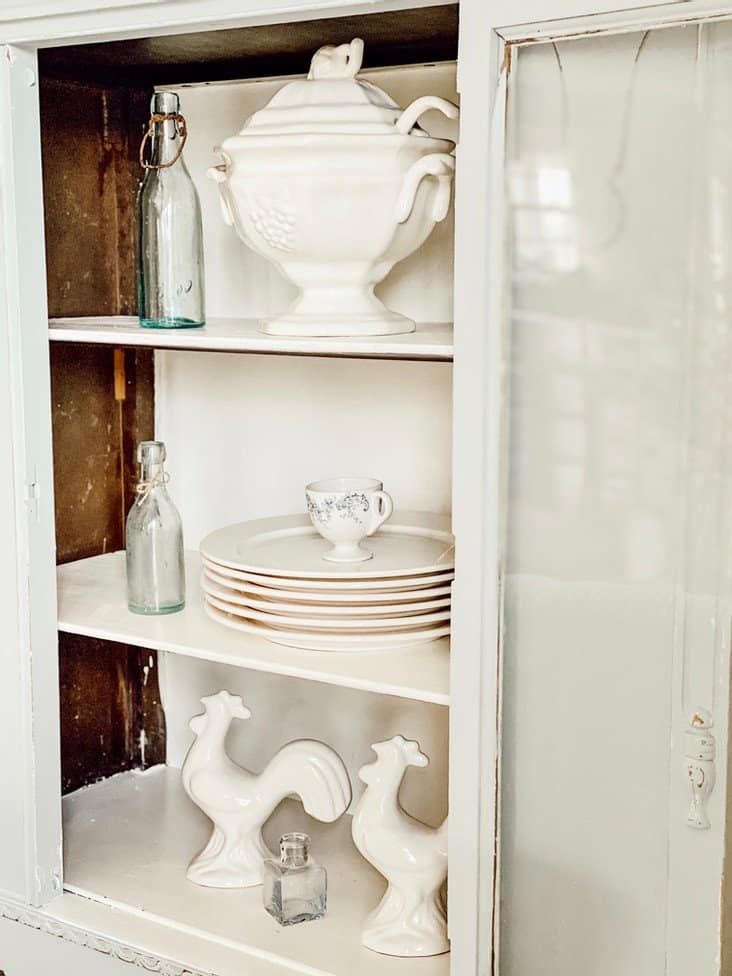 I painted the inside an Alabaster white gloss finish. Simply, because it was a white that I had on hand. I left the sides to the hutch bare wood, as I like the rustic antique look it adds to the hutch.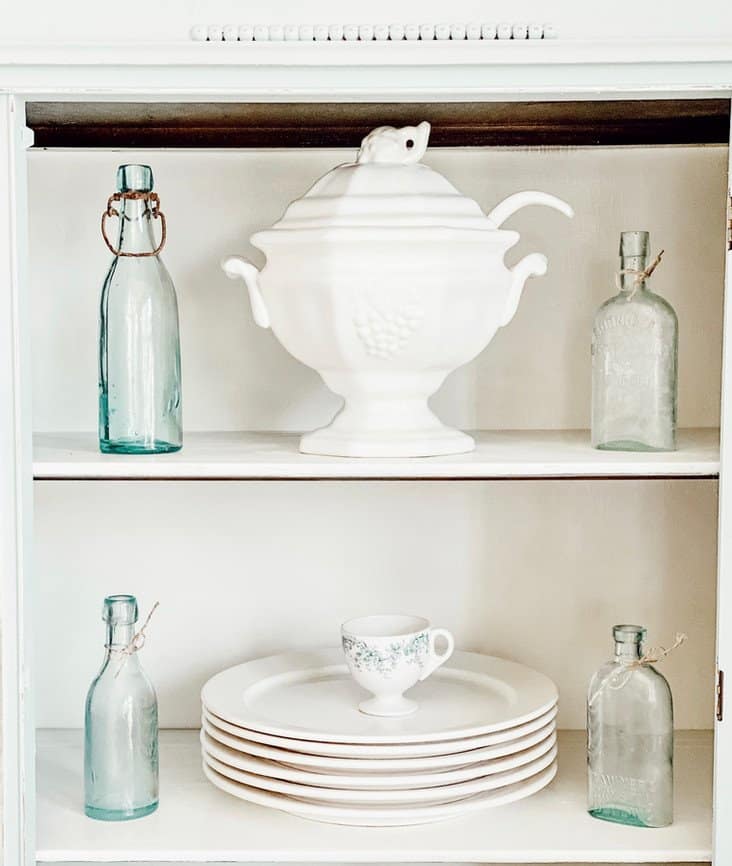 I accented the inside with a few vintage blue bottles and simple white dishes that I have thrifted over the years. A couple of antique spring floral prints also hang on the side of the blue hutch, and I'll be able to switch these out seasonally. I am going to really enjoy decorating this blue hutch now that the colors are so pleasing to this space!
As I sit and write this blog post, I am looking directly at the hutch in front of me. And seriously wondering if an antique-style wallpaper would be flattering to the back of the hutch or will it be too busy?
Let me know what you think in the comments section below.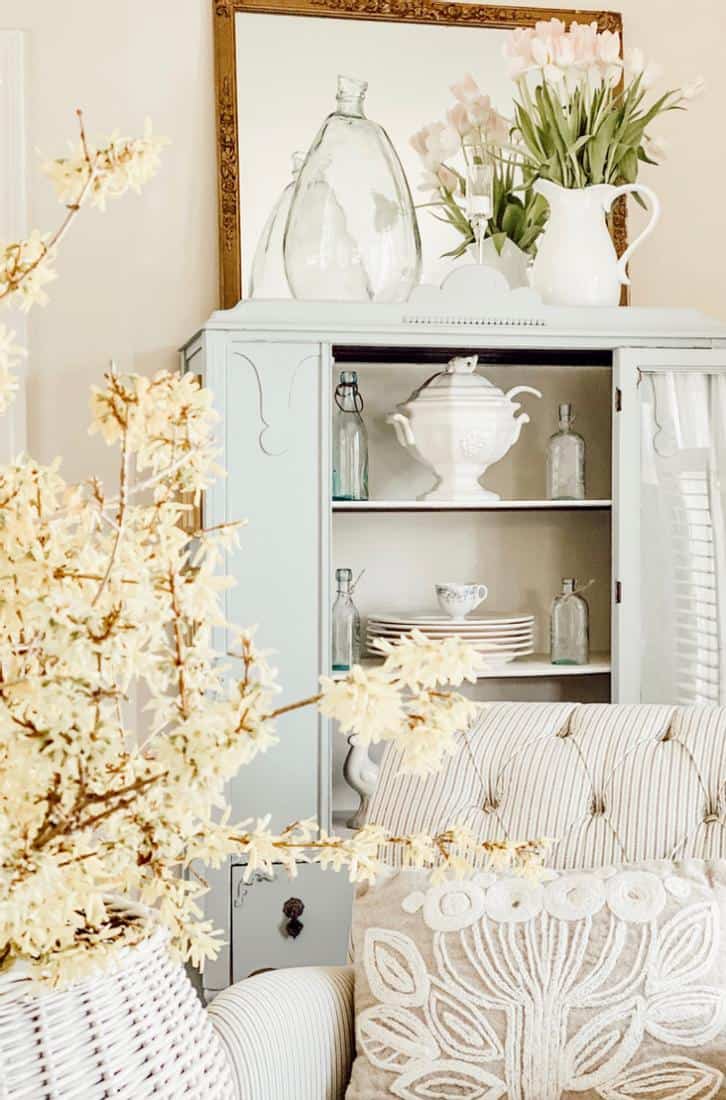 The blue antique hutch sits on the wall of a sitting room that I designed off of our dining room. A large vintage mirror on top adds to the height that the hutch lacked, along with a simple blue bottle from HomeGoods and a bouquet of pink tulips.
A basket of forsythia branches that I forced into a floral arrangement sits on the coffee table in the sitting room. See how to force spring forsythia branches to bloom here.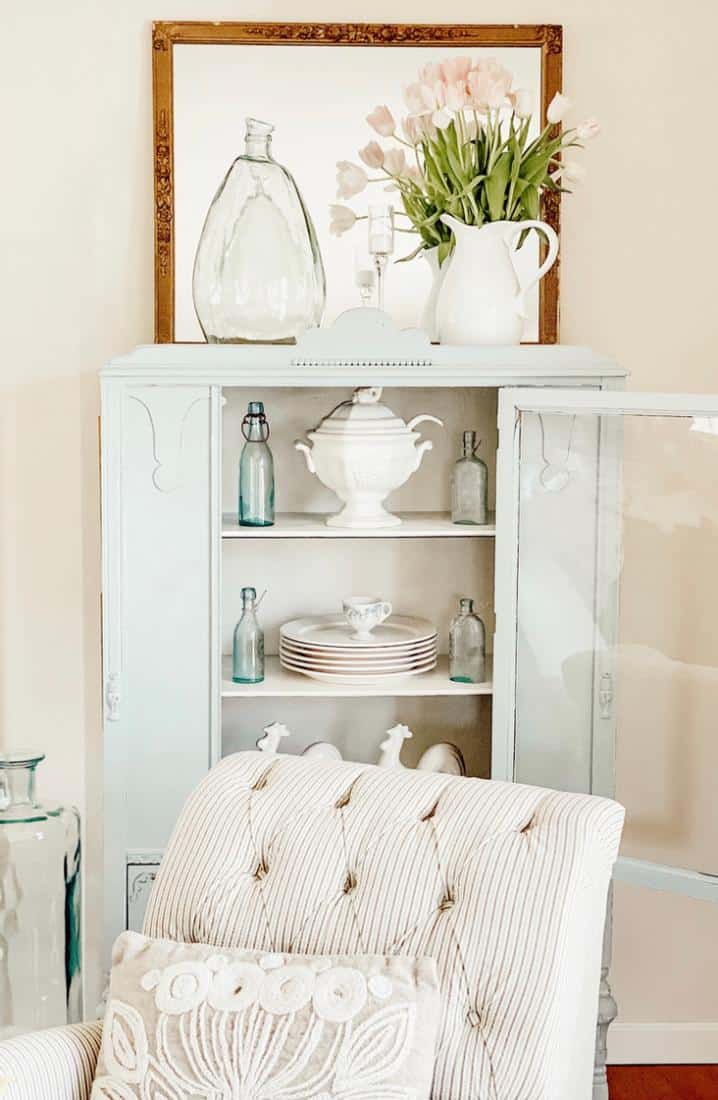 You may also enjoy the post, The Cutest DIY Shelf Liners in an Old Pine Hutch.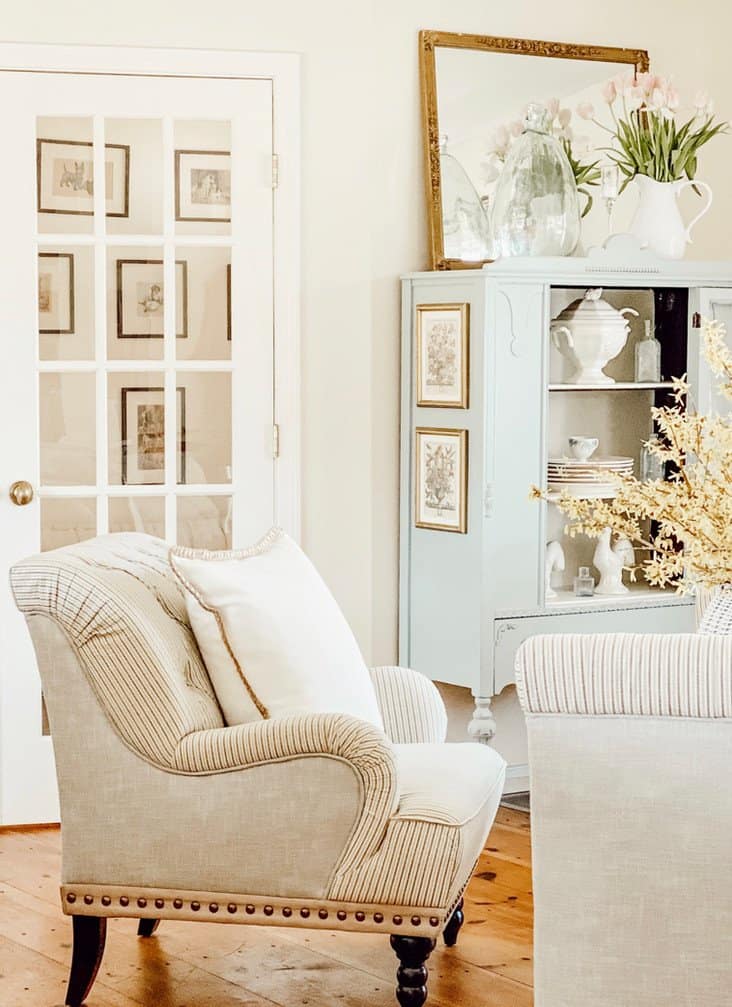 To add definition and chippiness to this blue hutch, I used sandpaper and lightly rubbed off the paint around the detail and edges of the hutch.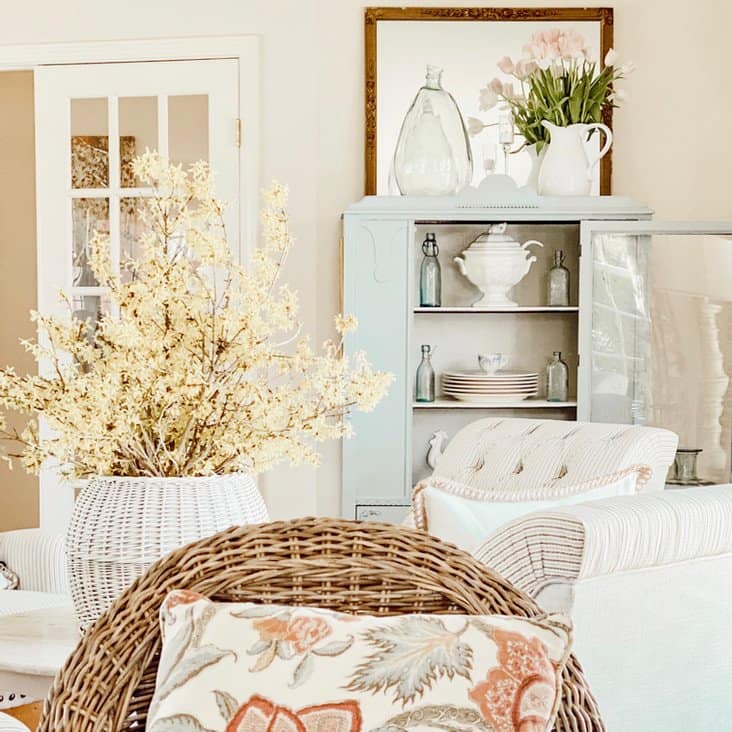 You may also enjoy the post, Pretty in Stardew Blue Paint | A Home Interior Makeover Before and After.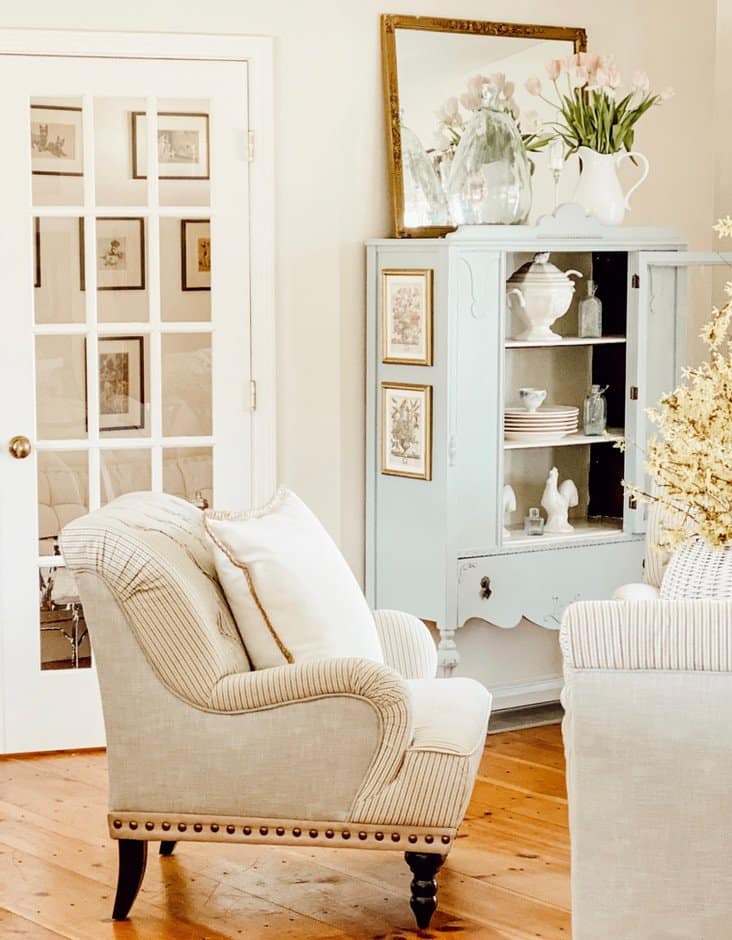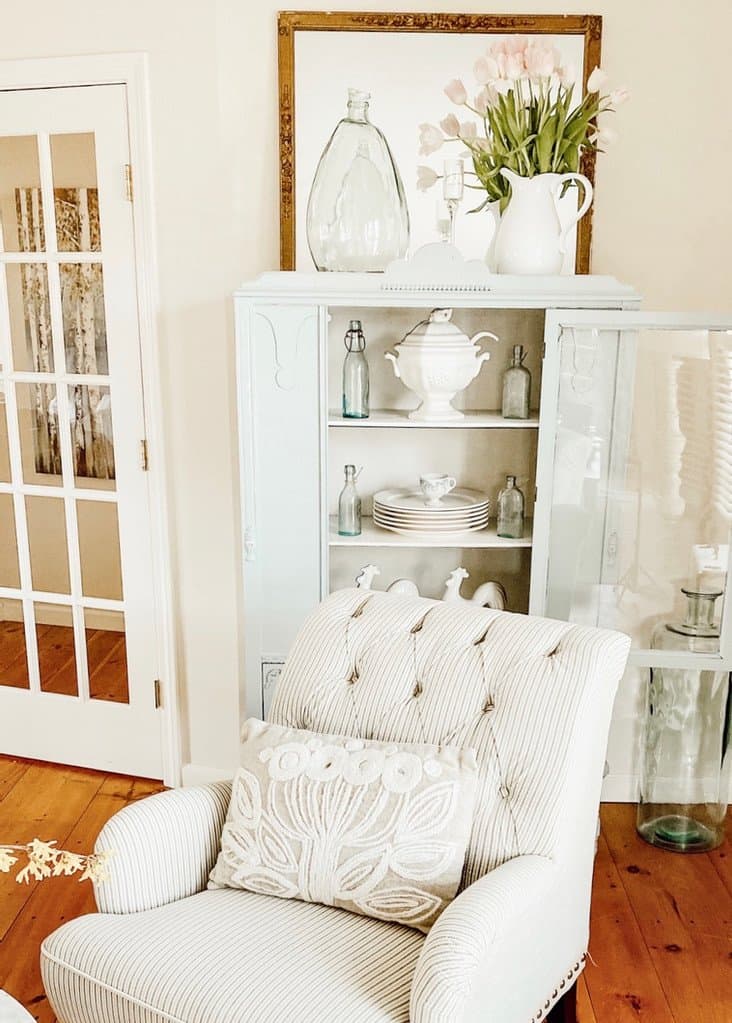 Now I need to find a nice warm rug to finish off this space. I love shopping locally for rugs, as they allow me to bring them home first to try out before purchasing them!
What do you think friends? Ella's pretty happy with it all!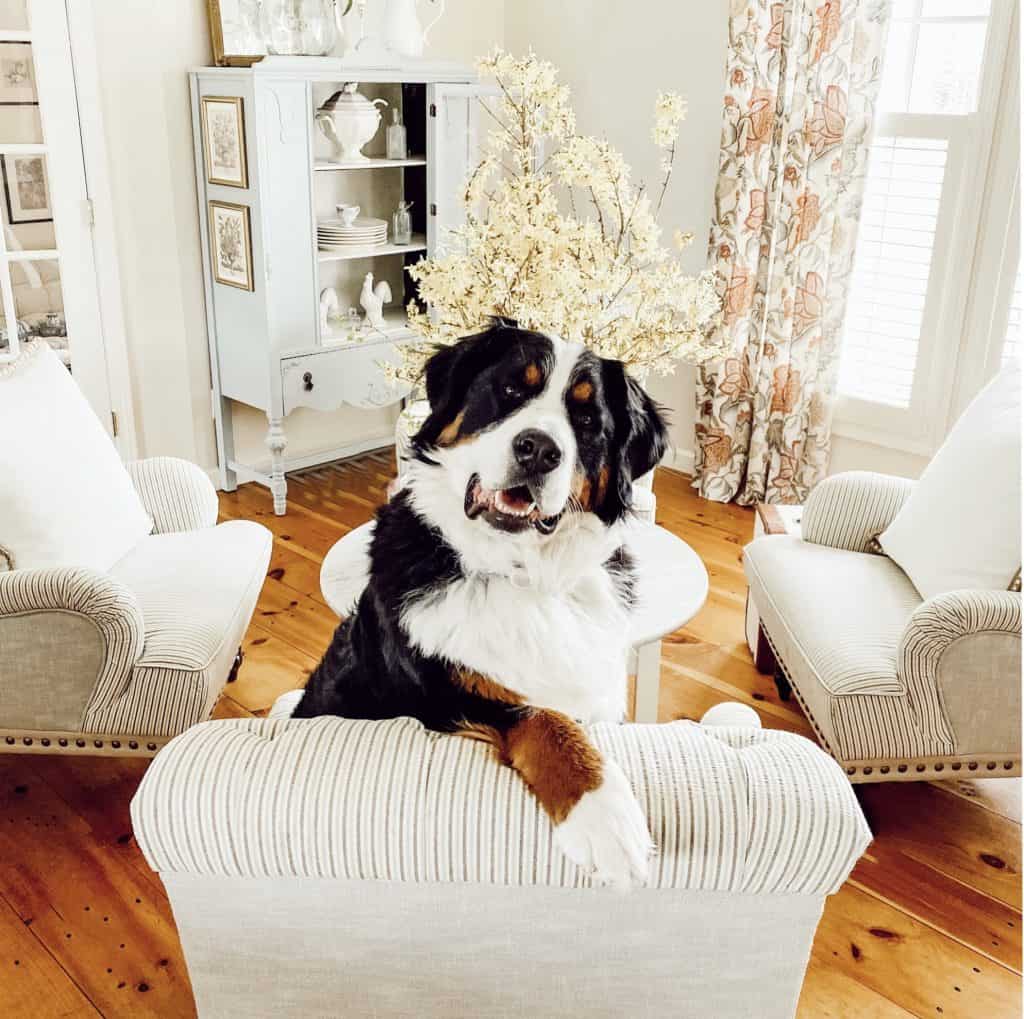 Antique Hutch

Before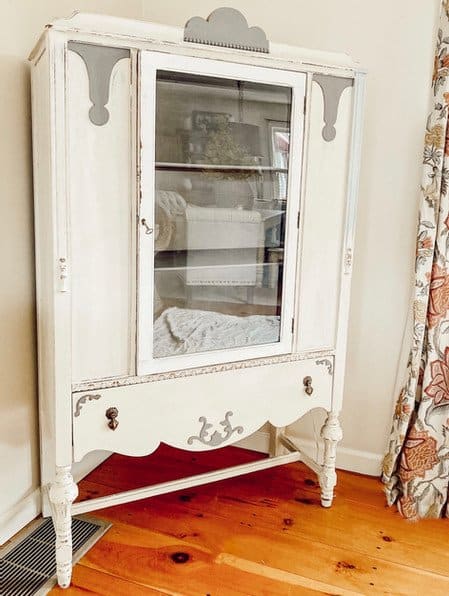 I'm so glad you dropped by today friend, and if you are new to my blog, welcome! I hope you enjoyed your visit with us here today at our home in Vermont.
Please join me as a regular here at Dabbling & Decorating by signing up for my newsletter below and never miss an update!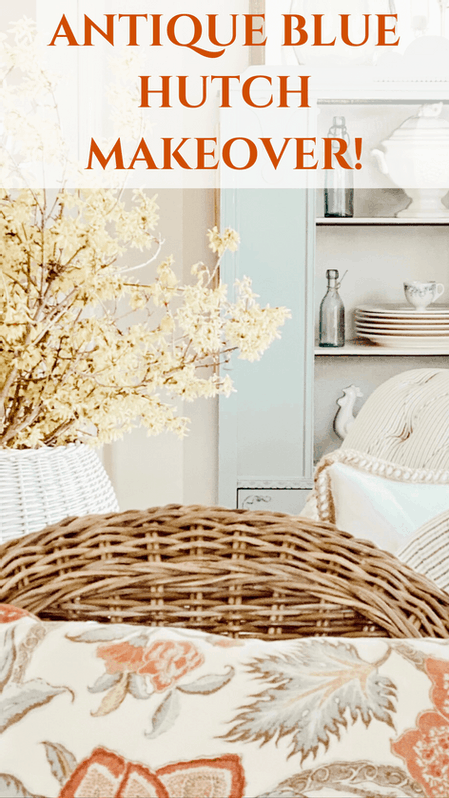 I've created the above custom pin just for this post! Hearing from you makes my day and your comments mean so much to me! Please join me over on Instagram & Pinterest to see more!
You May Also Like