Do you love the look of cabin lodge decor designs? Join me on the porch today at our home in Vermont, where I'm sharing cabin lodge furniture and fall porch decor ideas.
With fall being the prettiest time of the year here in Vermont, I wanted to decorate our farmhouse porch with a cozy cabin lodge vibe so we could enjoy it all during the fall foliage season.
I found some fun thrifty cabin lodge furniture decor finds like white sheepskins, plaid blankets, vintage thermos, and red vintage lanterns to decorate with.
I hope you enjoy this thrifted cabin lodge look!  I think it's my new favorite for a cozy Vermont porch:)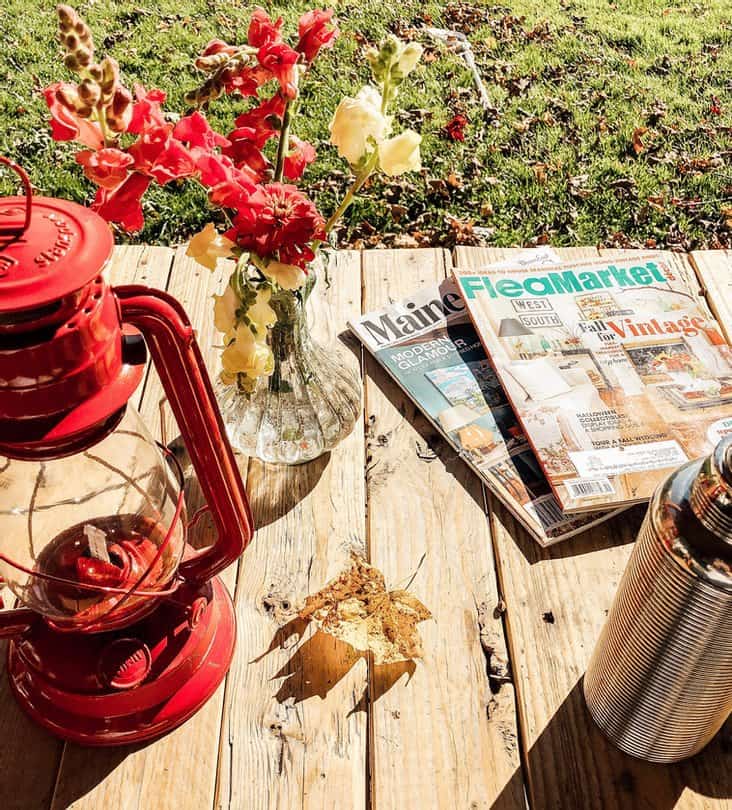 This fall has been one of the most beautiful I have experienced here in Vermont.  The colors were extraordinary, and the weather was simply beautiful, making for great porch days, afternoon hikes, local fairs, leaf-peeping, backyard fire pits, and more.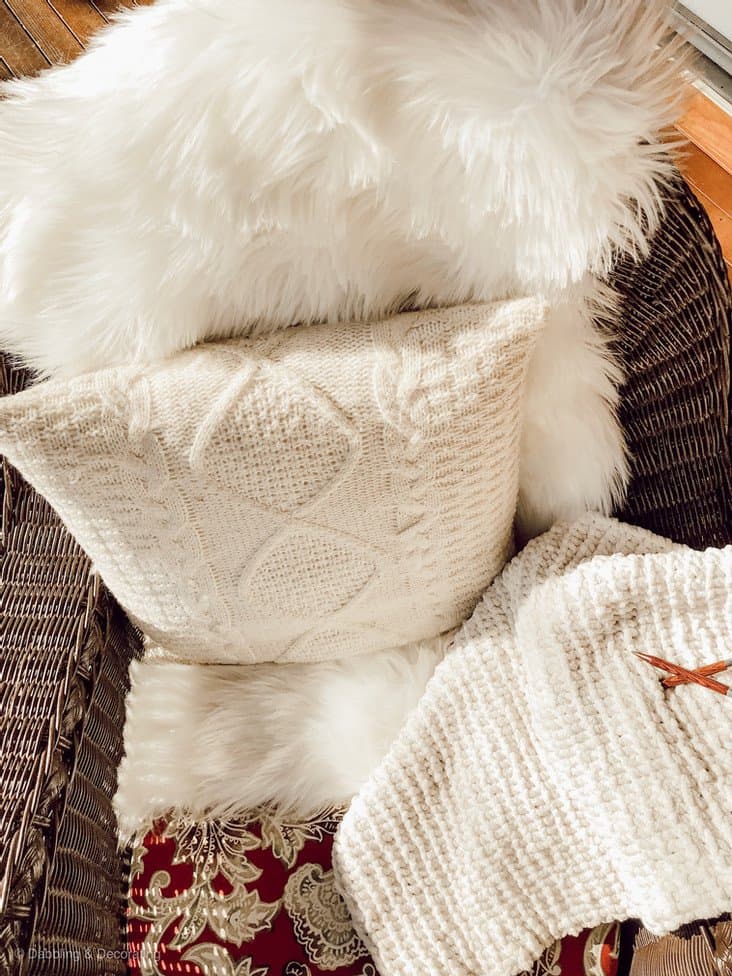 White faux sheepskins that I found on Amazon.  And I love how they may also be used as rugs, on the back of a couch, on the foot of a bed, and more.  So versatile!  And perfect for our cabin lodge Vermont porch, along with a little knitting.
I think every cabin decor style has a vintage thermos and a red plaid blanket calling its name. I picked these up thrifting. The thermos is a working glass thermos, which is such a beautiful find.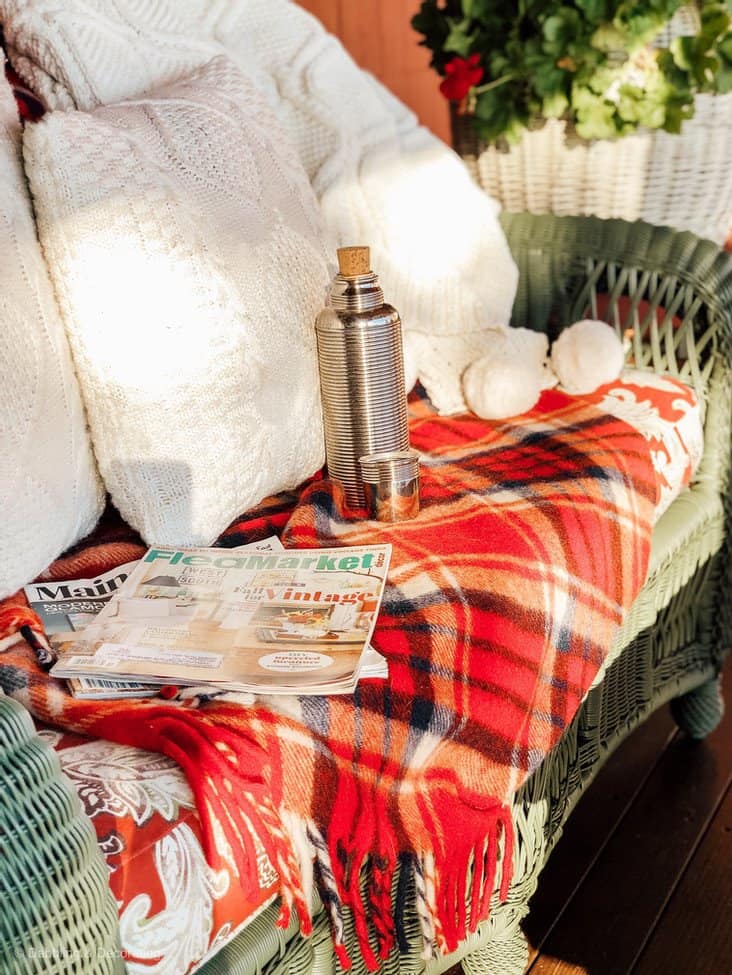 Ella, our Bernese Mountain Dog, was so happy to get in on the cozy cabin lodge decor too, with her red plaid scarf!
Doesn't she fit in just perfectly?…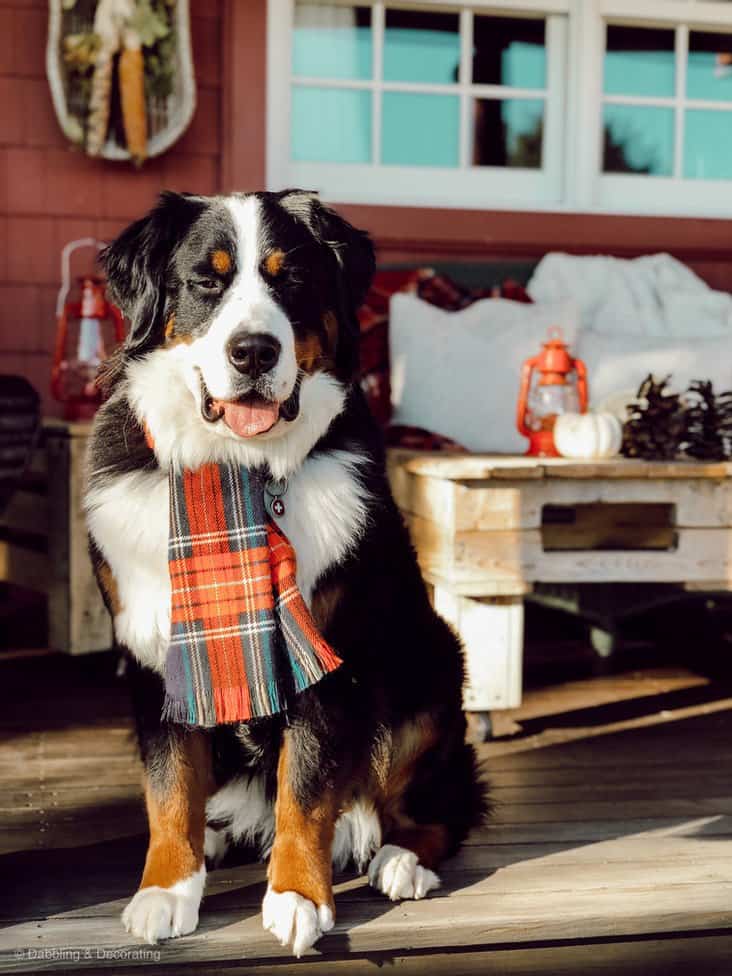 You may also enjoy the post, How To Create An Inviting Front Porch with Wicker Furniture.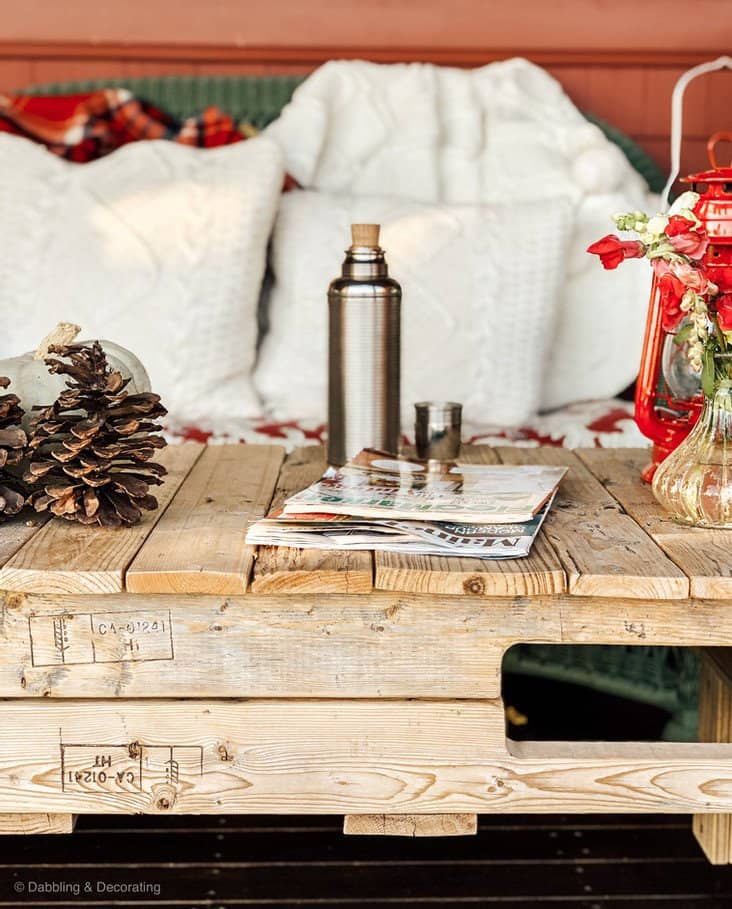 These red lanterns are just "so" cozy cabin lodges, aren't they?
Check out my favorite cozy ski lodge bedding here too!
Oh, and if you like the pallet coffee table, check out how we made it here!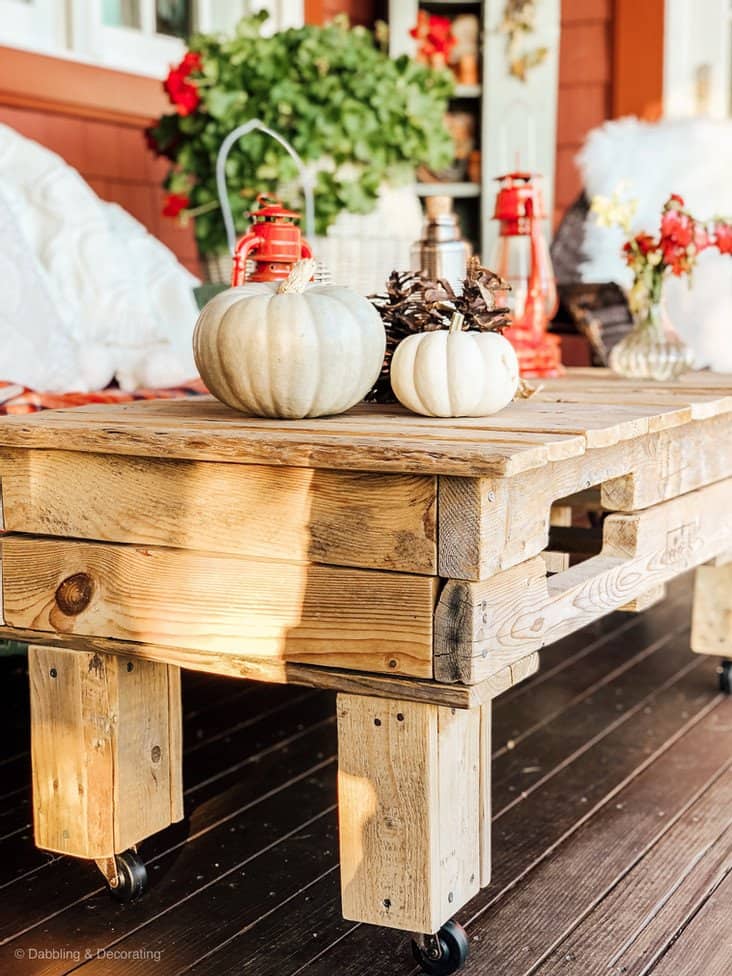 I love decorating with pillows and blankets. They add cozy to any room, even a front farmhouse porch!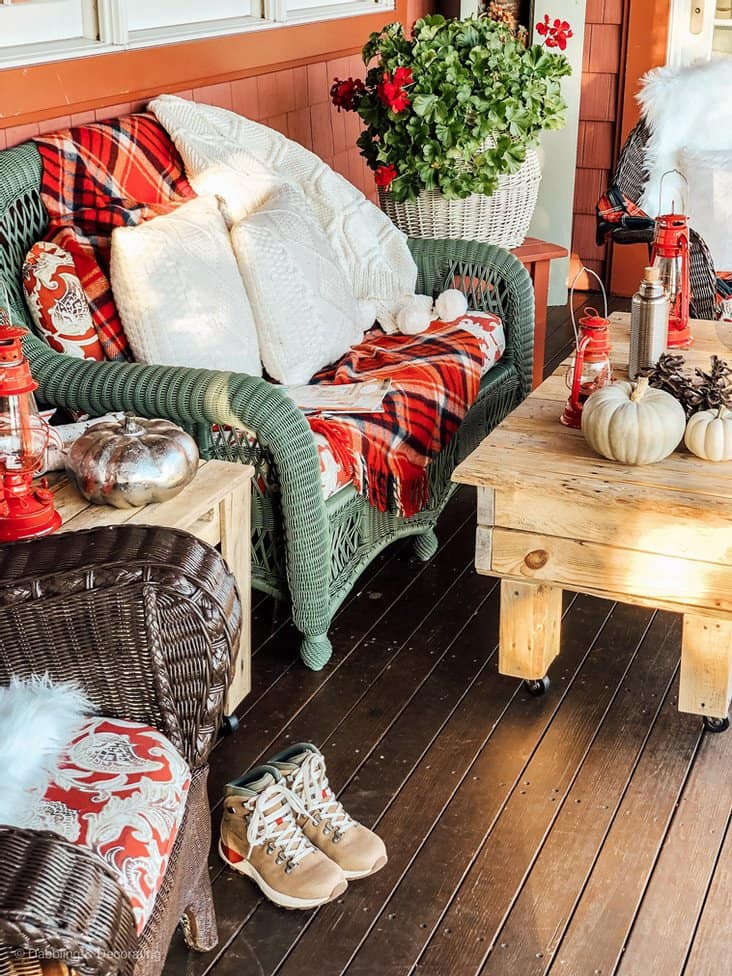 Apples in a thrifted basket are quintessential cabin lodge decor too.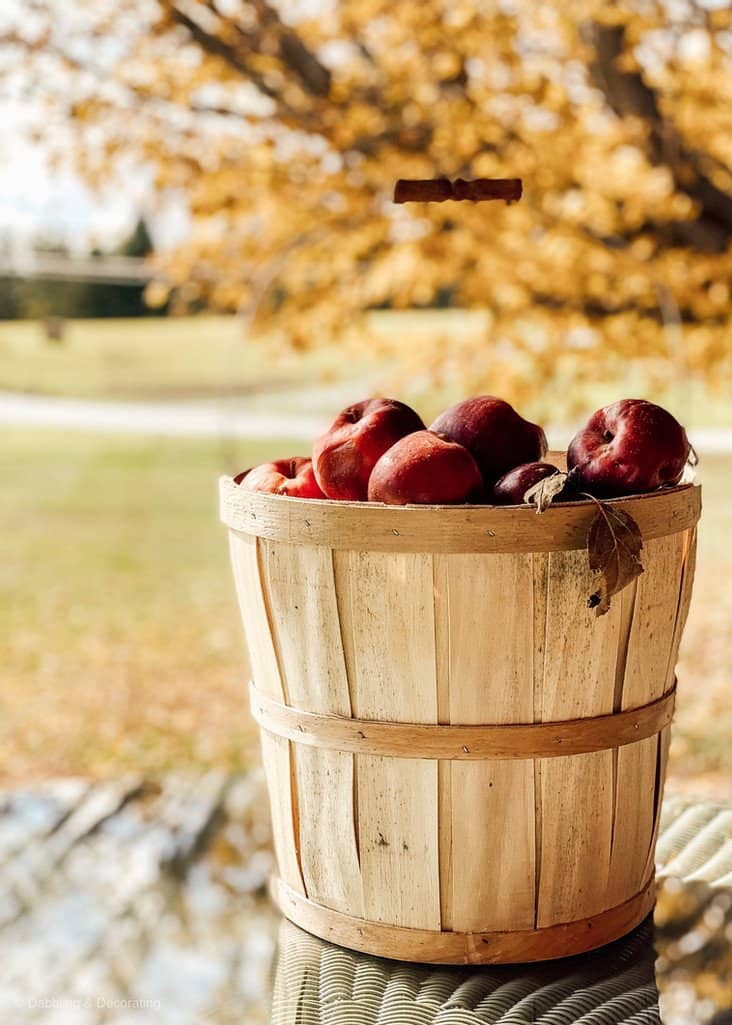 You may also enjoy the post, 7 Ways to Add Autumn Spirit to Your Front Porch this Fall.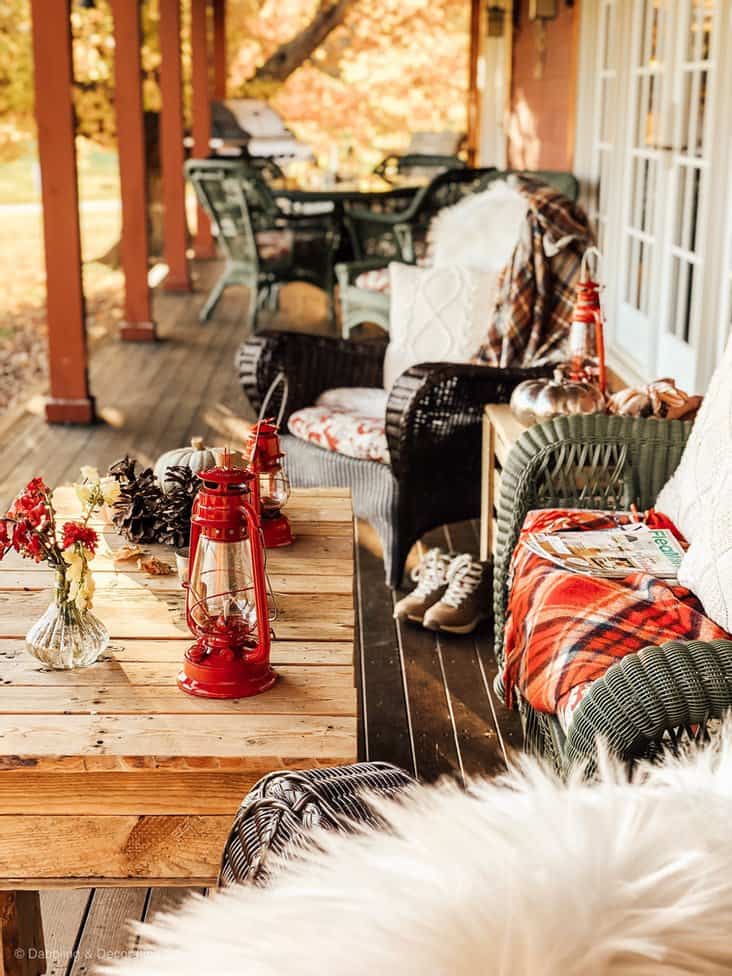 Mountain views are always enjoyed best when you are cozy on the porch too.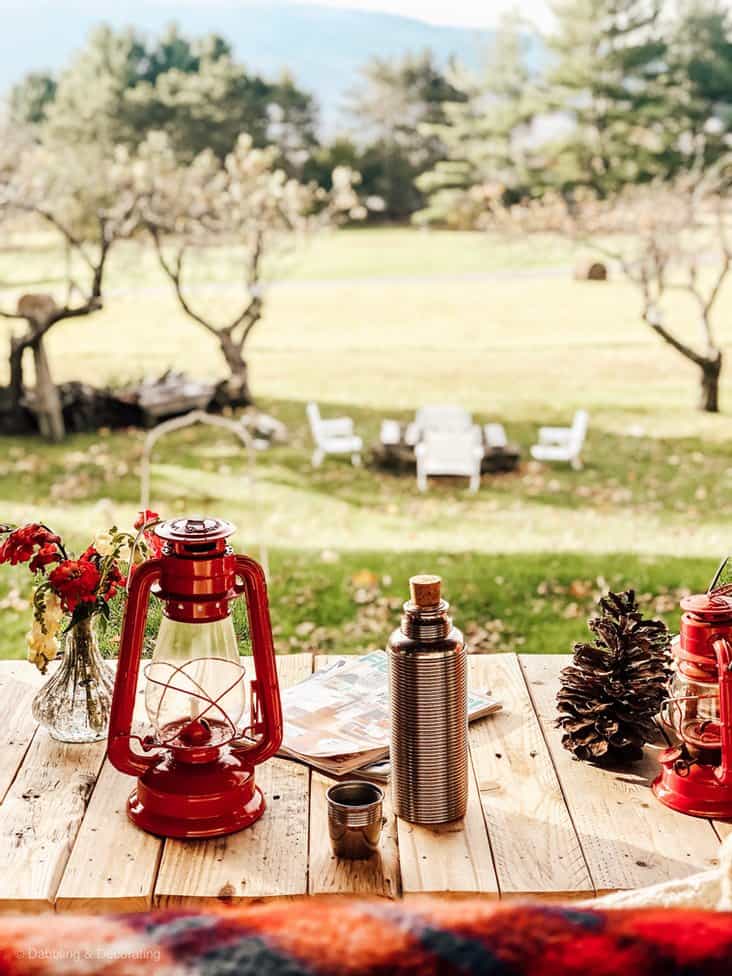 I'm so glad you dropped by, and if you are new to my blog, welcome! I hope you enjoyed your visit with us here today at our Home in Vermont.
Be sure to also check out our Home in Coastal Maine, where we spend summers and weekends when we are craving a walk on the beach or a visit with old friends.

I've created the above custom pin just for this post!  Hearing from you makes my day; your comments mean so much to me! Please join me over on Instagram & Pinterest to see more!
YOU MAY ALSO ENJOY